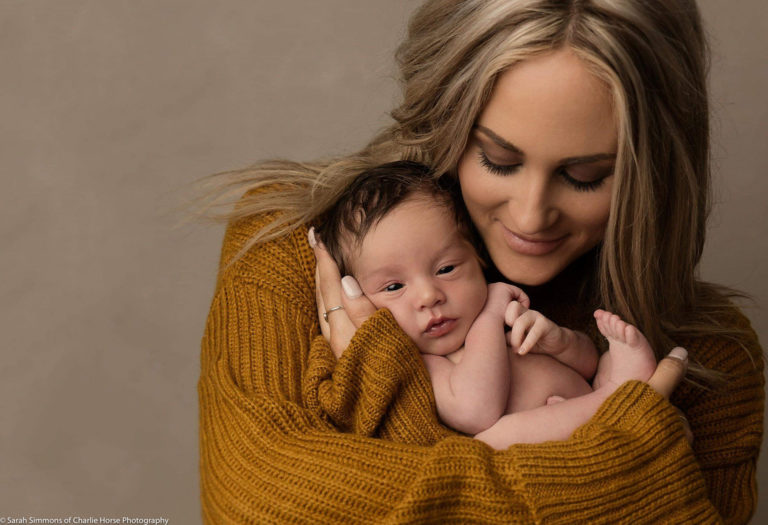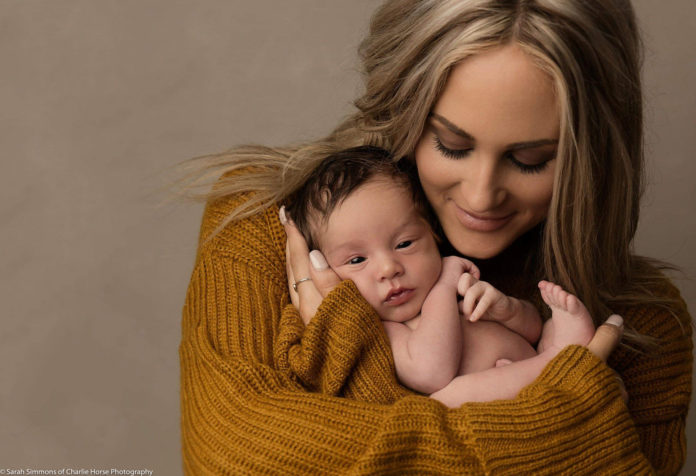 To celebrate my 30th birthday in June 2017 my husband and I went to Rarotonga, one of the Cook Islands, for a much-needed break. We'd agreed that, once we got home, we'd start trying for a baby. We already had two beautiful daughters, and it was time to complete our family. While we thought it would be great to have a boy, we didn't really mind. The important thing was that our baby was healthy.
We've always joked that I only need to look at Hayden to get pregnant, so it wasn't long before we found out that, yes, it had happened again. I also knew, even before my first scan, that it was twins. I have a twin sister, and also a set of twin cousins – it's definitely something that runs in our family. Not only that, but my youngest daughter was also a twin pregnancy. We found out very early on that her twin hadn't survived – there was no heartbeat at our eight-week scan. While it was incredibly emotional, because it had happened so early on, I felt I was able to manage my grief. By the time we went for the next scan, 12 weeks into the pregnancy, my body had already absorbed the second baby.
Fast-forward to the latest pregnancy, and sure enough there were two little heartbeats pulsing away when we went for our dating scan. I was so elated! Hayden and I laughed and joked about needing to get a truck to ferry around our family when it suddenly doubled in size.
There they were – two little babies wriggling around, healthy and growing well
We agreed not to tell anyone except close family until we were past the 12-week milestone – the time when most people feel it's safe to share the news. Excited though we were, we both felt uneasy about going public before then.
Our second scan was booked for 14 weeks into the pregnancy. There they were – two little babies wriggling around on the screen. They were healthy, growing well and were almost the same size. I asked the sonographer if she could tell us what sex they were – you can imagine how excited we were when she said we they were both boys! Two sons to complete our family – perfect.
Feeling the time was right, I decided to announce the news on social media. Between Facebook and Instagram, this meant sharing the news with around 30,000 people. I also had to let clients of my cosmetic tattooing business know I'd be on maternity leave for a while. I'm usually booked out more than a year in advance, so that would need some juggling! I also decided to arrange maternity and newborn photoshoots – these babies were the final addition to our family, so I wanted as many memories as possible.
I remember mentioning to my sister on Christmas Day that I felt something was wrong
My pregnancy progressed. I felt healthy and couldn't wait for my five-month scan. It would fall two days after Christmas, and Hayden and I couldn't wait to see those little faces and beating hearts again. I remember mentioning to my sister on Christmas Day that I felt something was wrong. It wasn't a specific worry – just a feeling. Around a week earlier I'd woken one morning and told Hayden I felt my tummy had shrunk. He agreed it looked like it had, but for some reason my stomach often looked smaller in the mornings, so we just shrugged it off. Now, I was anxious about the scan.
And so the day came – December 27, 2017. The day my heart broke in two. The sonographer said she'd focus on one twin at a time, starting with Tiger. He was perfect – the right size, healthy, heart beating well, wriggling around. Then she moved across to Johnny and her face dropped. I knew something was wrong.
Was this an IVF pregnancy? How have you been feeling? Was your last scan ok? The questions came, and I just asked her to tell us what was wrong. "I'm so sorry…" she replied. She couldn't find Johnny's heartbeat. He was smaller than Tiger. It seemed my worst nightmare had come true.
Hayden and our girls were there too, so she left the room to give us time to cry, talk and be together. I remember noticing that she was pregnant, too, and thinking how horrible it must be for her to break such terrible news. Our lives changed that day. Our hearts were broken. It was the worst day of my whole life. I'll never forget how brave our five-year-old daughter was. I knew how much she was looking forward to having brothers; I could feel how devastated she was. But she stayed brave, for me.
They couldn't tell us why Johnny had died. To do tests would risk us losing Tiger
There were questions we had to ask. What would happen next? Would they take Johnny out of me? Was there a chance we'd lose Tiger too? We were overwhelmed with worry, grief and anxiety. The specialist said they couldn't tell us why Johnny had died. They'd have done some tests if he'd been a single baby, but to do so now would risk us losing Tiger. He explained we were lucky they were fraternal twins. If they'd been identical, Tiger would have died too, poisoned as Johnny started to break down. But because he was in his own little sac, that wouldn't happen. I'd have to continue my pregnancy to full term; the only reason to induce me would be if Johnny started to affect Tiger's growth or health.
The next day, December 28, I took the decision to announce what had happened on social media. I posted on my business page, not wanting to explain everything over and over again in person. There were so many heartfelt messages – so much love and support.
I can't describe how it felt to have to watch my son's body break down
For the next four months, I was scanned every two weeks. I can't describe how it felt to have to watch my son's body break down. It became harder to see his eyes, his nose, his lips. Then his tiny fingers and toes looked like they were fusing together. Eventually, he lost all his features.
Every scan was torture. I dreaded each one, terrified of what I would see. Yet at the same time, I couldn't wait. I wanted to see him, and also make sure Tiger was healthy. I had such conflicting emotions. My sadness at losing Johnny, at watching him disintegrate, was overwhelming – but mixed with the joy of seeing my other son growing and thriving. I began to feel as though I was a living, breathing coffin, holding onto Johnny until the day I gave birth. Then I'd be able to grieve properly. But I also dreaded it, because while I couldn't wait to meet Tiger, I knew Johnny would be gone forever.
It happened on May 2, 2018. I gave birth to our two beautiful boys at 38 weeks pregnant. We cried, we smiled, and we had one night with both of our boys together as a family. Some part of Johnny had fused onto Tiger's placenta, so we decided to leave him on there. The next morning, Johnny was taken to be cremated, and I began the countdown to when we'd get him back.
I had my beautiful new baby boy – but his brother should have been alongside him. It wasn't fair
We collected Johnny's ashes on May 7. While I was relieved to have him home, my heart was still in pieces. I had Tiger, my beautiful new baby boy – but his brother should have been alongside him. It wasn't fair. Why had this happened to us?
Then Sarah Simmons of Charlie Horse Photography, the photographer I'd booked, messaged me. She'd thought of an idea for an image that would show the boys together, if I was okay to take Johnny's ashes along to the photoshoot.
The end result, of Tiger with his brother's ashes, blew me away. Using the cloth as an umbilical cord, bowls for my womb – it's so creative and evocative. I am so grateful to have such an emotional, powerful image to keep forever.
The picture has been shared extensively, and I'm glad this has prompted more discussions about stillbirth and what it means to lose a child. The more people can talk about it and share their stories, the more other people will understand. There will be better support, greater understanding for those who suffer in the future.
I want people to speak his name, to remember. He existed
I hope that by sharing our story, the pain we've experienced can help others to heal. I will always feel as though a piece of me is missing. Johnny James Tiger Ayrton. I want people to speak his name, to remember. He existed. I carried him, gave birth to him, and love him. I am his mother, and he is always in my heart.
Also read: