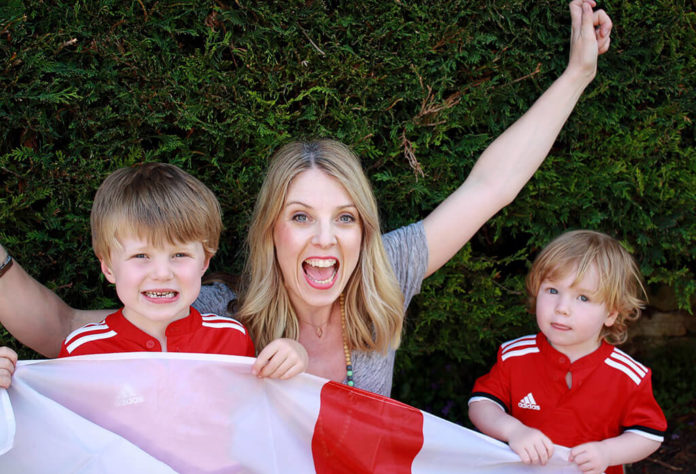 If anyone should have a love of football in their blood, it's me. My grandad was the president of Oxford City Football Club; my dad was a semi-professional player and then a local club manager.
I spent childhood Saturdays hanging around on blustery sidelines, breathing in the pungent aroma of Deep Heat and sweat as they emanated from the shower block after the final whistle.
Once I was old enough to choose how I spent my time, though, I decided I definitely didn't want to watch a bunch of grown men – or women – run around a pitch after a ball for 90 minutes.
I was the eldest of two girls and, once my sister and I were teenagers, my poor dad was forced to forget about football in favour of ferrying us to dance lessons and trampolining competitions. The closest I ever got to a match was writing down the scores for his Saturday pools coupon.
Some of my female friends loved football. One could talk team strategy and player tactics with the best of them. I had no interest, other than a passing appreciation of David Beckham
There was no such thing as women's football at my secondary school, or if there was I wasn't interested. I have fond memories of being draped in the flag of St George at university during the 2002 World Cup, but that was merely an excuse to consume copious amounts of alcohol and jump on the table when someone scored.
Don't get me wrong – some of my female friends loved football. One had a season ticket to Newcastle United and could talk team strategy and player tactics with the best of them. I simply had no interest, other than a passing appreciation of David Beckham.
When I married a rugby-playing sports fanatic I went to a few token matches to show willing – but once he stopped playing, I stopped supporting. Life was too short to sit at home or in a pub, eyes glued to a screen.
He watched the crucial football games on Sky Sports, and I busied myself with other things. I sometimes wonder if he wished he had a wife who shared his passion for ball-related sports, but he's never complained.
He had fond memories of his under-tens' football team and could recall every member's name and the date they won the cup. I rolled my eyes at the 'soccer mums' who spent weekends stamping their feet and blowing on icy fingers as they cheered on their offspring.
Then, in 2012, I gave birth to our first child. As our gorgeous boy grew, I consciously stayed away from gender stereotypes. If he coveted a friend's toy buggy, we got him one to put his teddies in. He went to toddler singing groups, Rugby Tots, Little Kickers, dancing…ok, most of us go a bit overboard with our first, don't we?
Once he passed the toddler stage, if people commented how sporty he was, I was quick to point out he was equally accomplished at reading and painting, and loved disco dancing.
Despite my efforts, there was no denying how much he loved to kick a ball. When his brother arrived three-and-a-half years later, his main disappointment was that the newcomer wasn't an instant football buddy.
Fast forward two years, and our eldest recently started at a Saturday morning football club for under-sixes. He was pretty good – of course I'm not biased! – and instantly addicted. I soon found him kicking a ball around with his brother at every available opportunity.
My husband ordered junior Manchester United kits and, when they arrived, even I had to swallow my snobbery and admit they looked cute. And when our eldest needed studded boots, I begged the shop assistant in Sports Direct for a miniature pair for our youngest, too.
As their excitement increased, I found myself being dragged along
As I watched them playing together in the garden – usually with dad or grandad in tow – the huge smiles on their faces made me smile too. My dad might have some aches and pains these days, but nothing stops him kicking a ball around with those boys after school. He enjoys it so much – to me, it feels like a well-earned payback for all the years of discos and trampolining I subjected him to.
So, as this year's World Cup approached and my eldest used his pocket money to buy a commemorative sticker album, I found myself inadvertently learning which countries were taking part. I grew familiar with the names of his favourite players and even helped him make his own results chart.
My youngest is still too young to understand what's going on, but if his big brother loves it then so does he. As their excitement increased, I found myself being dragged along. I splashed out on huge flags and air-horns from Poundland, and we shared infectious excitement as we watched the first match together – Russia v Saudi Arabia, the result was 5-0.
I'm no expert. I can name my son's favourite players and I know if someone scores, but the rules are otherwise lost on me. With two small footie fans in the house, though – plus the large one – it's just a matter of time before I'm up to speed.
And when England play their first game tonight, against Tunisia, I might cheer them on too – because, thanks to my boys, I've realised that perhaps there is football in my blood after all!