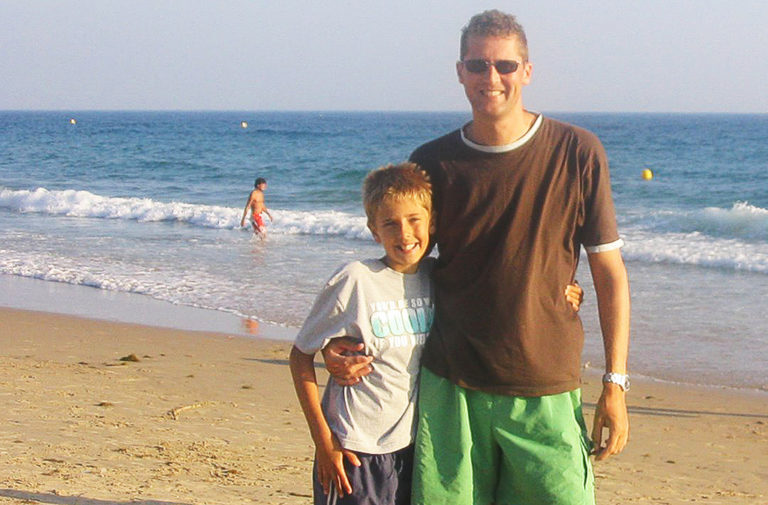 "We didn't see it coming," Paul says.
"I think that was the worst part. In all the dark times, in the early days when we were paralysed by grief, I thought of that over and over in my head.
"If only we'd had some warning. If only we could have prepared ourselves in some way. Perhaps then the grief wouldn't seem so raw, so cruel.
I was his dad. I was supposed to protect him, to make everything better. But there was nothing I could do.
"It's nonsense, of course. Nothing could ever prepare you for losing a child."
But one thing is certain. When Paul and his wife Helena, 52, woke up on that Saturday morning in 2011, they had no way of knowing their life was about to be torn apart.
"Ben was his usual effervescent self and looking forward to football, as he did every Saturday morning," recalls Paul. "There was no reason to suspect anything was wrong."
Yet just hours later, Paul, was standing by his son's hospital bed, willing him to live.
In the middle of the football match, Ben had collapsed suddenly. Surrounded by his horrified teammates and coaches, paramedics had resuscitated him, but his life was hanging in the balance.
"Ben had suffered a massive cardiac arrest, despite having shown no previous symptoms," explains Paul.
"I'll never forget seeing him lying there in that hospital bed, covered in wires and tubes. I felt so helpless.
"I was his dad. I was supposed to protect him, to make everything better. But there was nothing I could do."
Ben died in hospital three days later, never having regained consciousness.
"I felt like he'd been ripped from me," remembers Paul. "My son, my boy, who I'd always imagined I'd grow old with, was suddenly torn away from me. I honestly don't know what happened in the days after that. I went into shock.
"I was in shock for a whole year. It took that long for my brain to catch up with what had happened and for me to make sense of everything. It was like a blackout."
But of course, life does go on, not least because Paul and Helena had another person to think about – their daughter Frances, who was then just 11.
"Frances is the reason we kept going in those early days, without a doubt," insists Paul.
"She'd lost her brother and she was clearly hurting too, but she was just a child herself and, in that amazing way that children do, she just carried on with life as normal.
"Her natural joie de vivre shone through, so that even when we were consumed by our grief, knowing we had to pull ourselves up and be the best parents we could be to this beautiful young person, that gave us the strength to carry on."
Six years on, Paul is immensely proud of the young woman Frances has grown up to be. Now 19, she's studying history and archaeology at university, and has even developed the family's passion for cricket, playing in her college women's cricket team.
"I left her at university as my daughter and she came back as my friend," Paul says with a smile. "It would have been very easy for her to go off the rails after losing her big brother at such a young age, but she showed incredible resilience.
"Ben loved cricket as much as football and was a popular member of his team. He was such a great sportsman, not only in terms of his ability but also in the way he conducted himself. He was a real gentleman, always the first to shake his opponents by the hand and lead by example.
"To see Frances develop those same qualities and the same love of the game her brother had is a real joy."
But despite their close relationship, Paul, with remarkable honesty, reveals something many parents would find hard to admit – that sometimes it just isn't enough.
"I miss being Dad to a son," he says. "It's not a reflection of Frances – none whatsoever – but there are times when it catches me off guard and I have to accept that's simply how I feel.
"I try to suppress those feelings and not think about all the things I'm missing out on with every day that passes without Ben, but they can creep up when I'm least expecting it and knock me sideways.
"It could be something as simple as seeing someone with their son in the street or reading a friend's post on Facebook, or even certain music I would have liked to have shared with Ben.
"He would be 22 now, would have finished university, I would hope, and living a life of his own. I've lost a relationship I always took for granted I'd have.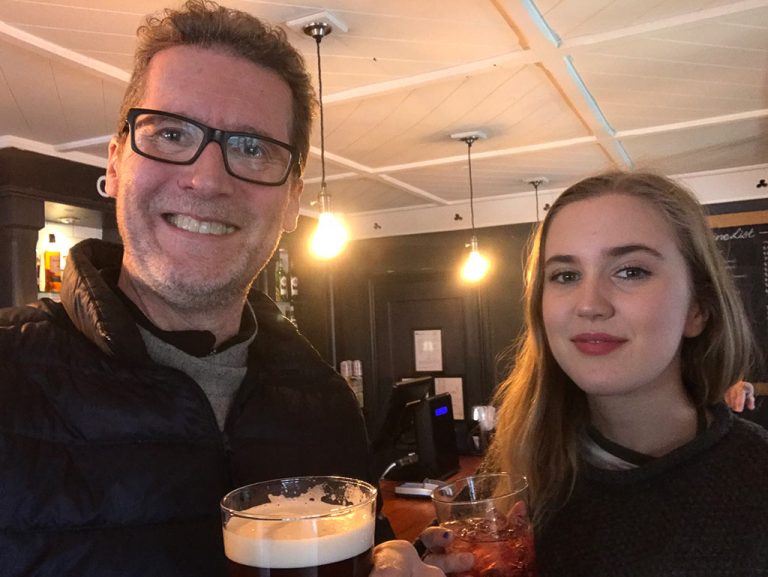 "But Frances recently did something for me for which I'll always be grateful," adds Paul. "We went to watch a football match, then she took me to the pub and bought me a pint. The first she'd ever bought me.
"As a father, that's something you always imagine you'd do with your son, so it was a very special moment for me. We have a photo of us both holding our pints and grinning. That's a photo I'll treasure forever."
In the weeks after Ben's death, Paul threw himself into making sure his son left behind a legacy, and that remains as important to him today as it ever was.
Working with the heart charity Cardiac Risk in the Young (CRY), he and his wife Helena set up the Ben Daniels Memorial Fund, with a target of raising £100,000 to fund a heart screening programme for young people in the sporting community.
"After Ben died, we discovered more than 600 young people a year in the UK collapse and die of a cardiac arrest without any prior warning or symptoms," Paul explains.
"A simple EGC, which costs just £50, could have detected a problem and saved their lives. We decided we wanted to test as many young people as we could in Ben's memory."
The fund sailed past its initial target and now stands at a staggering £250,000; to date 3,500 young people have already been screened as a result of Paul and Helena's efforts.
Even more poignantly, 20 of those people were found to have significant heart problems and were subsequently treated. They are now living fit and healthy lives.
"That's Ben's legacy," says Paul, with a proud smile tinged with sadness.
From their personal tragedy, the Daniels have found a way to ensure that good has come from Ben's all-too-short, but fulfilling, life.
https://www.justgiving.com/fundraising/bendaniels