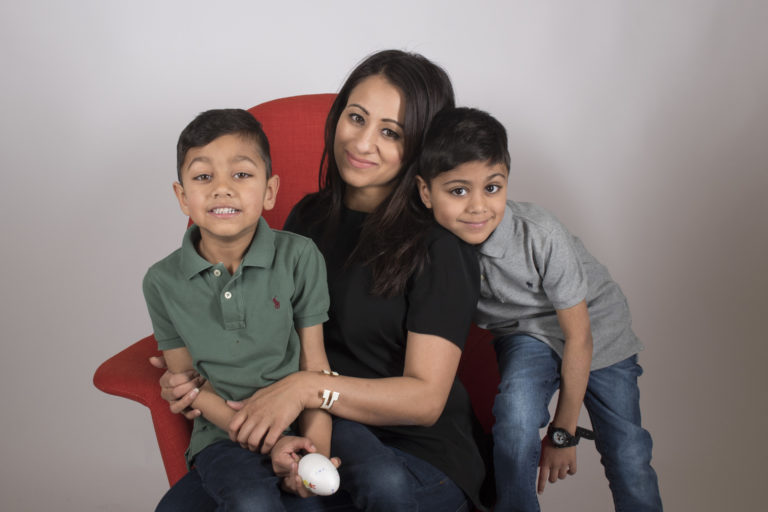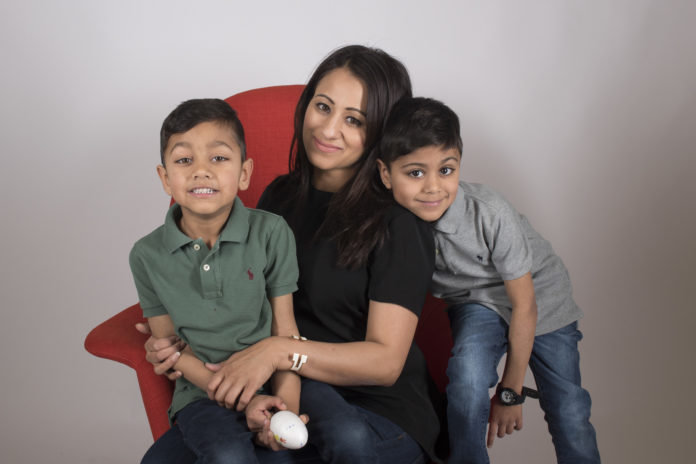 How often do the stresses of life make you wish you could take a step back – change things so your world feels more balanced? There's nothing wrong with wanting to 'have it all', or juggling a career and motherhood, but it has to be on terms that work for you; you should always remember your 'why'. This is the story of how I've done that.
I worked in the corporate world for more than 15 years, with roles including sales, marketing and government affairs. Home was in Birmingham with my husband, Raj, but most days I had to travel to London and there were quite a few overseas trips too. This wasn't so bad when it was just the two of us, but it became harder once our sons arrived.
The daily commute put a strain on family life. I was rarely home before 7pm, so I had little time to spend with the boys during the week. There's only a year's age gap, so it wasn't easy to have one-to-one time with each of them. Weekends were crazy, trying to spend quality time all together and fit in seeing the rest of our families too, not to mention the household chores that needed doing. If I was travelling abroad, Raj had to manage everything himself, which wasn't easy.
The boys attended a great nursery – it was ranked 'outstanding' by Ofsted – so I reassured myself that meant they'd be well prepared for school. They were used to being away from me during the day, so that wouldn't be a shock either. They were fine, I thought.
At home – well, most working parents know what it's like. You promise yourself that after the kids are in bed you'll enjoy a glass of wine together, chill out and catch up, but you end up just falling asleep because you're so tired. Then, when you wake up, the cycle begins again. Never mind, we said. It wouldn't be like this for ever – it was just what life was like as working parents with young children.
Then, in September 2015, my eldest son started in the reception class at school. He'd always been a bit shy, but I was confident he was prepared academically. Nursery had always told us he was doing well, so I wasn't worried. Then we went to his first parents' evening – and that's when my perspective on life changed.
I was shocked to hear from his teacher that he'd arrived at school with skill levels below what was expected – and nor was he the only one. Most kids knew how to use a smartphone or an iPad, she said – technology wasn't a problem. But quite a few were unable to hold a pencil properly or communicate with their classmates.
I felt angry and disappointed with myself, guilty I hadn't done enough for my child. I wished the nursery had asked me to do extra work or indicated that I should be supporting his learning at home, but they hadn't – and I hadn't realised it was necessary. On speaking to other parents, I learned they felt the same – they wanted to help their children but were confused about what to do and how.
With our youngest son due to start school the following year, I decided I wanted to give him more support at home. I began by researching appropriate activities and talking to early years teachers to see what they recommended. During this time, I noticed a gap in the market – there didn't seem to be an online site that focused on kids before they started school, selling purely early years' products. What was available also seemed to be character-led merchandise – it was all Peppa Pig, Paw Patrol or similar.
That was my light-bulb moment. There needed to be an online store that focused on educational toys parents could use to support their children's learning at home – as well as tips and support on how to do that, and suggestions for activities. And so, that's how Gifts for Little Hands was born.
I decided to leave my job to focus on developing my own business. I got to spend more time with my boys, and when my youngest went to school he already knew all his letter sounds and could use them to sound out simple words. That was the result of simply spending half an hour with him on Sundays, working together on some focused activities.
From there came a second idea. What if there was a monthly subscription box that supported parents to be more involved with their children's learning while spending quality time together? That turned into the Learning Club, developed by passionate parents and early years teachers, which launched in April 2019.
I still feel as though I'm at the start of my journey, and I love it. I'm not going to lie and say life now is perfect – of course it isn't. We still have our ups and downs, and we've had to sacrifice luxury holidays and treats, but you learn to scale down. What we have instead is more time as a family. I get to drop off and collect my sons from school every day. I'm there to support them whenever they need me. We have a balance, and even when Raj and I disagree – he developed the business website and takes care of the IT infrastructure – we respect each other's views and expertise and leave any issues at work.
I feel happier and more content because I've developed something that not only helps prepare children for life at school but supports parents to be more involved in doing the same. The guilt of feeling I'd let my older son down was one of the worst feelings in the world – no parent should ever feel like that.
Bringing up children is a hard job, and all we ever want is the best for them. If I can inspire and help other parents, then it's my privilege and honour to do so. My sons are my 'why', and the reason I am on this journey. I'm looking forward to finding out where it takes us.
Also read: