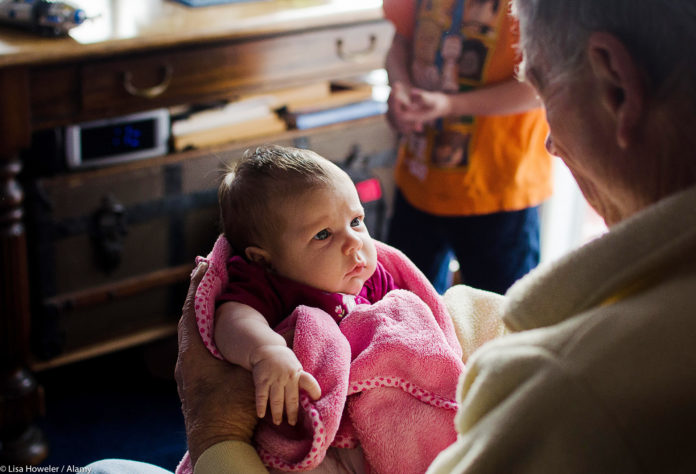 "I am not being 'Granny'," my friend Anne said emphatically, on learning her son and his wife were expecting their first child. "Granny makes me feel old, and I'm not. Not in my head, anyway."
Given the relationship between grandparents and grandchild is generally significant and long-lasting, what your son or daughter calls them is an important decision. It can also be a complicated one as, in an age where divorce and second-time-around families are increasingly common, a child might find itself with more than the usual number.
This is certainly true in the case of my own kids, who for a while were fortunate enough to have four grandfathers in their lives. Luckily, all were happy to be Grandad [First Name], but that's not always the case.
So, what do you do if both grandmothers want to be called the same thing? What if you really don't like their preferred option, or your child comes up with something completely different?
There are a few ways to simplify the naming process.
Once your son or daughter starts to talk, they'll soon adopt names for those around them – and they can come up with some wonderful ideas.
"My mother-in-law wanted to be 'Nana' but our son must have heard us say 'grandma' from time to time. He couldn't pronounce it properly though and it came out as 'Grum' – and it stuck. She's now 'Grum' to all three of our children," says Susan, another friend.
Someone else I know is called 'Gampy' by his grandchildren, while Kate, whose daughter lives in a different country to her, is known as 'Box Nana' to her young grandson.
"My daughter and I video-call each other several times a week – it's not the same as being there but it's better than nothing," she explains. "My grandson started calling me 'Box Nana' because he usually sees me on a square screen – he thinks I live in a box and only come out to talk to him!"
Most children will fall in with a name they are used to hearing – which can be useful if you've got two grandparents laying claim to the same moniker.
"Both my mum and mother-in-law wanted to be Nanny," recalls Lisa. "Obviously we needed some way of telling them apart, but neither would consider an alternative.
"So my husband and I agreed we'd choose something and teach our daughter when the time came. We'd show her photos of my mum and call her Nana Blue, as she had a blue car, and my mother-in-law was Pet-Nan because she had a dog and a cat. It worked – and they actually each liked having a 'special' name."
3
Prepare for some strange ideas
We all know children can come up with their own versions of words and names that seem bizarre to us but make perfect sense to them.
One young man I know calls his grandmother 'Curly Moo'. When he was a child, nobody could work out where this came from, until one day he explained there was a book of farmyard stories she always used to read to him.
On the cover were pictures of various animals, including a Highland cow with a particularly curly forelock. She'd always point to it, saying "Look at the curly moo-cow." To him, the association made perfect sense – and the name has stuck, even though he's now 16 years old.
4
Remember what's important
If you're an expectant parent, or about to be a grandparent, it's a good idea to talk over the topic before the baby arrives to get an idea of each other's views.
Ultimately, though, most people would agree it's the relationship they have with the child that matters, not what they are called. Whatever name is adopted, chances are you'll all grow to love it; Anne, mentioned earlier, has come to terms with being 'Granny Annie' because it represents the affection that exists between her and her grandchildren.