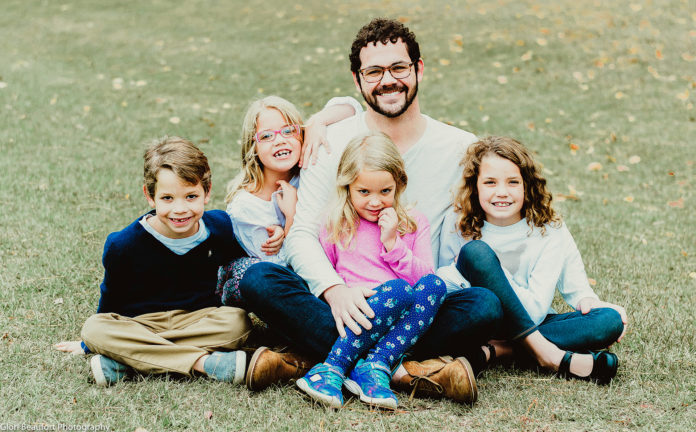 What do you think when you see a dad out and about doing everyday chores with his kids – buying groceries in the supermarket or stopping at a café to grab a drink? Maybe you assume he's just 'doing his bit' as a dad, giving their mother some time to herself. After all, looking after young children is tough – no wonder she needs a break sometimes.
If the dad is Seth Megow, though, you'd be wrong. For the past five years, he's been a full-time single dad to his four children – something he describes as 'a real adventure, with its highlights and low points'. It's been a steep learning curve to say the least, and as a result he's keen to support others in the same situation by letting them know they are not alone. Thinking you can't cope is natural, says Seth, but he wants you to know that you will.
"My ex-wife and I married when we were 19 years old," he explains. "We were young, but we knew we wanted to be together. And we were really happy for a while."
Over the years, their four children arrived – eldest daughter Stevie was born in March 2008, followed by her sister Neela and brother Titus. The youngest, Olive, came along in 2012.
"The following year was when things changed," says Seth. "After some months my ex-wife moved out, but it was a while before I could bring myself to tell anyone what had happened. I guess a part of me hoped we could still fix things – we couldn't."
Instead, in his late-20s, Seth found himself alone and in sole charge of four young children – something he admits he found overwhelming. "You wonder how in hell you can do this. How you can be everything each of them needs," he says. "You wish there was somebody in your corner to cheer you on. I had nobody – not even my family as they lived some distance away."
The hardest thing about being a single parent, says the now-34-year-old, is the loneliness. Juggling the finances and making sure everyone is clothed and fed is stressful, of course it is. But when you shut the door on the world, after you've put the children to bed – that's when you realize there's nobody there to talk to about your day, to share either the burden or joy of parenthood.
Seth, an IT specialist, says it's also hard to find the time and energy just to keep on top of everything that needs doing – the household chores, attending school events, church events, work, extra-curricular activities.
"It was a challenge, but also an opportunity," he recalls. "It stretched my creativity and made me get really good at prioritizing."
One of Seth's golden rules was always to have alone-time with each of his children, even just for 15 or 20 minutes. Sometimes that meant taking it in turns, one child per evening. He says it became one of the most important parts of their day – a chance to connect, one-to-one. And after a while, he says, they found a rhythm. The routine worked. The kids learned to express themselves and how to be open about their feelings. They molded into a super-tight little crew.
"It's a joy to be so close as a family. Man, those kids can fight – they're around each other a lot – but there is so much love between them," says Seth. "Despite everything they've been through, they have an optimistic view of the world. I'm proud of that."
It's benefited his own personal growth, too. Seth likens himself at times to 'a piece of dried-out Play-Do getting pushed through a mould' but says the end result is a man who is kinder, more empathetic, and generally a better person.
"Seth the Dad was always pretty good, but now Seth the Person is a great guy too," he laughs. "I'm not perfect, nobody is. But I'm who I'm meant to be."
One of the things that helped him on his journey was starting his blog, Who Put My iPad in the Dishwasher, which chronicles the trials and tribulations of life as a single parent. He feels proud to know it has resonated with other lone mothers and fathers around the world, helping them find their own way and gaining a loyal following.
It's also led to a new adventure for the Megow clan, which has just moved almost a thousand miles from Hahira, Georgia, to eastern Pennsylvania. The family is embarking on a new chapter.
"I've met someone," says Seth. "Sarah is kind, intelligent and a wonderful person. We connected around a year ago when she randomly found my blog and messaged me. People often get in touch, but there was something about her that was a bit different."
Mindful of both his children and hers – Sarah has three kids – they've taken things slowly. There's been a lot of talking, texting, and FaceTiming, often covering really in-depth topics. "That tends to happen when you can't just get together with someone whenever you like to catch a movie or dinner," reflects Seth. "You make the most of when you can connect and get to the nitty-gritty." They've met up as often as they can, of course, and also tried to let their kids meet as frequently as possible.
Neither of them thinks it's a fairytale, emphasizes Seth. They don't expect to ride off into the sunset to a happy-ever-after without so much as a backwards glance. They've agreed to take things slowly – instead of moving in together straight away, both families will get used to being around each other in the same town first. And Seth and Sarah have already had conversations about various situations that might occur in a blended family with seven children, and discussed how to handle them.
"It's an exciting adventure," says Seth. "Nothing ever goes exactly how you plan, so who knows what lies ahead? But I feel Sarah and I have the same game-plan, we feel the same about the important stuff. We've got time to work the rest out as we go along."
He hopes his story will give hope to other single parents and encourages them to reach out when they need help.
"Being a single dad hasn't been easy. There will be tears and hard times for anyone in this situation, but I hope they'll remember they're not alone," he says. "Build yourself a village – find people who understand what it's like, who you can confide in. They'll support you, as you support them."
Ultimately, he says, be proud of yourself. Everyone has strengths and weaknesses – the trick is understanding them, accepting them, and realizing you're exactly who you're meant to be.
"I can honestly say I feel nothing but joy now about where I am, where I've come to with my little tribe," concludes Seth. "We've waited a long time for the right people to come along, and I look forward to the future with excitement and joy – isn't that what life's about?"
Also read: