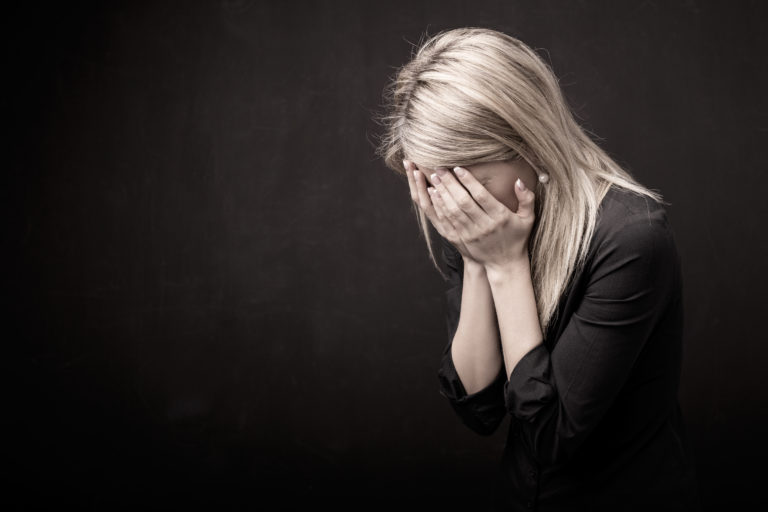 I still can't remember when the words finally sank in, when I accepted the truth – that I was a victim of domestic abuse and violence. Even as I sat across from the housing officer who was describing how I'd fled my violent husband and was left with nothing, all I could think was: "Please, just keep me and my children safe tonight."
My mum was with me and every time someone passed by the room I jumped; my heart missed a beat when the phone rang; footsteps coming towards the door made me sink further into my seat. But when the housing officer asked for my permission to call Women's Aid, I was confused – I still didn't believe everything I'd been through was 'abuse'.
When I met Simon, I'd been a single mum to Rory for around four years. I had my own business and my own home. It was the right time for me to meet someone, I felt. I knew there'd be problems as I'd recently been diagnosed with hypermobility syndrome – Ehlers-Danlos syndrome as well as fibromyalgia – but figured the right person would accept me, my son and all that we were.
He won me over. His online message was kind, caring – nothing like the others I'd received. We had long telephone conversations – he made me laugh, wanted to get to know me. When he asked if we could meet, I felt nervous but excited. I was ready – it felt right. He was my knight in shining armour – handsome, kind, funny, charming and attentive. We quickly became inseparable.
He was a submariner in the Royal Navy, based near Helensburgh in Scotland; I was some distance away in Lanark. Before I knew it, I'd sold my house, my business and my car, and Rory and I moved to Helensburgh. Oh – did I mention we got married?
I loved the Navy house. People might laugh, but I so enjoyed those first few weeks. I say weeks because the cracks were already starting to show. He'd blame me for things, we'd have arguments because of the pain I was in due to my health issues.
We got a rescue dog, Hank. Rory and I adored him, even though he was really too big and strong for me. But that was the dog my husband wanted, so that's the dog we got. He soon became intolerant of Hank, though – I'd see him kick or abuse him. Another red flag…but when I questioned him, it was always my fault or due to stress at work. He was hard on Rory, too – he'd punch holes in walls, destroy his Lego, rip posters off walls, force him to finish meals. He'd tell him not to cry, to stop being a 'big f***ing girl' and grow up – Rory was just five years old.
By now I was pregnant with Amber, my daughter. Simon had stopped me from talking to my mum; I felt isolated and alone. My pregnancy was horrific, and I will never forget him shouting and swearing at me in hospital in front of another mum and her family over a car seat.
We ended up moving to Portsmouth when he was promoted at work – a fresh start, he called it. We had some great times; when he was happy, we were happy. But when his anger took over, the house became a war zone. Once he punched the dog so hard he broke his finger; I'm still traumatised by that and hear Hank's yelps in my sleep.
Simon started drinking heavily again and our arguments were heated and intense. He'd get into my face, grab Amber from me and push me out of our home, jamming my foot in the door. I was backed into corners, physically forced into seats or onto the bed, and made to listen or answer yes-no ultimatum questions. He told me I was crazy, that I needed help, asked if I'd taken my medication. If I dared question his behaviour the cycle would start again.
I tried to leave, but he told me that if I did, I couldn't take Amber. He'd grab her and ask how I expected to manage, saying I was too young to cope and would never find anyone else to take me on. (The least of my worries; I'm still single and haven't seen anyone else since I finally got away.) Then he'd go through the familiar cycle – let's try again, we will change and make this better.
My health deteriorated and after being sterilised I started getting horrific migraines again. Simon was outwardly supportive, but I knew my being sick annoyed him. He played his part well in public, the doting dad and devoted husband, but it was such a different story behind closed doors.

We moved again, to Plymouth this time. He claimed it was another promotion, but it was so he could get out of going to sea – and avoid a drugs test. I didn't know at the time he was using cocaine. His drinking was out of control and so was his temper. He was determined to leave the Navy and start a new career; he wanted to go back to Liverpool. Some days were still happy; he could be loving. I'd get a glimpse of the man I fell for and feel hope flood back. Maybe, just maybe when we moved all this stress would go and I'd have my happy husband back.
My mum visited us in Plymouth. The kids were happy to see her, but she knew things were strained and I could tell she was worried. One night, she took the kids to bed. I was sitting with a glass of wine when Simon came in, also with a glass. I realised he was already drunk. I was trying to watch television, but he talked all the way through the programme, getting louder and louder. Feeling unwell I decided to go to bed, first pouring away my wine – which I'd hardly touched – and the dribble still in the bottle.
I was starting to nod off when the light went on. I felt a migraine starting, but Simon wouldn't let me get up. He pinned me down on the bed and began to shout abuse at me – he was angry I'd poured the wine away and called me all kinds of terrible things. When I told him I needed my medication, he punched me on the shoulder.
At some stage, I managed to get up and realised I'd wet myself. That can happen during a migraine, so when my mum helped me clean up, that's what I let her think. I couldn't tell her the truth. Simon was like a little boy the next day, crying and sorry, promising he'd never do it again and asking me to forgive him.
We moved to Liverpool, to the most beautiful house. It felt like another fresh start. I loved this man and wanted our marriage to work. I loved his family, too – they always made me feel welcome and loved. I realise now they probably never saw the side of him I did; I was the one at the receiving end of his fists.
He was still drinking but seemed calmer. My health was up and down, and I was back and forth to the hospital for tests, treatment and physio. I was given a walking stick to help with my balance, which took some coming to terms with.
One weekend we had friends over. The kids were in bed and we were hungry. He followed me into the kitchen as I went to get something to eat; when I asked what he was looking for, he said he wanted "a f*****g knife for f*****g you". Apparently, something had happened at the doctor's earlier that had enraged him. Luckily there were no knives near, but as I moved away he lunged at me and pushed me into the utility room, stumbling as he did so.
I hit my head on the washing machine as I fell backwards, and he hit his lip on the worktop and split it open. He dragged me up and shut the door behind him, smearing blood on my face, swearing at me, blaming me. Suddenly he slapped me across the face; I don't know where it came from, but I retaliated and slapped him back. The next thing I knew, he'd grabbed both my shoulders and head-butted me. My nose burst open, blood gushed everywhere, and I lost a front tooth. I collapsed.
What happened after that is a bit blurry. My friend came in and Simon went to the hospital to get his lip sorted out, telling me not to call the police. I cleaned up and checked on the kids, but Amber saw blood on my face. (As a memento, I have permanent damage to my nose and post-traumatic stress disorder.)
He said it was my fault – I hit him and provoked him. I found out later he'd been using cocaine. I still can't explain why I stayed. I suppose it was just everything going on – Rory starting high school, our mortgage and the new house, Amber starting nursery. I was ashamed, too, and felt nobody would believe me. My health issues made me hard to live with, so who could blame him?
I withdrew, re-developed an old eating disorder and had regular panic attacks. I didn't want him near me but resigned myself to staying until Amber was 16. Simon claimed we were tied into the house due to debt, so I couldn't leave, but he wouldn't let me go anyway. He downgraded the assault to 'just a slap' and said it was my fault. The state I was in, I believed him.
His drinking and behaviour worsened. He spent more and more time away from the house. When he was there, he'd shut me in the bedroom or living room – which had a lock – and demand sex. I was so terrified that I'd give in. He ordered Viagra online and would keep me up all night with no care about me, my health or my feelings. Refusing wasn't an option; I was too scared of what might happen.
He begged me to try marriage counselling, so I agreed. The woman gave me numbers for Women's Aid; they tried to get me to leave but I felt I couldn't give up on him. I went with him to a drugs and alcohol addiction meeting, but on the way home, he said he didn't think he was as bad as the other people there because he could stop whenever he liked. But he didn't.
I went to Scotland with the kids. Simon was supposed to come too but didn't, because I'd told my mum what had happened. I didn't realise he'd told his family a different version – that we were having problems because my mental health was unstable, that we'd fought and 'hit each other'. He omitted the pushing, the slapping, the headbutting, the threats about using a knife.
I chose to go back after that trip. I wanted to make things work. I went home on December 30, just with Amber as Rory was staying with his father. The house was a tip. There was no food or other household stuff in as he hadn't been shopping. He'd forgotten to take the bins out.
First things first. I needed to get to the shops before they closed, and I'd have to take Amber with me. He followed, grabbing me from behind in Aldi and frightening me half to death. Back at the car, he was convinced someone had hit it; the more I tried to calm him, the more agitated he became. Paranoia – a side-effect of cocaine.
He went to talk to security and came back shouting and swearing at me, saying it was my fault for how I'd parked. I lost my cool and shouted back; wrong move. He got in the driver's side and drove like a maniac to Asda, another supermarket. He was almost foaming at the mouth, revving the engine and threatening to drive us all through the store entrance. Amber was crying and I refused to go in and leave him there. He continued revving the accelerator, not caring about the safety of anyone else – other shoppers, even his own daughter. In fact, he was threatening to kill both me and Amber. I just wanted to go home.
I was aware by now of the cannabis farm he'd set up in our basement, and that he was trying to start a second upstairs. He'd originally told me there'd been a flood before we moved in and it needed a damp-proof course; he said the kids and I should stay out for safety. It was locked, as were the loft and spare bedroom, where he said there were tools and paint lying around. I accepted his reasoning that Amber would get her hands on everything, and I still feel ashamed and embarrassed that I missed the signs my husband was a drug addict.
On New Year's Day I had no choice but to let him care for Amber – I had a migraine and needed to stay in bed. When I went downstairs he was drunk, high, and the house was a mess. Amber was still in her pyjamas and he was angry at me for being unwell. He told me he was going to a friend's house because he couldn't put up with my behaviour anymore. If he didn't leave, he'd kill me. He started to pace around, hurling abuse and insults. The atmosphere darkened and as he got physically closer his eyes looked almost black – it was as though a mist had fallen over him.
And that's when the light bulb went on. If I didn't do something, there was a chance he really would kill me.
He called a taxi and left the car keys, and I felt 'flight' mode kick in. As soon as I heard the taxi leave, adrenaline shot through my body. The first thing I did was, not to put too fine a point on it, crap myself. I mean physically. I couldn't help it. Then I began to pack bin bags with the most random, bizarre items, shaking and crying the whole time. I asked Amber if she'd like us to go back to Granny's in Scotland for a while, and she began to help. I took mostly things for the kids, some for myself and, luckily, I remembered our birth certificates and passports. I took a bottle of champagne from the kitchen, too – why should he have it?
When I got to the door, I stopped. What if he caught me? I stood there, not knowing what to do – should I just put everything back, pretend it hadn't happened? Then I looked at Amber. I couldn't let her or Rory grow up in this environment, with a cannabis farm below our feet and cocaine on the kitchen table. They needed a safe place, wherever that might be.
Still wearing jogging bottoms and slippers, I took Rory's Christmas money and Amber and I went outside. It was around 9pm – strangely calm and not a soul around. We threw the bags in the car and drove off without looking back.
We needed petrol and I shook as I tried to fill the car – it was a new one and I'd never done it before, Simon was in charge of that. Someone kindly helped, and I handed over some crumpled £20 notes. Then I called my mum. She booked us into a motorway hotel and stayed on the phone the whole time as I drove. I cried, I laughed, I felt sick. I wanted both to turn around and keep going. One moment I felt empowered, the next terrified. I went through pretty much every emotion on that journey.
At the hotel I hid the car, convinced he'd followed us. I stood there in my slippers, clutching a bin bag and a sleepy Amber, mascara halfway down my face, to be wished 'Happy New Year' at the check-in desk. Next day, we continued to Scotland.
Simon didn't contact me until 4pm, when he'd realised I was missing. My mum had booked me in to a local guest house and I hadn't even told Rory I'd left. I wanted to answer my husband's phone calls, but I knew I'd end up going back, even then. And I'd had enough – I couldn't live with the false promises, the lies, the assaults, the rapes, the drugs, the drink, his total denial. I couldn't let my kids go through it either; they deserved so much more. The only way was for us to be apart, for him to get clean, own his faults, and sort himself out.
I went to the council with my mum to explain my situation, and that was when the man we saw called Women's Aid. It was arranged we'd go into a refuge until we could get our own home; I couldn't stay at Mum's as her roof had just caved in and she was staying with my grandmother.
When Women's Aid called, I didn't feel ready to talk to them about what had happened. I still didn't feel it was abuse. To me, that meant your husband or boyfriend punching you ten times a day or setting you on fire for putting the peas next to the sweetcorn on their plate. But when I explained how he spoke to me, how he behaved, the lady softly told me that was abuse. Then I told her how he'd hit me, punched me, assaulted me. Women's Aid asked if wanted to go to the police, but I begged them not to. Because, still, I wanted to give him a chance to prove himself. To get clean. Of course, this hasn't happened.
Being in a refuge was difficult. We ended up sleeping on the floor in the middle of a room, and the kids were terrified. There were police, junkies and drunks in and out of the building at all hours. I had to wait six weeks for financial support from the state. Women's Aid were amazing, providing clothes, food, bedding, toiletries and things for the kids. Finally, we were allocated a house via the council – again, Women's Aid was amazing, as were my mum, friends and neighbours. Soon, we had furniture and the house was habitable.
Meanwhile, Simon was messaging and trying to talk to Amber. I tried to be amicable, but we ended up going through lawyers. He was never charged with abuse and assault due to lack of evidence, and he denied it all.
However, he has admitted taking drugs and having a drink problem. As he's a taxi driver, that worries me. He's also since taken out £25,000 in loans and credit in my name to clear his debts – something that is currently with both the Scottish and English fraud squads.
Both children are receiving professional support to the trauma they've suffered. Rory has nightmares and sleep-walks; he checks the doors and is terrified Simon will hurt me again. Amber clearly remembers the night she saw me with blood on my face and randomly tells people: "Daddy punched my mummy."
I've been seeing a psychologist and managed to finish The Freedom Programme, developed to help victims of domestic violence. I'm lucky to have incredibly supportive friends, family and neighbours, and my life is finally back on track. I will always have health issues, but I can adapt to and live with those. They are already more settled – probably because I'm no longer walking on eggshells or worrying about being assaulted or raped.
I've started blogging and doing videos for YouTube, and I'm also writing a book in the hope it will help others who have been through similar situations. I want people to know you can survive after abuse. Sometimes I felt I couldn't – I've had really dark days when I felt there was no way I could carry on, that I had no hope or purpose. But here I am, and I'm determined to help other women realise they can turn things around too.
Also read: