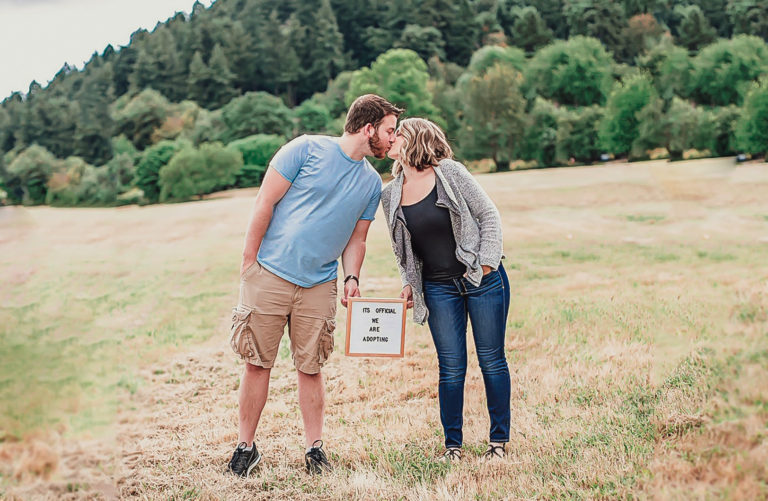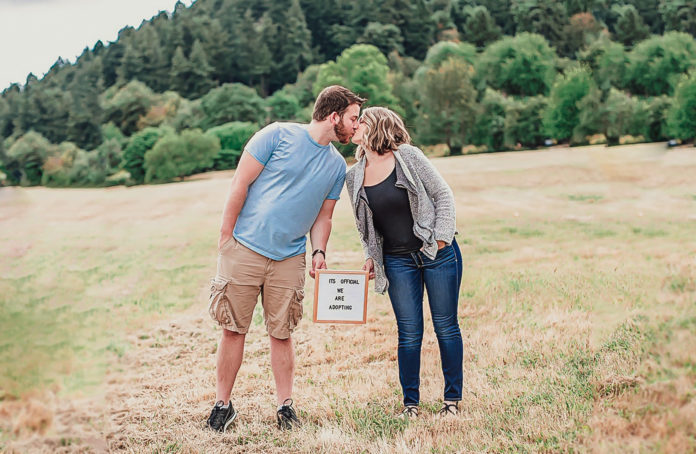 Aaron and I had been married just over a year when we decided to start trying for a baby. Everyone told us to wait until we'd been married for at least five years. Have quality time together first, they said. But that's not how we envisioned our life together.
I'd wanted children ever since I was a little girl and we both knew we wanted to be young parents. We were happy together, had a stable relationship – it was the right time. So, in September 2014, I happily threw away my birth control pills.
I didn't know much about the menstrual cycle. Those first few months were mostly full of confusion and learning. We had a pre-conception checkup to make sure we were healthy, and to learn about any potential hereditary health risks.
I was labeled with 'unexplained infertility'. You'd think that would be comforting.
After three or four months I started using ovulation tests and tracking my cycles. Month after month passed and I still wasn't pregnant. In November 2015 we spoke to a fertility specialist and scheduled the first available appointment in 2016.
Then began the tests, the needles, the invasive examinations. I got the thumbs-up and was labeled with 'unexplained infertility'. You'd think that would be comforting, but I would prefer to know why I was barren. Aaron was summoned for his semen analysis and the results were fantastic. We joked about him having golden-quality sperm, having no idea it would be the first of many, many tests for him.
The next week, April 2, 2016, I was getting ready to go to the tulip festival with my family. I decided to take a pregnancy test. My cycle had been funky that month, with a double ovulation peak, so I had no idea when my period was due. Five minutes later, I'd almost forgotten I'd even taken the test. I looked at it before I headed out the door – and was shocked to see a faint second line. A positive result! I started to shake and cry. My sister-in-law arrived and could see I was in a state, so I told her the news.
I rushed to the store for another test – a darker line. It was real. I was pregnant.
I hid the test in the cabinet, pleased Aaron wasn't home so I could surprise him with the news. Then I fixed my makeup and went to the festival with my family. I tried so hard not to think about what had happened, but it consumed me. When I got home, I rushed to the store for another test – a darker line. It was real. I was pregnant.
I rushed back to the store, this time for a pair of baby's booties, a onesie and a card for Aaron. Then I waited impatiently for him to come home. He had no idea what he was about to open when I handed him the gift. He started to cry and we embraced, both in tears. I'd never felt such joy. I was thankful, but also a little scared.
Unable to contain our excitement, we told most of our family over the next few days. Then, about five days later, I started getting pain in my abdomen, a kind of dull ache. I went for a blood test and checkups and was relieved all was fine.
The next few weeks really were the best I'd ever experienced. I had no morning sickness – I was just thrilled to know this tiny bundle was growing inside me. On April 30, while my sister was in town, I offered to be the designated driver for her and my mother while they went wine-tasting. On a visit to the bathroom, I noticed a little brown/red discharge. I wasn't too concerned – I wasn't cramping and had been told this could happen. But then the cramps started on the way home. I was worried but still not too scared because I wasn't really bleeding.
I called the nurse advice line. The urgent care facilities were already closed, so I was told to go to the emergency room. As I hadn't yet had an ultrasound scan, they'd want to make sure the pregnancy wasn't ectopic. So, instead of joining my family for dinner for my sister's last night, Aaron and I spent five hours in the ER. It felt like a waste of time – until I went to the restroom. That's when I saw the dark red blood.
My body rejected the tiny baby nestled in my womb over the next few days. I felt every single ache, cramp and bit of tissue.
I began to cry in disbelief. This wasn't good, I knew that. I'd missed my name being called while I was in the bathroom, so we had to wait even longer. They did examinations, tests and an ultrasound, where we saw the sac. The first and last time we would ever see Baby White. My body rejected the tiny baby nestled in my womb over the next few days. Clump after clump, bloody pad after bloody pad. I felt every single ache, cramp and bit of tissue as my body expelled it.
After it was over, we decided the next couple of months would be just for us. We weren't not trying to conceive, but I wouldn't take ovulation tests or do any cycle tracking. After the summer, we went back to it, thinking it would be easier now I'd been pregnant once. But 2016 left with no further success.
More invasive procedures followed, and we discovered I had a hydrosalpinx – a blocked fallopian tube. The best option was to completely remove it, so I had surgery in March 2017. I felt confident now, as though I had new hope. This would help us get pregnant – 2017 would be our year.
We started intrauterine insemination (IUI) and it seemed easy. I took the pills, went for ultrasounds. It wasn't until the day of the actual IUI that we found Aaron's sperm count had dropped into single digits. Because his previous test results had been so good, it was written off as a fluke. After three consecutive months, we realized it wasn't.
Aaron took meds and in February 2018 we decided to try fertility treatments again. While we waited for our appointment date to roll around, we learned good friends were trying to find a home for their foster daughter's brothers.
We weren't certified as foster parents but we were very willing to open our home to kids in need.
We'd already agreed we had room in our home and our hearts to offer love and support to a child who needed us. I'd contacted Embrace Oregon and on March 27 an application was sent for us to begin the home study process. It was two days later when we learned these boys, aged seven and 12, needed an emergency placement.
We weren't certified as foster parents – we hadn't even filled out the application – but we were very willing to open our home to kids in need. So, fewer than 100 hours later, we were emergency certified and two Somali American brothers arrived on our doorstep. They've been part of our family ever since, and we're all excited about them spending their first Christmas in our home.
We've carried on with IUI, but with no luck. It's led to something of a mind-shift – a kind of acceptance. We may never get pregnant and have a biological child. So, we'll look at other ways of growing our family. We're moving forward with our adoptive home study and will become an adoptive family.
It's certainly been a whirlwind year. We've had to accept our infertility. We've become foster parents. We're an adoptive family in waiting. Life is crazy, adventurous, hard and exciting, and I'm thankful for the wisdom and support of those around us.
Also read: