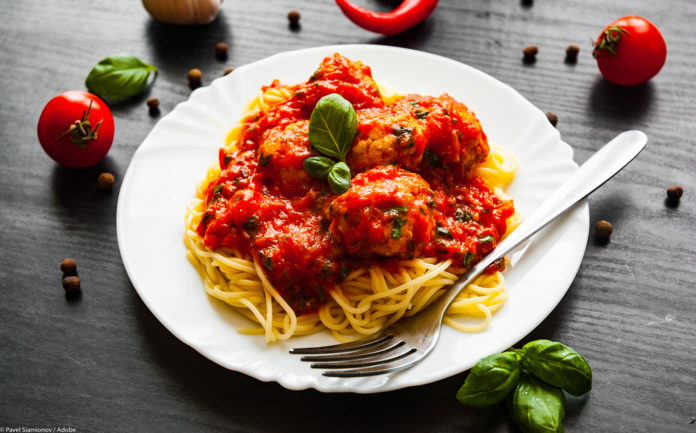 This dish reminds me of my beloved Italian grandmother who would always make it when I visited as a child. Now my kids love it too. It's traditional to use half beef and half pork mince for spaghetti meatballs, but it's fine to use just beef if you prefer. If you're short on time you could cheat and buy a pre-made tomato sauce – but it won't taste as good! Quantities can be easily adjusted if you're cooking for a crowd.
Prep time: 30 mins approx
Cook time: 30 mins approx
Serves: 4
Ingredients:
For the meatballs:
250g lean beef mince
250g pork mince
75g fresh breadcrumbs
50g grated parmesan
1 large egg, beaten
1 garlic clove, minced or finely chopped
2tsp dried parsley or 1tbsp fresh finely chopped parsley
½ tsp dried basil
½ tsp dried thyme
Salt & freshly ground pepper
A little cold water as needed
For the sauce:
1 400g tin chopped tomatoes or 500g passata
1tbsp tomato puree
1tbsp dried oregano
1 large onion, finely diced
2 garlic cloves, finely chopped
1tsp sugar
Salt & freshly ground black pepper to taste
You will also need:
50g-75g dried spaghetti per person
1-2 tbsp olive oil for cooking
Method:
To make the meatballs, combine the beef and pork mince with the breadcrumbs, herbs, parmesan, garlic, egg and seasoning. Mix thoroughly and then knead with your hands. The longer you do this, the finer the mixture will be, so don't overdo it if you prefer a coarser texture. Add a little cold water if the mixture is too dry and difficult to work with.
Form the mixture into 16 meatballs, then heat a tablespoon of olive oil in a large heavy-based pan. Brown the meatballs over high heat for a few minutes, then remove from the pan and set aside.
Add a little more oil to the pan if necessary and cook the onion over medium heat for about five minutes until soft. Add the garlic and cook for a couple more minutes.
Stir in the chopped tomatoes or passata, tomato puree, oregano and sugar, and season with the salt and pepper. If the sauce is a little thick at this stage, add some chicken or beef stock – from a cube is fine – or boiling water.
Bring the sauce to the boil, then reduce the heat and return the meatballs to the pan. Cover and simmer for around 15 minutes, until the sauce has thickened and the meatballs are cooked.
In the meantime, cook the spaghetti according to the packet instructions.
Serve the pasta with the meatballs and sauce piled on top, along with plenty of grated Parmesan and fresh chopped parsley if liked.
Tip: To make fresh, soft breadcrumbs, tear bread into pieces and place in a food processor or blender. Pulse until it turns into crumbs. As a rough guide, one standard slice of bread will give you 25g-30g of crumbs.
Also read: