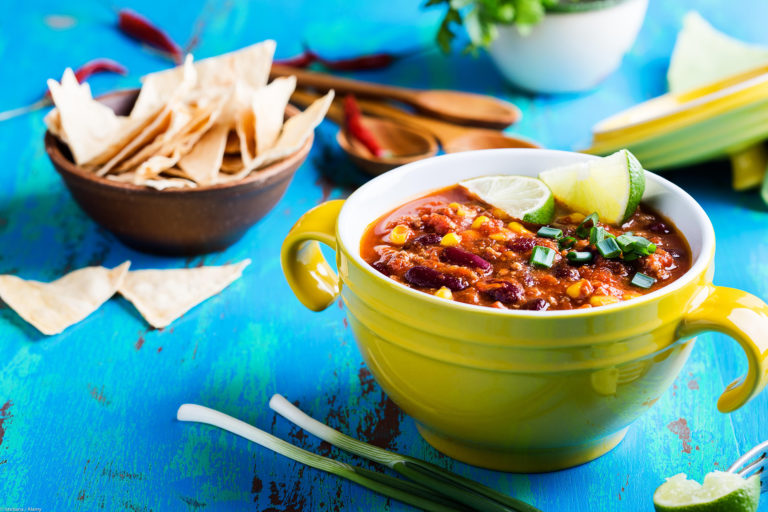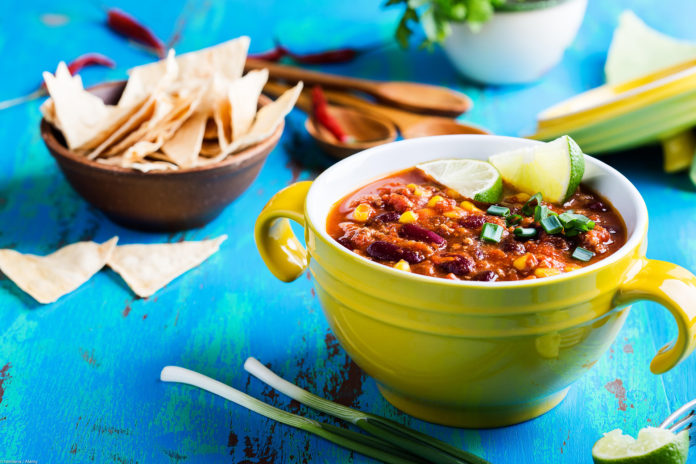 Persuading children to eat spicy food can be difficult, but our kid-friendly chilli con carne is a good way to start. We've included some extra vegetables, and it's easy to up the heat for a more adult-strength meal.
Prep time: 20 mins approx
Cook time: 45 minutes
Serves: 4-6
Ingredients:
500g beef mince
1 large onion
1 medium carrot
1 red pepper
3 garlic cloves
1tsp smoked paprika
1tsp ground coriander
1tsp ground cumin
½ tsp mild chilli powder
1tsp dried oregano
400g tin chopped tomatoes
200g tin cooked kidney beans
200g tin cannellini beans or baked beans in tomato sauce
100g sweetcorn kernels (tinned or frozen)
300ml beef stock
1-2tbsp vegetable oil
Salt & freshly ground black pepper
Method:
Dice the onion and red pepper, and crush or finely chop the garlic cloves. Grate the carrot.
Heat the oil in a heavy-bottomed pan on the hob. Add the mince and brown quickly over a high heat. Drain onto kitchen paper and set aside. If necessary, heat a little more oil in the pan before adding the onion. Cook for a few minutes until soft. Tip in the garlic and grated carrot, and fry for a couple more minutes.
Return the browned mince to the pan and stir thoroughly. Add the smoked paprika, coriander, cumin and chilli powder and mix well. Cook, stirring constantly, for a couple of minutes.
Drain the kidney beans and add them to the pan. Pour in the tinned tomatoes and beef stock. Season with salt and freshly ground black pepper. Bring to the boil and simmer for 20 minutes.
Drain the cannellini beans, if using. (Baked beans can be left in their sauce.) Add them to the pan, along with the red pepper and sweetcorn kernels. Bring back to the boil and simmer for a further ten minutes.
Serve with boiled rice or jacket potatoes and wedges of lime on the side to squeeze over.
Tips
Kids love pick 'n' mix style food. I used to put out bowls of sour cream and grated cheese for them to use as toppings, and tortilla chips.
If you want to increase the hidden vegetable content, try grating a courgette (zucchini) and adding that to the pan with the carrot.
For a more grown-up dish, transfer some of the chilli con carne into a separate pan after adding the tomatoes, stock and seasoning. Add more spices to suit your taste and simmer for 30 minutes alongside the kids' version.
Also read: