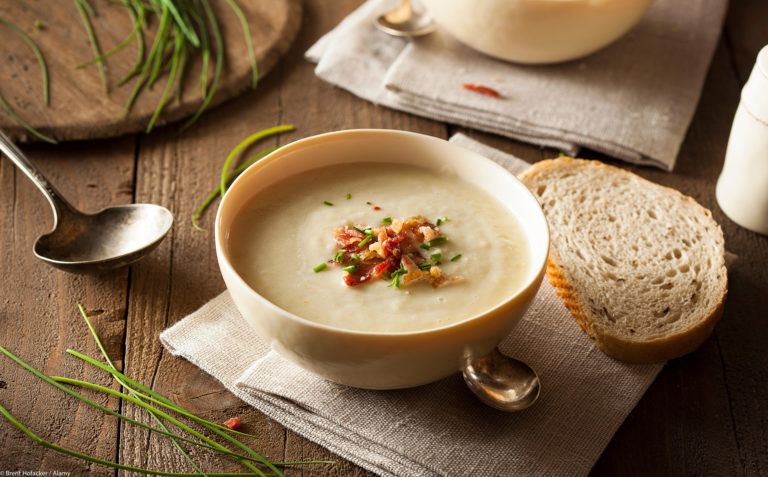 Soup is wonderful. Quick, tasty and a good way to get vegetables into the family's picky eaters. We all love leek and potato soup in our house – it's probably the one I make most often. Adding bacon makes it a bit more substantial, but simply omit it if you're vegetarian or trying to cut down on how much meat you eat.
Prep time: 30 mins approx
Cook time: 30 mins approx
Serves: 4-6
Ingredients:
7 rashers streaky bacon
500g leeks
3 good-sized potatoes
1 medium onion
25g butter
1 litre vegetable stock
150ml single cream
Method:
Wash and slice the leeks and chop the onion. Peel the potatoes and cut them into chunks. Chop four of the bacon rashers.
Melt the butter in a large, heavy-based pan. Fry the bacon and onion gently, stirring, until they are golden. Add the leeks and potatoes, mix everything together and then cover. Reduce the heat and cook gently for five minutes. It's a good idea to shake the pan occasionally so nothing catches on the bottom.
Pour in the stock and bring to the boil. Turn down the heat and simmer for 20-30 minutes, until the vegetables are soft. Leave to cool for a while and then blend until smooth in a food processor. (You may need to do this in batches.)
Return the liquidised soup to the pan, add the single cream and reheat thoroughly. Grill the remaining three rashers of bacon on medium-high until browned and crispy, turning halfway. Drain on kitchen paper and then crumble over the bowls of soup before serving.
The soup will keep in the fridge for several days and can be frozen for up to three months. In either case, after blending, transfer your soup into suitable containers. Add the cream only when you're ready to reheat.
Variations:
For a chunkier soup, just blend half the total quantity. You could also add pieces of cooked chicken while reheating, either as well as or instead of using bacon in the recipe.
Instead of the crumbled bacon, serve topped with a dollop of crème fraiche and some snipped chives.
Also read: