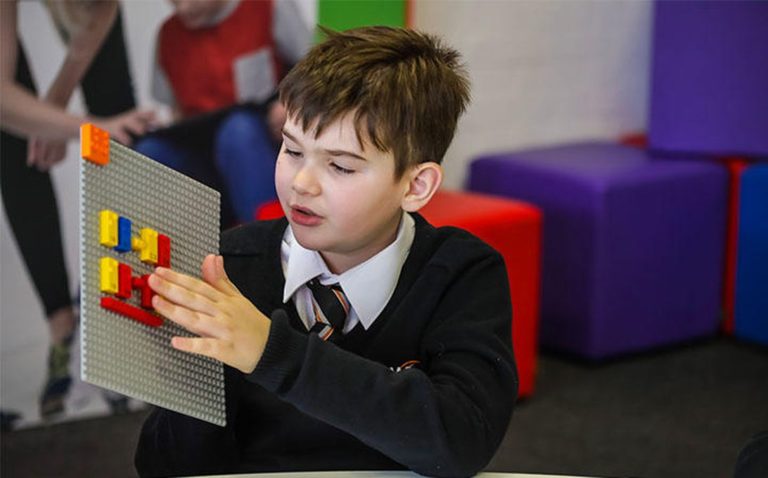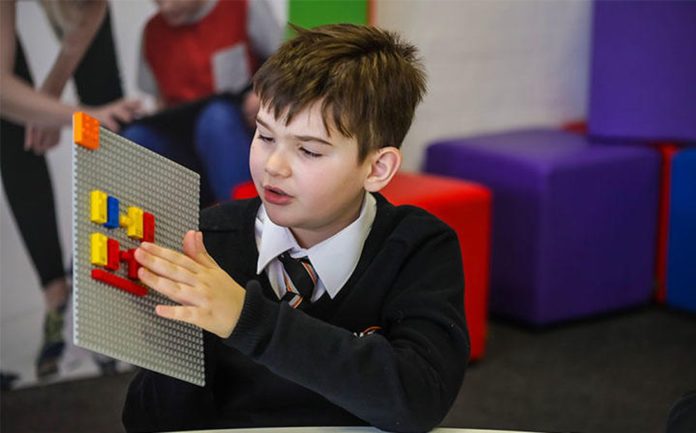 A new project from the makers of one of the world's best-loved toys is aiming to help blind and visually impaired children learn through play. Due to launch fully in 2020, Lego Braille Bricks will feature studs that represent different numbers and letters in the Braille alphabet.
The Lego Group says the Braille Bricks will be fully compatible with existing Lego products. They will also feature printed characters so sighted people can read them.
The idea was first suggested to the Lego Foundation by the Danish Association of the Blind in 2011, and more recently by the Brazil-based Dorina Nowill Foundation for the Blind. Modern technology and a rise in the use of audio tools means the number of blind and visually impaired people learning Braille has decreased, yet it remains an important method of communication.
"With thousands of audiobooks and computer programmes now available, fewer kids are learning to read Braille," said Philippe Chazal, treasurer of the European Blind Union. "This is particularly critical when we know Braille users are often more independent, have a higher level of education and better employment opportunities."
Testing under way in schools
The Lego Group has collaborated with several charities, including Leonard Cheshire and the Royal National Institute of Blind People in the UK, to develop Braille Bricks prototypes. Several schools are currently testing the bricks in Portuguese, Danish, English and Norwegian. Spanish, French and German versions are due to be tested later this year. The final set of around 250 bricks will include the entire Braille alphabet, numbers from zero to nine and mathematical symbols. There will also be ideas for teaching and interactive games. The Lego Group ultimately hopes to distribute the bricks free of charge to institutions through partner organisations.
As well as helping blind and visually impaired children, it's hoped the Braille Bricks will encourage their families and non-Braille users to learn too. Mum Kate says while she and her visually impaired son, Callum, were trying to learn Braille, her husband and daughter showed little interest. Trialling the Braille Bricks was a game-changer.
"As soon as it was Lego – and not just strange little dots on a piece of paper – they got really excited and were learning the alphabet and writing their names. It was something fun we could all do together," she explained.
Learning through play
Gaye Gronlund, an early childhood education consultant, says the link between learning and play is well-documented: "Play and learning go together. What kind of play helps children learn the best? Play that really engages them. Play that they will focus on and stay with even when problems arise."
The Lego Group's senior art director, Morten Bonde, is an internal consultant on the project. Bonde himself has a genetic eye disorder that is gradually causing blindness, but is determined not to let the condition limit his life.
"Experiencing reactions from both students and teachers to the Lego Braille Bricks has been hugely inspirational and reminded me that the only limitations I will meet in life are those I create in my mind," he said. "I am moved to see the impact this product has on developing blind and visually impaired children's academic confidence and curiosity."
Fewer Braille learners
The World Health Organisation (WHO) estimates around 19 million children in the world are visually impaired, with approximately 1.4m of these having irreversible blindness. In the United States, just 10% of blind children are learning to read Braille, compared with 50% in the 1950s.
In England, the RNIB estimates 1,077 out of around 21,900 visually impaired children in the country were learning Braille in 2017 – fewer than 5%. However, as there is no official register of Braille learners, the organisation believes the real figure is likely to be higher.
Also read: