My husband Stephen and I had been trying for a baby for seven or eight years, but nothing was happening. I needed a baby; I couldn't imagine my life without a child in it.
When I was 39, I got funding for a cycle of IVF on the NHS. It didn't work. But they managed to freeze some embryos, which they put into storage; we waited a year and then decided to try again. Two of the frozen embryos were implanted. It felt like our last chance, and I was shocked when I became pregnant at the age of 40. I couldn't believe it had finally happened.
When I went for my 12-week scan, I was given a blood test and a nuchal transparency scan. They told me they'd ring in a couple of days if my results showed anything but they called that afternoon. I was told there was a one in two chance my baby had Down syndrome. I went to see the consultant and I was told my results were the highest they could be.
'I am giving you the news you probably don't want to hear. Your baby has tested positive for Down Syndrome'
I chose to have a CVS (chorionic villus sampling) as I just needed to know. It was a horrendous dilemma – I was so worried about the risk of miscarriage. I remember looking out of the window and seeing two magpies. I'm quite superstitious so I took it as a sign that everything would be all right.
I went back to our home in Dorset and, at 3pm, the consultant rang. "I'm giving you the news you probably don't want to hear," he said. "Your baby has tested positive for Down syndrome."
I don't remember what he said after that. I put the phone down and was shaking and crying. I felt like I was having a panic attack. Why me? Why was this happening to me? That week I was a nervous wreck, existing in a daze.
I travelled to Yorkshire to see my parents. I was dreading telling them as I thought my mum would say I wouldn't cope. But she was so supportive – she just said it didn't matter. It was a huge relief. Some people want the perfect family, but I just wanted a family of my own.
When I went to see my screening nurse, she was quite positive as she had just been on a Down syndrome awareness course. She never gave me any doom and gloom, and that made me feel a lot better.
One obstetrician told me my baby would be retarded with slanting eyes
Two weeks after the test results, we learned I was expecting a girl. From that point, I felt a really strong bond; I started to think less about Down syndrome and more about the little girl I was carrying. But every day during the pregnancy, Down syndrome was on my mind.
Most of the medical professionals I met were really supportive but one obstetrician told me my baby would be retarded with slanting eyes. She said a lot of negative things but I thought she was talking rubbish. I'm a nurse and have dealt with a lot of doctors but it worries me that she might have said the same things to someone who didn't know much about Down syndrome.
In some ways, I wish I hadn't known about Clara's Down syndrome until after she was born. It put a dampener on the pregnancy and I was very, very worried. Thinking about the future scared me.
Clara was delivered by C-section at 38 weeks and I had an epidural so I was awake. She came out screaming her head off and I had tears streaming down my face. I was so relieved that she was here and alive. While she was screaming, she looked at me and then went quiet. I always imagine she looked at me and thought: "That's my mummy."
Clara is six now and she has this zest for life, she's a bundle of joy
The midwife who was with me when Clara was delivered said: "I'm not sure I should be telling you this but when Clara was born I had to leave the room because I was crying with joy." The week before, she'd dealt with the termination of a baby with Down syndrome.
Clara is six now and has this zest for life; she's a real bundle of joy. She's at mainstream school at the moment but has a dual placement from September. She'll spend half the week at a special school and the rest at a mainstream primary, so she'll get to socialise with her friends but will also benefit from more play-based specialist education and smaller classes.
She does gymnastics as well as a mixture of ballet, tap and freestyle dancing. She loves it, and she's absolutely blown me away with how good she is. Clara sees everything differently and I appreciate things a lot more because of her. I don't take anything for granted now.
I know some mums feel heartbroken when they find out their baby has Down Syndrome. But I will never feel disappointed in Clara.
My dark place was when I was trying to get pregnant. I was grieving so much for a baby that didn't come. I couldn't go to family christenings. I couldn't go into the supermarket because of the baby clothes on display. I couldn't even look at another woman with a baby.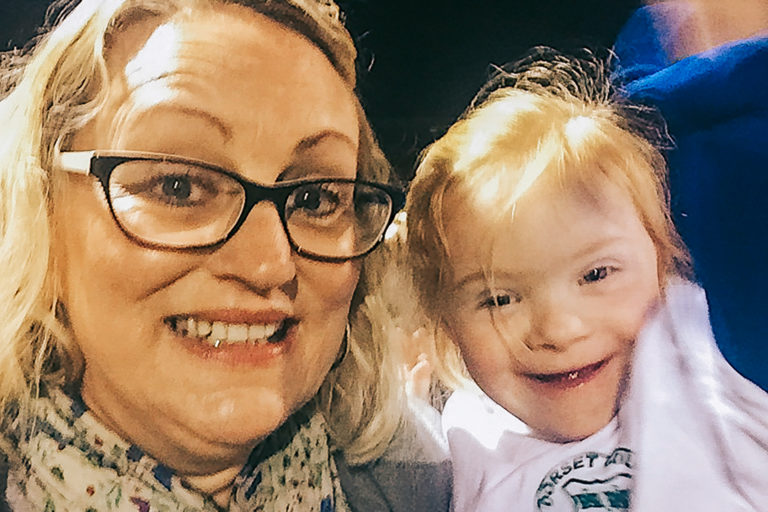 Everywhere I go with Clara, I know people stare but it doesn't bother me. I feel lucky to have her and I want to give her lots of opportunities. I know a lot of women in my position would have chosen to terminate. It is frightening; when you first find out your baby has Down syndrome, you're not in the right state of mind.
I feel really angry that Down syndrome is seen as an abnormality which needs to be detected and destroyed. I don't really know what the problem is. I am so positive about Clara, I go out there and show her off. She has made me so happy. I want other people to see how happy we are and be educated by her.
There's a lot of support out there for parents with Down syndrome, including a fantastic group called Future of Down's. Now when I know someone is having a baby with Down syndrome, I don't feel sad for them. I feel really excited. All babies should be celebrated.

Liz Chilton was talking to Catherine Ball