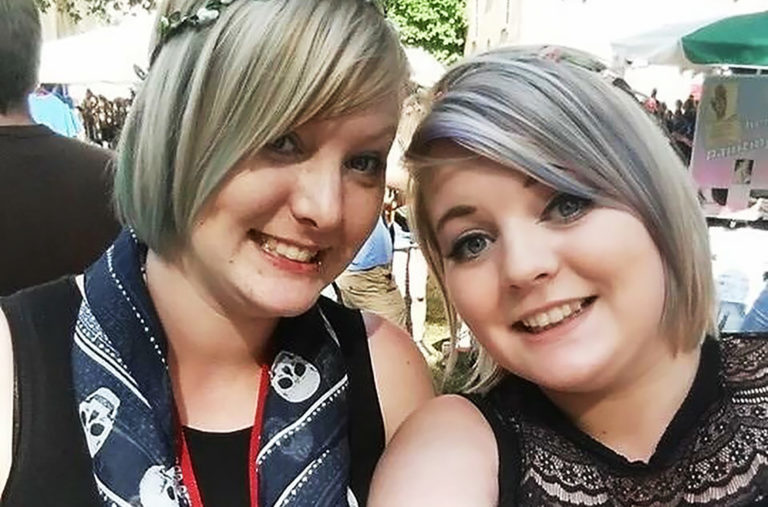 It's often said there's no relationship quite like the one which exists between sisters. That was certainly true when it came to me and Briony, the little sister who arrived on 2 July, 1992 – exactly three and a half years after I was born.
Together, we coped with our dad moving out in the early 2000s, and never hearing from him again after he remarried and had three more children. Our family grew when our mother met her current partner in 2002 and had our youngest sister three years later. We fought and argued, cried with and because of each other. We also laughed and had a lot of fun together. Through both the painful and happy times, she was my sister and I loved her with all my heart.
As we got older, we became even closer. In January 2016 we were excited to learn we were both expecting our first children – and both having little boys. Briony was due to give birth in August, with me soon after in September. We'd go through pregnancy together, share our experiences of motherhood and parenting, the cousins would be close as they grew up – we couldn't wait!
While things progressed nicely for me, Briony wasn't so lucky. During her pregnancy she experienced sharp, stabbing pains in her upper abdomen that went right through to her back. These were accompanied by nausea, vomiting and a range of symptoms that – in hindsight – were all indicative of gallstones. At the time, though, even though she was admitted to hospital several times, none of this was really investigated. The pain was attributed to the baby being quite large and kicking up under her ribs.
Briony gave birth on August 16. It was a traumatic experience both for her and Rowan, her little boy. Labour was induced and he struggled to get out into the world. After three epidurals, three spinal taps and a ventouse intervention all failed, Briony summoned every final bit of strength she had and Rowan was born with the help of forceps. Soon afterwards she haemorrhaged and needed a general anaesthetic and blood transfusions. It was a far cry from the delivery most women expect or plan for, but at least she'd been able to meet and hold her new-born son first.
We were all delighted when Briony and Rowan were allowed home just a few days later. It seemed that, despite the traumatic start, life would now settle down. She could enjoy being a mother, we could get to know Rowan, and I could look forward to meeting my own little one a few weeks later.
It was the first day of my maternity leave, on 3 September 2016, when Briony collapsed. The stabbing pains were back and she was projectile vomiting. While she was whisked off to hospital in an ambulance, I stayed at home with my baby nephew, heavily pregnant, and worried about what was happening. Briony was diagnosed with cholecystitis – inflammation of the gallbladder – and sent home with medication. She was told to visit her doctor and ask to be referred for surgery to remove her gallbladder.
We had no idea at that stage that she was suffering from gallstone pancreatitis, when one of the pancreatic ducts is blocked by a gallstone. Briony collapsed again the next day, unable to speak, breathe or move properly due to the pain. She was taken back to hospital and, this time, admitted. When we learned the full extent of her condition, we were shocked and confused – how had this not been suspected earlier? Briony's pancreas was digesting itself and the consultant said he had never seen such widespread infection. She had severe necrosis and splenic vein thrombosis.
There was procedure after procedure to remove gallstones, ease her symptoms, keep her alive. We had no idea, sometimes from hour to hour, whether she would recover. I spent the days by her side, scared of what the future held, until I went into labour and gave birth to my son, Elijah, on September 28.
That wasn't the experience I'd envisioned, either. I had an emergency C-section after developing maternal sepsis and my recovery was slow and difficult. It was made worse because I was fretting about Briony – all I wanted was to be with her. I didn't know at the time that she was very ill again – my family protected me from what was happening so that I could heal and enjoy my new-born son.
After a few weeks, it was decided Briony should be transferred to a specialist unit at another hospital. At that time she had three abdominal drains, type 3c diabetes due to the pancreatitis, sepsis, pseudocysts, chest pains, breathlessness, a stent to drain what was left of her pancreas, various other tubes – the list went on. And yet, miraculously, there was good news. Briony's heart was fine and the drains were working. She was even able to get out of bed for a while and was wheeled to the hospital café so she could give her son his night-time bottle. For the first time in weeks, our mother felt comfortable leaving Briony's side. It seemed things were getting better.
Our optimism was short-lived. On Sunday, October 30 the hospital called to say we should get there as soon as we could. I was already due to visit Briony that day – I'd promised to take her my Kindle and some maternity shorts – so I got ready quickly. To this day, I can still remember what I wore – black Vans, black jeans and a black vest, with a patterned jacket and gilet. I arrived at the hospital shortly before 5am.
I should have known when I told the receptionist who I was there for that Briony was dead. Her face told me, but I just didn't want to see it. There was silence as we took the lift upstairs, and the walk to the ward seemed to take forever. My aunt appeared, looking pale and sick. I began to cry and collapsed on the floor. How could my little sister be dead? She was only 24! We had so many plans, we were going to watch our boys grow up together. It couldn't be true. They must have got it wrong.
They hadn't, of course. A blood clot was the most likely cause of death, we were told, but a post-mortem would give us the official results. The staff offered their condolences, gave us some leaflets about bereavement, and we were sent on our way. Instead of visiting my sister and seeing her get better, I – and the rest of the family – now had to adjust to life without her.
I still can't make much sense of the weeks that followed. We were supposed to be picking out baby clothes together, watching our sons bond, enjoying our relationship as we went through motherhood. I wasn't supposed to be here without her, choosing her coffin and funeral flowers. On November 23, the day of Briony's funeral, I was overwhelmed by people paying their respects, telling me how sorry they were they hadn't visited her in hospital. And then…they vanished. They said goodbye and walked away to get on with their lives. How I wish it had been that easy for me. Everything reminded me of Briony and there was no escape, not even at work – we shared office space as well as our family and personal lives.
It's not surprising that my mental health deteriorated. I withdrew from my friends and avoided attending mother-and-baby groups. I became anxious and depressed. I was obsessed with obtaining Briony's medical records and spent some weeks fighting the authorities for access, demanding answers as to why my sister died so suddenly – something I am still battling for now. They put obstacle after obstacle in my way, but I got the records in the end.
They were a mess. They'd been shuffled like a deck of cards, so I spent the first couple of weeks simply trying to put them in order. And then I read them, starting from her pregnancy and going right through to the post-mortem. I must have gone through them about three times, and it took months. Afterwards, I knew my sister inside out – literally. I knew exactly what she'd gone through, what had happened. The post-mortem report continues to haunt me.
Soon afterwards, I began to have nightmares. Even during the day, the most innocuous thing could trigger disturbing images of my sister – I'd imagine her lying there, cold and blue, with blood trickling from her ears. There was no respite. Sometimes I'd wake from my dark dreams and feel a moment's relief that they weren't real – and then the truth would hit me, winding me almost like a physical blow. Briony was dead, these things had happened, and I would never see my sister again.
People tried to be kind, but often they made it worse. They'd tell me I was strong and doing well, that time would heal and Briony wouldn't want me to feel this way. None of that helped. It made me feel even more alone, because nobody understood. I wasn't choosing to react this way – I just couldn't help it. And yet I had to go through the motions of life for my son and my family. Then there were others whose support I would have expected, but who simply weren't there for me at all. That hurt, too.
Luckily, in the depths of my despair, some shred of survival instinct remained. I needed help to get through this – I couldn't do it alone. I began taking anti-depressants, and I went on a weekend retreat organised by a bereaved sibling support group. It was the first time I'd specifically done anything to deal with my grief and losing Briony. It was time to talk, to drag my feelings into the open, and connect with other people who were just like me. Making myself vulnerable was the most difficult, honest and best thing I had done for myself ever since my sister had died.
Even though I was among strangers, I felt comfortable and safe. They knew what I was going through, because they were too. They understood the heartache, the loneliness, the loss. It was good to talk without worrying I would upset someone or make them feel awkward, or feeling I'd be judged for not 'getting over it' yet. I cried, I laughed, I went with my emotions and somewhere along the way I found 'Kyla' again, albeit a different person from the one she used to be.
It was hard to go home after that weekend. I wanted to stay where I felt I belonged. But knowing I'd made true friends and was part of a new 'family' gave me strength. I realised I needed to grieve – that it was ok to be angry and upset, and that I would always carry what happened with me.
And so here we are. I've survived two anniversaries, three Christmas, and countless birthdays and special occasions without my sister. Recently I got married, and I had to do that without her too. No, it wasn't at all easy. Yes, I coped, and it was still a happy day.
I will always miss and love my sister. I will always feel cheated that Briony and I didn't get to play out the lives we'd imagined together. The 'I have a dead sister' club is not one I ever wanted to join, but I had no choice. I am here, and Briony is not. I will live the best life I can, and she will be in my heart for ever. There is no other way it can be.
Also read: