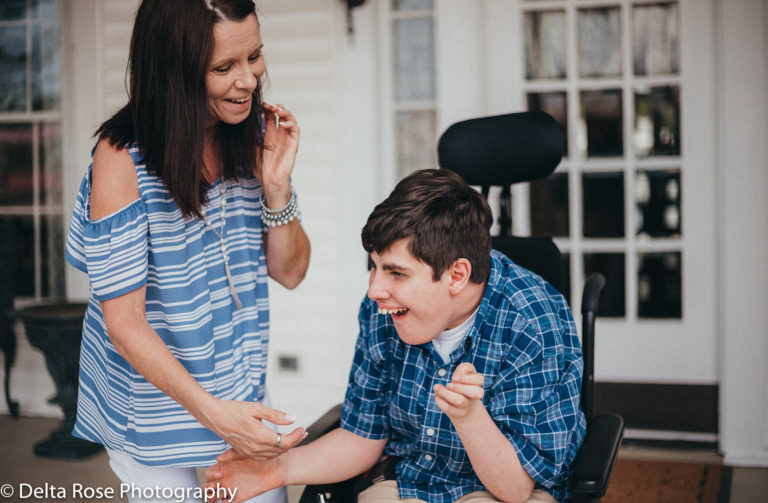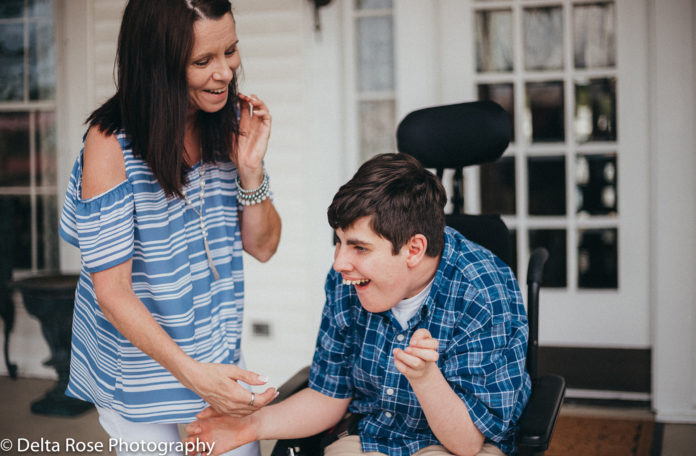 When my son, Braden, graduated last year it was one of the most emotional days of my life. One that, at various times over the years, I never thought I'd see. But it wasn't just a celebration of Braden's achievement – for me, it was also an acknowledgement of how his needs have impacted on my daughters' lives.
Let me start at the beginning.
I was 28 years old when my second husband and I learned we were expecting a baby. I already had a daughter, Taylor, from my first marriage, and we were delighted at the thought of our family growing. When I was eight weeks pregnant I experienced some heavy bleeding, but the issue seemed to resolve itself. There were no other problems until I visited the doctor in my 22nd week.
As well as discovering we were having a son, we were told he would be born with hydrocephalus – fluid on the brain. This could be a big deal or of no real consequence – it would depend on how our baby boy's brain developed and how severe the condition was when he was born. It did mean I was monitored by neurosurgeons for the remainder of my pregnancy, and of course I did a lot of reading and research. I wanted to know what we might have to deal with.
On the day Braden was born, things seemed to be going well. He was crying and feeding normally. His head wasn't oversized, as you would expect in a baby born with hydrocephalus. He was given a CT scan and examined by a neurosurgeon who said he seemed fine. It looked as though our worst fears were groundless. We went home, ready to enjoy being a family of four with baby Braden and Taylor, who was six years old at the time.
At a follow-up appointment a few days later we learned the ratio of fluid in Braden's brain was more than 50%. This meant he'd need a shunt – a tube to drain away the excess fluid into his abdominal cavity. He was just ten days old when the procedure was carried out, but it went well and we were soon allowed home.
Sadly, there were more challenges ahead. Braden was struggling to feed, so at three weeks old he had a feeding tube inserted. Because he hadn't been getting enough nutrients, the previous surgery he'd had to place the shunt hadn't healed and he ended up with a severe brain infection. There was one day when he stopped breathing five times, and we were convinced we'd lose him.
Braden ended up staying in the hospital for four months. I felt torn between my new baby son and my little girl, who needed her mother. I can't change anything, of course, but I really wish I hadn't had to spend so much time away from Taylor. That's a big thing for any child to cope with. Braden was finally allowed home in the November, but the doctors couldn't predict what might happen. Hope for the best but prepare for the worst, we were told.
As time went on, we learned Braden had had a stroke during his birth which left him weak on his left side. He needed physical, occupational and speech therapy. There were a couple of shunt revisions due to malfunctions, surgeries on his eyes and for a hernia. Things were pretty tough for a while, but by the time he was three years old life was more settled. We noticed there wasn't much wrong with his cognitive abilities – he realized some things were different for him that for other people, such as how he took food, and he started to work hard in his therapy sessions.
It really paid off. At four years old he could walk, talk and play ball. He could write his own name, do simple math and even recite the Pledge of Allegiance. He was able to hold intelligent conversations with adults as well as other kids. The feeding tube went and boy, once he discovered eating by mouth, did he love his food!
We'd been warned Braden was at risk of seizures due to his condition, but he'd never had one. In January 2004, when he was around four and a half, his neurologist said there was no reason Braden wouldn't continue to grow, develop and live normally. If he was going to have seizures, they'd have already started happening. The neurologist discharged Braden from his care, and we left feeling pretty optimistic. Braden had a little sister by now – Lindsey had been born a few months earlier, in October 2003. So in the February, when he began to play up at preschool and stop doing so well, the doctors agreed it was likely down to attention-seeking. After all, Braden had been the center of all our worlds up until now and suddenly a new baby was taking some of that focus away. Thinking this was the cause, we weren't too concerned.
Perhaps we should have been. A couple of months later, on May 7, I woke at 3.14am to hear an odd, muffled cry. I found Braden having a grand mal seizure – his eyes rolled back in his head and his body was stiff but vibrating. The bed was soaked through with a mixture of sweat and vomit. We called the ambulance to take him to hospital, where Braden was given medication, but nothing would stop the seizures. Around 7am, when Braden's oxygen levels began to drop, he was given something to paralyze him so he could be safely intubated. And finally, finally, the seizure began to subside. But our relief was short-lived – once on the intensive care unit, they began again. Braden was placed in a medically induced coma and put on a ventilator.
I barely had a chance to process what was happening. My little boy was lying there, tubes and wires everywhere. It was Mother's Day weekend, and I was spending it away from my girls while Braden didn't even know I was there. I couldn't stop crying – my heart felt broken. Not long ago we'd been looking forward to a happy future as a family, and now the path ahead was dark and confused.
It was a month before Braden came out of the coma. He couldn't sit up, walk or talk. He couldn't swallow or move his left arm or leg. The doctors couldn't explain what had suddenly caused the seizure and warned us there may never be an explanation. We were able to take him home a few months later, where he continued to have several seizures pretty much daily.
I was painfully aware how all this affected my daughters. Lindsey, seven months old at the time of the first seizure, had still been breast-feeding when it happened. Because I needed to be at the hospital, she had to transition straight onto bottles so my own mother could take care of her. Taylor, a little older, still needed her mom and everything that was happening took its toll on her wellbeing too. To this day, I wish there had been another way but at the time there was nothing else I could do.
In November 2004, Braden had a vagus nerve stimulator implanted to try and control the seizures. Although it worked for a while, the effects didn't last. The following year, there was an operation to disconnect the two hemispheres of his brain. Again, it had a temporary effect but then the seizures returned. We were told our only other option was to have the whole right brain hemisphere removed – a hemispherectomy. We traveled to Memphis for the procedure and for the next couple of years, Braden was seizure-free.
Through intensive therapy sessions he was able to regain some of his capabilities during that time, and even though the seizures returned they could be controlled now with medication. For the past 13 years Braden has been able to attend school. He's learned life skills and uses a combination of speech, sign language and his iPad to communicate with people. He's a sociable person and loves to meet new people.
Unsurprisingly he gets frustrated that his abilities aren't what they were and that he can't be more independent, but behavior therapy helps him cope. I can remember going to the park after the seizure and seeing how he remembered how much he'd loved playing there before. So, with a lot – and I mean a lot! – of help from big sister Taylor, I managed to get him to the top of the slide so he could go down it. He'd still have fun there even if he couldn't join in – he loved watching his little sister play with the other kids.
A major breakthrough came when we decided to get Braden a service dog – one that was specially trained to his needs. Romi is a boxer dog donated by Cyndi Mason, a local breeder/trainer who has become a special friend. Her gift has quite literally changed Braden's life. Romi helps him live a more independent life, opening doors and bringing him items he wants. She calms him when he gets frustrated. He loves her – they adore each other unconditionally.
Since having Romi, Braden has become very involved in the world of working and service dogs. Twice a year he's part of a special speed event where dogs compete against each other; we did enter Romi, as she can run at around 32mph, but after going a little way she returned to Braden. It's like she knew her place was by his side, not running away from him. Braden also works with a lady called April Allison at PATH to Independence, the service dog program, where he helps train other service dog. And not just dogs, either – they are about to start training a therapy chicken that will visit elderly residents in nursing homes!
I must take a moment to pay an additional tribute to the rest of our family and everything they've had to cope with. Especially to my girls, now aged 26 and 15. They suffered with me being away from them but came to understand it wasn't because I loved their brother more – it was because he needed me at that time. And also to their grandparents and the friends who made sure Taylor and Lindsey were taken care of, that our lives kept ticking over.
Life isn't and never will be 'normal' for us. Outings and vacations have to be carefully planned to accommodate Braden's needs. It breaks my heart that he can no longer tell me he loves me, but he makes it clear in other ways. He gives the best hugs and brings us joy every day. Our lives are better for having Braden in them, and that is something to be celebrated.
Also read: