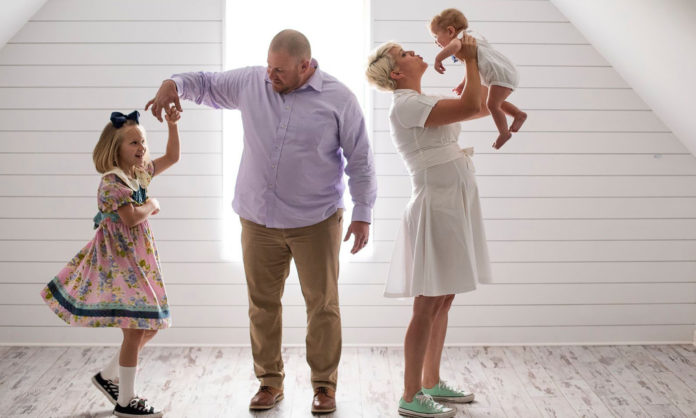 If you had seen me four years ago, you'd have thought I was living the dream. I was happily married with an adorable three-year-old daughter. After doing my nursing training and finishing grad school, I'd landed my ideal job as a pediatric nurse practitioner.
My career had taken us to Nashville and Kansas City, and now we lived just four miles from Jacksonville Beach in Florida. I could cross the road from where I worked and eat my lunch on the beach, and home was a lovely house in a great suburb. I was blessed.
Except, it turns out I wasn't – or at least, not then. I got home from work one Monday afternoon, just two days after my daughter's birthday party, to find we'd been evicted. The locks had been changed and I was no longer allowed in. All our belongings had been taken out of the home and dumped in an undisclosed location. I had no idea what was going on.
And that's when I found out that this wonderful life I thought I'd had was a lie. I learned we were three months behind on our rent and all our other bills. Even though I'd been giving money to my husband to pay for everything, he'd spent it somewhere else – but he couldn't (or wouldn't) tell me where.
I suddenly realized I'd missed a lot of warning signs – he'd lost weight, had erratic sleeping patterns, was always off running errands but never wanted us with him. He never parked on our driveway but always in guest parking spaces. I searched our car and was shocked to find empty pill bottles and beer cans, and a ton of mail addressed to me that went back for years. There were birthday cards, bills, letters from collection agencies. What the hell was going on?
My wonderful husband then abandoned us in a Target parking lot four miles from the beach. It turned out he was a drug addict who'd lied to me for years, opening credit cards and taking out personal loans in my name. My credit rating was shot. There was personal stuff, too – he'd lied about his education and had never been in the Marine Corps, as he claimed. He also had another daughter, with someone else.
We'd been married for seven years. How could I have been taken in so completely? I felt so stupid, and now my little girl was paying the price. I tried to make the best of it for her, telling her we were having a 'holiday' in a hotel, keeping my tears for when I was alone – in the shower or driving her to school. My mind would go over and over it all, again and again, trying to make sense of what was happening and wondering what we could do. I'd never get our belongings back, I knew that. I'd worked so hard, and now it seemed like it was all for nothing.
Our nearest family was around ten hours away, in Tennessee. What choice did we have? It was time to go home. At 32 years old, I was moving back in with my parents, sharing my childhood bedroom with my little girl. It was snowing when we got there. For me, it was one more sign that my life had fallen apart, but my daughter loved it. She got to make snow angels and play on the sled. My parents had kept all my old things, so she had new – if old! – toys to discover. They loved having us there, and she loved being with her grandma and grandpa.
It was time to start putting our lives back together. I began going to the gym and the park, and also focused on getting my nursing licenses sorted out so I could work. It was important to me that my little girl saw our new normal in a positive way – a new chapter of life to be savored, not the desperate situation I felt it was.
One thing I knew I needed to do was make some friends, but after so long away I had no idea where to start. Eventually I contacted an old friend from high school, and during our conversation I asked him jokingly if he knew any hot single dads. It wasn't a serious request, but it turned out he had a name he could give me.
To say I was nervous about actually doing anything with it is an understatement. I was newly divorced, and my self-esteem had taken a battering. But then – what's life without a little risk? And I was desperate for some adult company! So, I got to work on Facebook and discovered this guy, Steven, not only had a little girl who looked the same age as my daughter, but my mom recognized her. Isn't life just full of these amazing coincidences? Turned out, his ex-wife's sister was my mom's hairdresser. Mom urged me to meet him, so I sent him a message. He replied. I gave him my phone number. And then he called me.
Really? Who wants to talk in person these days? Aren't we all emails and texts and messages and Snapchat? Still, I answered – and it must have been 2am before we finally said goodnight and hung up. Two days later we met for lunch – my first date since meeting my husband ten years before. I had to borrow some of my mom's clothes as I still didn't have much of a wardrobe, but there wasn't a whole lot I could do about that. Steven was on duty – it was his lunch break – so he showed up wearing his police uniform, gun on his hip. He was a big guy, with a beard and tattoos, and I can't deny I was a little intimidated.
But before we parted, I was getting butterflies in my tummy when I looked at him. He insisted we took a selfie to send to Brian, the mutual friend who'd put us in touch, and after he walked me to my car and hugged me, I felt like I was floating on air. Part of me was scared this was too much, too soon – there was no way I was ready to leap into a new relationship. What if I gave this guy my heart and he broke it? Could I handle that so soon after what had happened with my ex-husband? But another part of me couldn't help hoping.
Steven called me that night to arrange our second date. When we shared our first kiss, I knew this was going to be something special – even though I was still wary about trusting him. Two days later we met again, and this time we decided to bring along our girls. To say that went well is an understatement – they became instant best friends. They even looked alike – if you didn't know better, you'd think they were twins.
It was Mother's Day when he told me he loved me, but even though I knew I was falling for him, the warning voice in my head told me I still needed to be careful. And, wonderful man that he is, Steven understood that. He gave me a key to his house and told me to snoop to my heart's content – and didn't mind when I went right ahead and did just that.
I went through everything. He let me read his emails, showed me his credit score, bank account details and mortgage statements. He'd always leave his phone unlocked because he really had nothing to hide. I'd found a genuine, honest man who was ready to love me and my daughter, and be loved by us in return. Without me even realizing it, he was helping me put myself back together.
One morning in June, he presented me with a sapphire ring and asked me to marry him. At that moment, I realized that Tennessee was going to be 'home' again – not just the temporary refuge I'd intended while I healed. This was where my heart was. My daughter and I moved into his house; it was sparsely furnished and there wasn't much in the way of décor. It was a bachelor pad, somewhere for Steven to sleep and eat. After losing all our things, I had so much fun fixing it up – and, because it was pretty much a blank canvas, it meant it did feel like 'our' home rather than 'his'.
We got married on Saturday, August 15 in 2015 – around four months after our first date. Essentially, we eloped – we'd planned to keep our union secret until Halloween, when we'd dress as a bride and groom and surprise our friends. In the event, though, we couldn't keep quiet for more than a couple of weeks. We were just too happy.
The ceremony was performed by a family friend, and our little blonde non-twins were our flower girls and bridesmaids. Our first dance was Fall Into You, by Brantley Gilbert, played on Steven's phone in his shirt pocket. The girls went home with my new mother-in-law for the night, and the whole day was absolutely perfect. I don't think the smile ever left my face.
In time, after we'd moved to a bigger house, we learned our little family was set to expand and our third daughter, who we call Junebug, was born in 2018. She was the seal on our happiness.
Life isn't fun and stress-free all the time – of course it isn't, that would be an unrealistic expectation. Both Steven and I have stressful jobs and our fair share of drama with our exes, including a custody battle. Because of all this, and because we married so soon after meeting, there are those who believe it won't last.
But you know what? We're grounded in reality and by all we've been through. We're not living with our heads in the clouds. We know the odds might be against us, but we love each other and are determined to beat them. There's a saying you'll likely have heard – 'Love conquers all'. We believe it does.
Also read: