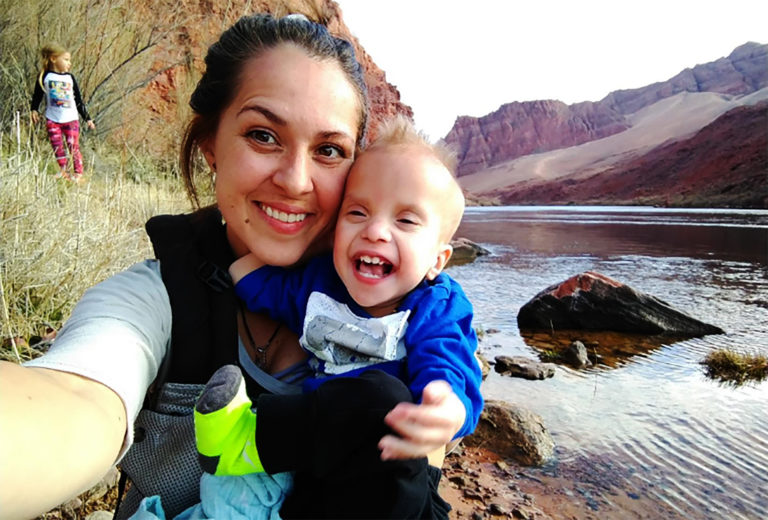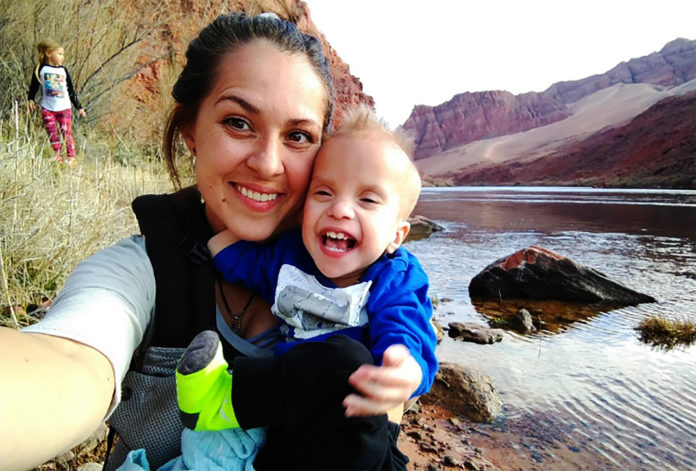 Everyone wants their child to be special, don't they? We hold them in our arms as babies and wonder what they'll be like as they grow, how they'll stand out in life. Sometimes, that happens in the most unexpected ways.
At first, our story wasn't anything out of the ordinary. I married Darren, my high school sweetheart, a year after we graduated. A year later and our son, Kenton, was born. He was followed by our second child, a daughter, Kodi Anne, almost two years later. So far, so good.
I'd always imagined we'd have more children, so it was tough to learn I had next to no chance of getting pregnant again after the doctors removed some pre-cancerous cells they'd found in my cervix. Even if I did conceive, they said, I wouldn't carry a baby to term. It seemed they were right. The next few years included several early miscarriages, and I told myself I had to accept our family was complete. We had two wonderful, healthy children, and I should be content.
But it seemed we weren't done after all. When Kodi Anne was almost eight years old I became pregnant and gave birth to Kalies. Both Darren and I were delighted and agreed that, as there was a big age gap between our new arrival and our eldest two kids, we'd try for one more. A few months later, I found out I was pregnant again.
There was nothing to indicate this latest pregnancy was anything other than normal. Yes, I was tired – but I had three other children, the youngest a lively one-year-old, to look after and Darren was working out of state a lot. There was some confusion over whether the baby was a boy or a girl, even after our 20-week ultrasound, so my obstetrician suggested a blood scan. As well as giving us a definite gender, it would screen for any major health syndromes. The results said 'boy', with nothing else to worry about. We were delighted – our family would be two boys and two girls. Perfect.
The scans showed our new little one was quite small, but his brothers and sisters had been too, so nobody was overly concerned. Then, when I started to get really big towards the end, my doctor said he was probably just catching up. I didn't feel right, though, and mentioned to Darren – who'd been away for almost two months at this point – that I felt our son would be born soon. I will be forever grateful he decided to fly home early, because less than a day after he got back, I went into labor.
It didn't take long. I knew, even though I was only 35 weeks, that this was the real thing. We got to hospital at 8.30pm to find I was already 5cm dilated, and Kenai Christopher made his entrance into the world shortly before 11pm. And that was the moment our world turned upside down.
I'd expected Kenai to be a good size, bearing in mind how big I was, but he was tiny – just 3lbs 15oz. The umbilical cord was really short, and he was struggling to breathe. I got to kiss him before he was whisked away to the NICU, and I told Darren to go with him. I tried to calm my anxiety by reminding myself that our eldest daughter had been a NICU baby, too. When I got to the unit, though, I realized Kenai's situation was very different. He lay there looking almost lifeless, hooked up to wires and drips. It broke my heart to see him, and all I could feel was increasing despair as the doctor told us what they'd found.
They were pretty sure Kenai had a heart murmur, a cleft palate, and a cataract in his right eye. Taking his size and the amount of amniotic fluid I'd had into account too, this meant he likely had some syndrome or condition – they just needed to work out what it was. I was allowed to hold him, and as I sat in that chair cuddling my newborn son, machines beeping all around us, I was terrified at what might lie ahead. A bit of me clung to the hope that they were mistaken – that Kenai was just on the small side and needed to grow, and then he'd be fine.
Over the next few days, Darren and I spent our time alternating between caring for our three older kids and being at the hospital with Kenai – one of us in one place, one in the other, before we'd swap over. Our heads were a mess – we didn't know what was going on or what was going to happen. The idea of Kenai having a 'syndrome' loomed over us, scary and unknown. On top of that, I was coping with the usual fluctuating emotions and hormones that are swirling around just after having a baby.
It was Halloween – Kenai was five days old – when the doctor said they'd heard from the University of Utah. The geneticist wanted to talk to me and would stop by Kenai's room later. I sat there all morning, cuddling my beautiful baby boy and waiting nervously. Eventually I had to leave, as my other kids were waiting for me to help them get ready for Halloween – typically, she dropped by soon after I'd gone, so she called me on the phone at home instead.
She said she'd give me some details there and then, and we should try to meet the next week. I sat there stunned as she explained, in a very matter-of-fact way, that Kenai had 146 missing genes from his seventh chromosome. It didn't appear to be a result of anything that Darren or I might have or had passed on to him. In fact, his condition was so rare it didn't even have a name – there were only 34 similar cases on record. The only thing she could tell me for sure was that he would always be small, but she would keep looking for more information. After she hung up, I stared blankly at the green Post-It I'd grabbed to make notes on – the details were so sparse it wasn't even full.
When you have a new baby, you look forward to watching them grow and reach their milestones. You picture them as being full of energy, mischief and fun. Instead, all I could see were the scary 'what ifs' that might lie ahead.
Three weeks later, Darren left to work in Hawaii. Kenai was still in the NICU but had been doing okay – until he wasn't. We learned he didn't just have a heart murmur or patent ductus arteriosus (PDA) – now, we were told, he would need open heart surgery. After another couple of weeks, the doctor called to say the situation was urgent – Kenai would travel with the life-flight team that afternoon to a specialist children's hospital in Salt Lake City, five hours away from home, for a life-saving procedure. I've never needed or wanted Darren by my side as much as I did at that moment, but I had no choice other than to deal with the immediate situation alone. I strapped Kalies into the car and we went to collect her older brother and sister from school. It broke my heart to explain to them what was happening – they were old enough to understand it was serious. We went to the hospital together to kiss Kenai goodbye, and then he was gone. Darren was on his way home, and the next day we all set off together, wondering what we'd find when we arrived at the hospital.
They were able to close Kenai's PDA, which meant the open-heart surgery could be delayed for a time. He finally came home from the NICU on December 26, 2016, at the age of nine weeks, and we were able to enjoy being a family for a while. Kenai had his first open-heart surgery on September 27, 2017, and that's when we learned just how bad his heart disease was – the PDA was just the tip of the iceberg. Kenai also had ventricular septal defect and atrial septal defect – VSD and ASD, different types of hole in the heart. He had pulmonary stenosis, which obstructs the blood flow, and ARCAPA, an anomaly in the right coronary artery. A week later he had a second procedure which also involved fitting a pacemaker, as his cardiac conduction system had been severed during surgery.
Since then, there's been a further operation to repair his palate. And we had another scare in February this year, when the kind of pacemaker Kenai has was recalled due to a defect. He was suffering from respiratory syncytial virus at the time so replacing it was risky, but because he is 100% pacemaker-dependent it was really the only option. He surprised everyone with how well he coped – we only spent half a day at the children's hospital while he was treated.
We were warned by so many people told not to expect much. They said the severity of his condition was such that Kenai might never smile, recognize his name, or be able to take food by mouth. That he wouldn't be able to communicate. You know what? Those many were wrong. Kenai is stronger than we could ever have imagined, pushed to keep going by his siblings.
That includes Kadence, our youngest surprise daughter, who is 13 months younger than her brother. We certainly never planned on a fifth child and were stunned to learn I was pregnant soon after Kenai came out of the NICU. But it actually made sense when we thought it about it – it means he is flanked in life by two fierce little girls who will protect him forever.
He is starting to communicate, learning some speech and sign language. The strength in his legs and core is increasing, and his weight is up to 15lbs 10oz. After so much worry and all he has been through, these are exciting developments. We are more optimistic about Kenai's future than I ever believed possible. His condition is so rare that there are no blueprints – we don't really know what to expect. But I'm confident we'll be able to handle whatever comes our way, together, as a family.
No, life hasn't turned out the way we imagined it would, but I wouldn't have it any other way. Kenai's sweet nature, his constant happiness and his determined attitude are infectious – he inspires me every single day. We're learning to be the best we can be, and that's thanks to him.
A version of this story first appeared on LoveWhatMatters.com.
Also read: