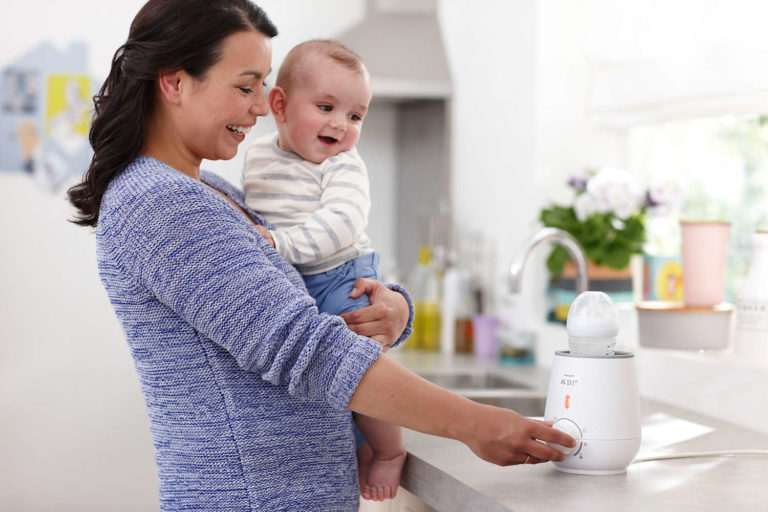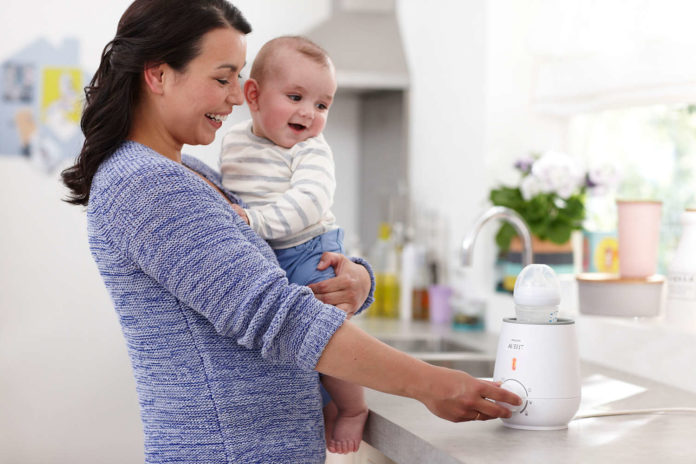 While feeding time with your baby is one of those special bonding experiences, it also brings certain challenges. If your little one is screaming, heating a bottle in warm water seems to take forever. If we use the microwave, we're all too aware of the possibility of 'hot spots'. Say hello to the Philips Avent bottle warmer – the ideal solution!
In our view, it's an essential piece of baby equipment, heating up to 150ml milk gently and evenly in just three minutes. The practical integral defrost function is an ingenious feature – if you're using expressed breast milk and forget to take some from the freezer, no problem! The Philips Avent bottle warmer preserves the quality of your milk as it works, so can be confident your baby is getting what he or she needs.
Easy to use
The Philips Avent bottle warmer is compatible with the full Avent range and can also be used to heat baby food. It's easy to use and comes with a handy reference table to help you select the correct warming time for your baby's feed.
The Philips Avent brand has a proven track record for quality products that work, and this is no exception – as parents will testify.
Quick and convenient
"It's amazingly fast and can thaw frozen milk. The fastest, best bottle warmer I have ever had!" said one reviewer. "Frozen bags of milk? Yep, you can thaw them in about ten minutes on the highest setting or warm a bottle in 2.5 minutes flat."
Another said it was perfect for night-time feeding: "I use this for night feeds and couldn't be without it. If you're using it to heat bottles during the day, then a kettle and bowl of hot water could do the same job. But for night feeds, this is brilliant. It's my new best friend!"
"It's a lifesaver," added a third. "I should have purchased this a year ago! I suggest you buy the one with the timer – it ticks every 30 seconds or so, three ticks later the bottle is the perfect temperature. A great buy."
The Philips Avent bottle warmer is available on Amazon for £37.89. Click here to order yours.