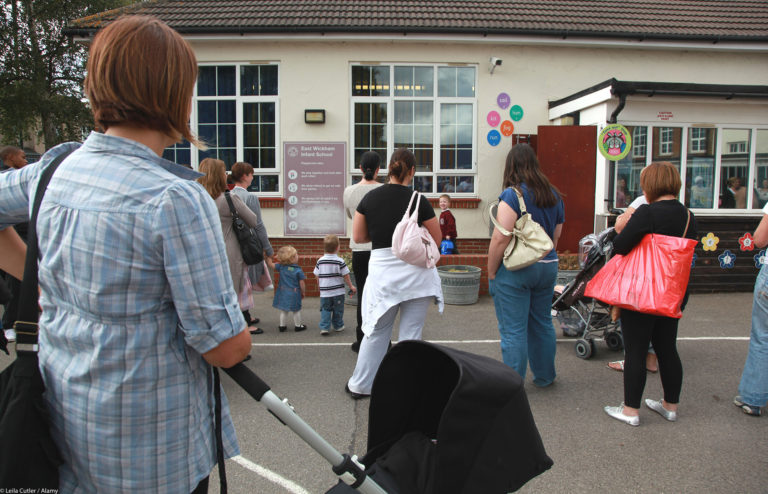 Playground politics? Isn't that just for kids?
There are so many things to worry about when your baby starts school.
Will they make friends? Will they eat the school dinners? Will they manage to go to the toilet by themselves?
One thing you will no doubt neglect to consider, as this whirlwind of worries flies around in your head, is where you fit into all this.
You may have thought your school days were long gone, but they're really only beginning.
As soon as you start doing the school run on a daily basis, you will quickly come to realise it's not just your child who has to make new friends and contend with the playground politics.
You need to find your 'school crowd' to help you survive, so here's a snapshot of the different types of mums who can be found lurking around the school gates every morning and afternoon.
These are the mums who have known each other since little John and little Josephine were born.
In fact, did you know, they were born within three hours of each other on the same day?
Over the years these mums have done everything together – baby yoga, baby sensory classes, baby gymnastics… you name it, they've done it.
The kids have gone to nursery together – they started on the same day, of course – and along the way, some other mums deemed suitable enough to become part of the clique have been invited to join.
But the clique is no longer open to new members. That door is now firmly closed. So there's no point even trying to strike up a conversation with this lot.
You are not, and will never be, on the guest list for little John and little Josephine's wedding (because they are getting married one day, obviously – probably to each other).
It's not clear whether these mums actually go to the gym – or more likely to a pilates class, darling – but they are certainly kitted out in the best of gear. They look immaculate in their yoga pants and funky sweatbands. And they wear make-up. How can they possibly do a workout wearing make-up and still look more like Marilyn Monroe than Marilyn Manson?
Dressed in their killer heels, pencil skirts and crisp, freshly pressed blouses (really, they have time to iron?), these mums have the power to shrink you to the size of an ant just with one glance.
They are the lawyers, the businesswomen, the tax accountants. And while you thought you were doing well to throw on some clothes which don't have noticeable stains on them (they are there, nonetheless) and get to the school gates in time for the bell, they've already closed three deals and saved a human rights activist from imprisonment – all while looking immaculate.
It's not all doom and gloom at the school gates. Thankfully there are some mums who are genuinely nice.
They will come and chat to you while you stand on your own – wedged uncomfortably somewhere between The Clique and The Active Wearers – and ask you how your kid is getting on at school, what your weekend plans are and even throw in the odd compliment about your hair ("oh your hair looks lovely, have you had it done?" "Um, no, I just brushed it.")
These mums will volunteer at the school discos, and bake proper cakes for the bake sales (no, chocolate crispy cakes don't really count) and are all round good eggs.
1
The Not-So-Friendly Faces
Just like when you were at school, the troublemakers are never far away.
You may not always see these mums as they tend to rock up late most days, smoking their cigarettes en route, and dropping expletives into every second sentence even when their kids are around.
They don't have much time for education, or rules, or discipline, but if your child ever crosses their child (although clearly it would be the other way around in reality), then you'll know about it.
They will be the first to confront you in the playground and the first to march into the headteacher's office pleading the innocence of their precious little Frankie.