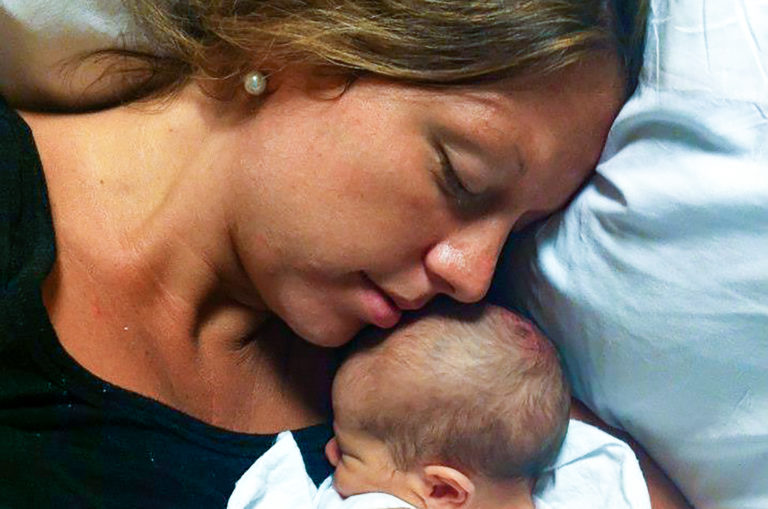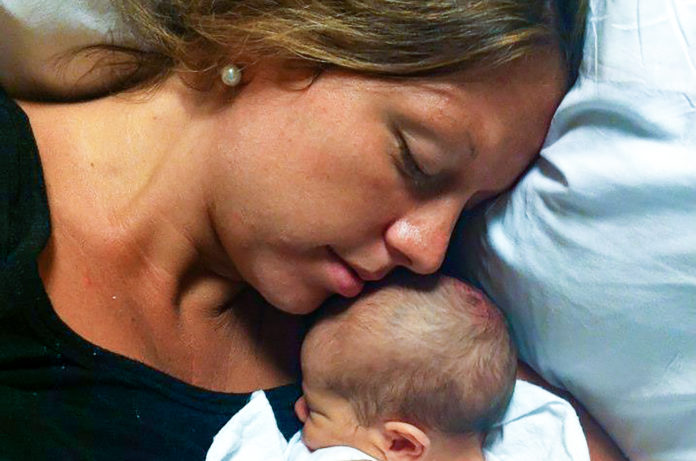 Sometimes, dreams can come true. We'd assumed we wouldn't be able to have a much-longed-for second baby. There'd been a battle with infertility, and I'd had several surgeries for Stage 4 endometriosis and aggressive polycystic ovary syndrome. One of my Fallopian tubes was completely wrecked. The odds were low to say the least.
But then we found out our prayers had been answered, and we were overjoyed. When we learned we were having a boy – a little brother for our darling Ady – it felt even more perfect. I had no idea of what we'd have to go through – how close we'd come to losing Henry, how close I'd come to losing my own life. Thinking about it can still make me cry.
From the start, this pregnancy felt completely different to when I was carrying my daughter. To begin with, I was completely exhausted. I felt nauseous and generally unwell. But as I was told, this was normal – plus I had an almost-two-year-old to run around after. It was no surprise I didn't feel great.
Even though I felt too ill to eat much, I still gained a lot of weight. I was told that because we went in the pool a lot, it was most likely fluid retention. Then, on vacation in Florida, I woke up choking. It turned out to be heartburn – something I suffered from regularly. Even something as neutral as a glass of water would give me painful heartburn. Again, I was told this was usual during pregnancy.
At 36 weeks pregnant, in September 2012, I lay in bed feeling like I had the 'flu. I ached from head to toe, and my mom agreed to look after Ady so I could go and see my obstetrician. I can remember one of the nurses saying, "Well, you look pretty" when I said I didn't feel well! My blood pressure was elevated, so my OB asked me to lie on my left side and checked it again. It was still up, so she ordered some blood tests. Finding a vein turned out to be a real problem, to the point where I was asked if I wanted to leave it and come back the next day. I was exhausted, but I just didn't think I had the energy to come back again. It had to be done then, no matter what.
That night, I was in a lot of pain and still felt terrible. I was convinced something was very, very wrong. God was telling me there was a problem and I had to do something about it. I called my OB's office, and after a few moments the receptionist found my lab results. Then came the words I will never, ever forget: "Baby, it's not good. You need to get here now."
I realized I hadn't felt Henry move. What was going on? I was terrified. One of my friends, Paula, is a physician's assistant. She was filling in at my OB's office that day and called me as we were on our way to hospital. She did her best to calm me down and told me I'd be giving birth to Henry that day.
We arrived to be met by the high-risk ER OB – and that's when we knew there was a serious problem. There were no lights on in the delivery room, no answers to the questions I was asking. In fact, I can't remember anyone ever explaining just exactly what was going on. I do, though, recall someone saying something like, "Yes, pre-eclampsia and HELLP syndrome are scary."
When my waters broke, they were all bloody. I am forever grateful to Paula, who requested I didn't have a C-section. She probably saved my life – I'd most likely have hemorrhaged to death. My platelet count was through the floor, but I was allowed an epidural due to the pain. Even in the state I was in, I was aware there were a lot of people in the room as we got closer to delivery. I was seriously sick, I realized. My body was failing me and shutting down. A nurse brought me an oxygen mask, but I tried to push it away – I didn't think I needed it. My mom, who was with me, took my hand. "It's not for you, it's for Henry," she told me.
That's when I knew the answer to a question I'd been asking myself throughout my pregnancy. I'd wondered, worried whether I could love Henry as much as I loved his sister, Ady. Yes, absolutely I could. I would do everything I could to protect him. I grabbed the mask and got on with what I had to do. I pushed twice, and Henry was there – a little earlier than planned, but miraculously healthy and perfect. I'm convinced God was protecting both of us that day.
I had to stay in hospital for some time yet, though. My blood pressure was still high and I needed magnesium sulfate to try and prevent seizures. I might not have known what had happened, but I can't fault the medical team that looked after me. And I'm grateful that care was there – not every woman is that lucky.
I haven't spoken much about what happened until recently. I figured that since both Henry and I lived and are ok, there was no need. As someone said to me not long afterward, "Well, God is good. You're here." Yes, He is good. Yes, we're both ok. But the experience was traumatic – for both of us, for my husband, for our family. The repercussions will be felt for the rest of my life. I underwent a full hysterectomy in my mid-20s just to keep me alive. My bones are like those of an 80-year-old woman – a direct result of what happened. I'll be on medication for high blood pressure for the rest of my life. There are wounds, physical and psychological.
The more I learned about pre-eclampsia and HELLP, the more I realized how important it was that women are made aware of how serious they are. They are life-threatening conditions – not just another 'symptom' of pregnancy. So, for the past two years, I've been involved with a USA today investigation into rising maternal mortality rates. It's helped me and my family heal more than anything else.
We've been featured in our local newspaper and on social media. I attended the Champions For Change Summit with the Preeclampsia Foundation. I'm on the board of directors for the ImprovingBirth organization, as the legislative advocacy coordinator. Together with the director of government affairs from AWHONN – the Association of Women's Health, Obstetric and Neonatal Nurses – I worked to take a bipartisan bill to our senator. The bill – which was passed unanimously, I am delighted to say – requires states to have an active maternal mortality review committee (MMRC). Locally, I am working with my church to create a support group for women who have experienced a traumatic pregnancy. Connecting with other women who understand is so important during the healing process – even if there was no physical loss, there is an emotional one.
I want to take all my scars, all my wounds, and use them to bring about change. My story ended well, if you look at the bare facts. But not when you dig deeper. And then there are the 'what ifs'. What if my doctor hadn't ordered tests? What if I hadn't called the office the next morning?
It sounds incredible, but the United States is the most dangerous place in the developed world for a woman to have a baby. That is not okay. We owe it to ourselves, our daughters, to those we have lost to fight for better. To make women feel safe and empowered to speak up if something feels wrong without fearing they'll be dismissed. Health care providers, medical staff, many women themselves all need to be educated. I've been a childhood educator for more than ten years, and I find it hard to believe there is not more provision.
I was told my condition was 'rare'. Yet in the US alone, 700-900 women die each year due to pre-eclampsia or HELLP syndrome. The 'near-misses', like me, number around 50,000.
I will never take for granted that I'm here for my children. Every moment is a gift to be treasured. It breaks my heart that not all mothers are so lucky. And that's why I will fight for this cause until my last breath – so that neither my daughter nor any other mother-to-be has to go through such a traumatic, potentially fatal, experience.
Also read: