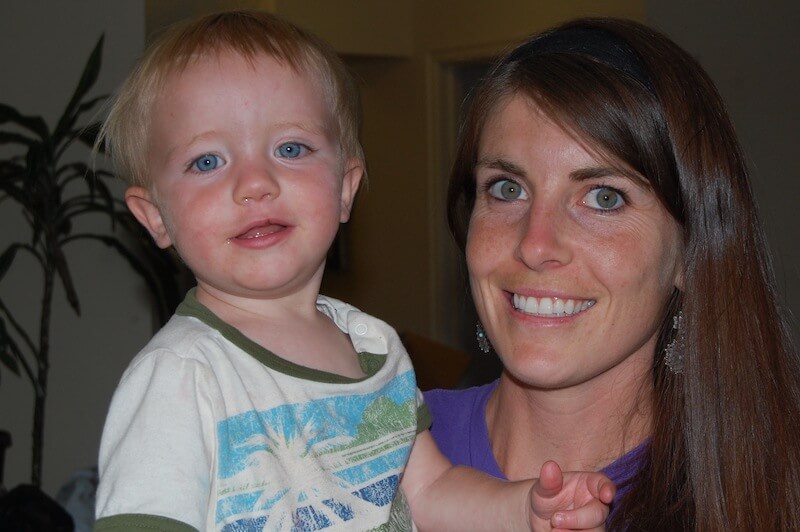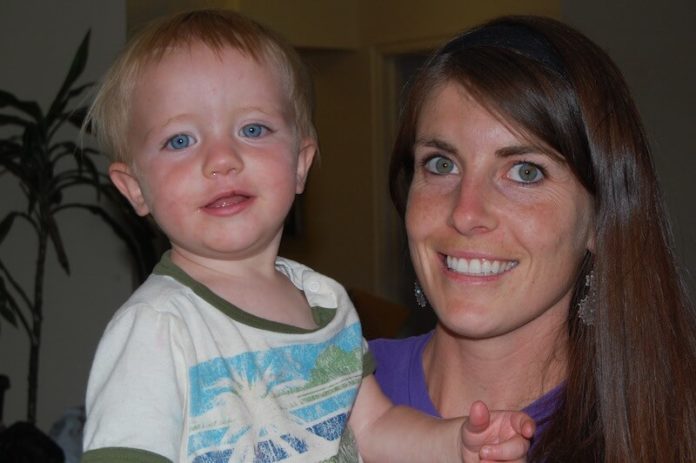 This is the story of the most tragic day of my life. Thinking back to this horrific day still brings great trauma to my heart, but I feel it's very important to share. As parents, we try and keep our children safe, but we need to remember that sometimes the most innocuous thing can have catastrophic consequences.
My little boy, Ollie, woke up that morning at around 6.30am – excited for the new day, as always. After we waved his daddy – Chris, my husband – off to work, it was just the two of us. We got dressed and started to do housework.
Ollie loved helping me with the laundry, and I'd always let him throw some items into our top-loading washer. It's good to let kids help around the house, right? And it was fun to spend time together – seeing how he found joy in the simplest tasks. That day we were washing the sheets. After we'd finished loading them, we left the laundry room together.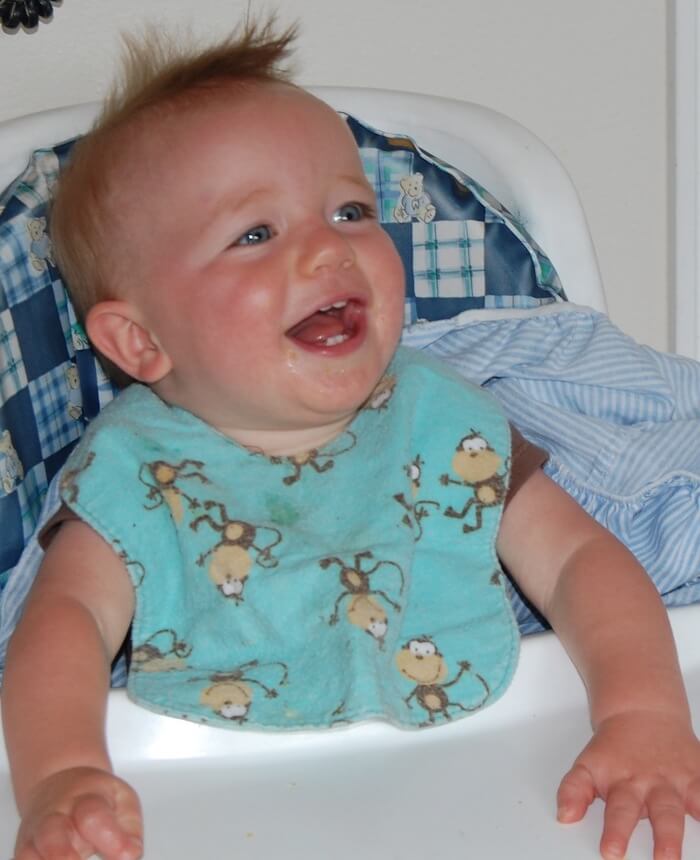 I was eight months pregnant, and as I stood in the lounge, skim-reading a magazine article about how big my growing baby was, I realized after a minute that I couldn't hear Ollie – usually he'd be singing or playing. That was unusual. I felt a brief rush of panic, but I knew it would be ok once I found him. I can honestly say that, until that day, there was never a time when I didn't know exactly where Ollie was. Our house wasn't big, and I could usually see or hear him from anywhere in it.
But that day…that one time…
I called his name over and over, only to be met with silence. I couldn't even hear the washing machine running. I started to worry. Where could he be? Outside? Surely I'd have seen him opening the door, but I ran to it anyway. No sign of Ollie. That's when a cold feeling came over me, and the next few minutes passed in slow-motion. I went from room to room, yelling his name, panic rising. Any parent who has ever lost sight of their child for even a moment will know exactly how that feels.
I looked up the stairs – he wouldn't have had time to climb them without me seeing. They were directly opposite the laundry room, where we'd last been together. I went in and checked behind the door – he wasn't there. By now I was terrified, screaming and crying for my little boy. Panic and horror were starting to set deep within my body.
I went back to the laundry room. It was the only place he could be. Looking at the washer, I saw it had stopped and the lid was open. No, surely he couldn't be in there? I tried to resist the compulsion to put my hands in the water – it was a ridiculous impulse. But you've checked the house, the voice in my head told me. You know he couldn't have gotten outside or upstairs. He's nowhere else to be found.
Reaching into that washing machine took more courage than I ever knew I had. I knew I was preparing myself to find Ollie's body and it took me a moment. I'm convinced I had some help from God and the angels, there was no way I could have physically done that otherwise. It was the strangest feeling, as though someone was standing behind me, lifting my hands and guiding them into the cold water. Horror, panic, disbelief and shock fought for space in my feelings – I wanted to pass out.
My heart shattered into a million pieces. Ollie's precious, lifeless body was in the washing machine – just a few minutes since he'd last been by my side. I couldn't understand how this had happened so quickly when I was so close by. I tried to pull him out, my pregnant belly getting in the way. He wasn't breathing, and I knew I had to get him out quickly to start CPR.
But I couldn't do it alone. I ran outside to seek help from my neighbors – I think everyone could hear me wailing and yelling. One of them came running and we worked together to dislodge Ollie's tiny body from the washing machine.
Time was against us, and I was struggling. My neighbor, Tiffany, basically pulled Ollie out and then carried his limp, lifeless body into the living room; other neighbors had come to help too, and between them they started to carry out CPR on my little boy. Chris told me later that it's important to give drowning victims a rescue breath – it can make a big difference to their chances of survival. I wish, I wish I had known this at the time before I ran to get help, but even though I'd stayed up to date on CPR training, I wasn't aware of that.
They told me later I was inconsolable, screaming and wailing. I knew I had to tell Chris, so I sent the text no parent ever wants to write. It broke my heart – Ollie was the center of his world; Chris adored his son above anything else. "Ollie is dead. 911. Come home." I knew reading it would crush him. I went over to Ollie, wishing I could exchange my life for his. The firefighters and ambulance service had arrived and treated him on the living room floor – my little boy had IVs in his legs, he was intubated, and they'd administered epinephrine. I knelt beside him, holding his chubby toddler hand. Momma needs you, I told him. I'm so very sorry. I couldn't stop sobbing; I felt such pain and pressure in my heart that I couldn't understand how it kept beating. I knew there would be no happy ending to this, but I couldn't help but hold onto hope.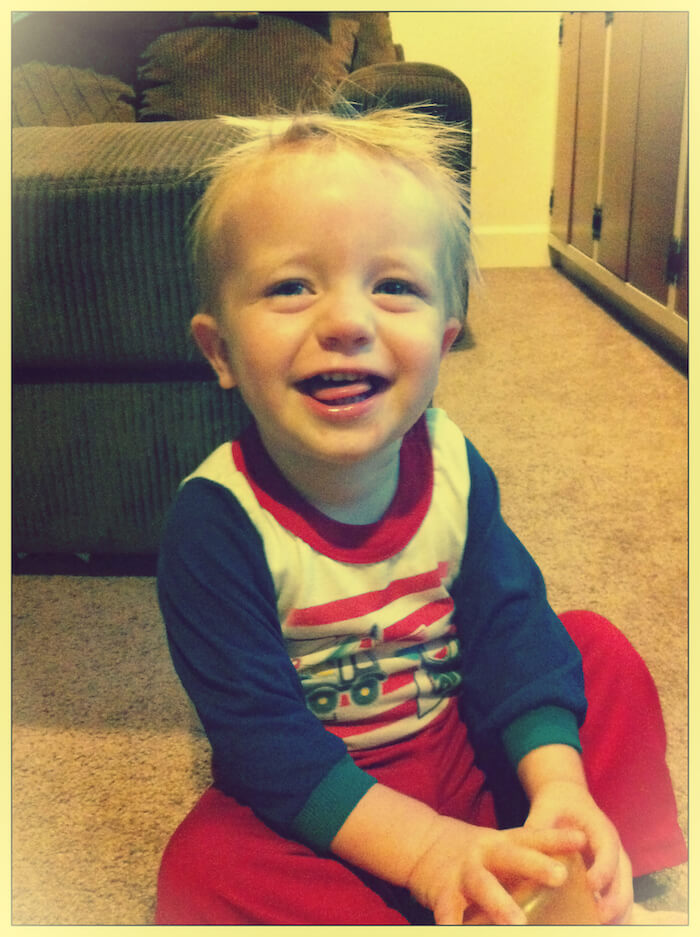 Ollie was taken to hospital, where we watched and waited and prayed for a miracle. After 24 hours – the amount of time they are obligated to try and keep you alive for – we were physically and mentally exhausted. I wanted it to be over, but I also didn't want to say goodbye to my precious little boy. I wasn't ready to let him go. But where was the sense in keeping him like this? He had zero brain activity, there'd been so signs of improvement and there never would be.
We prayed as a family, and knew it was time. The nurse who unhooked Ollie from all the tubes and machines couldn't have been any sweeter. She asked if I wanted to hold him and the tears flowed down my face as, for six excruciating hours, Ollie gasped his way towards the end of his life. The doctors said he had an exceptionally strong heart that kept him going for longer than would usually be expected.
I felt such intense, exquisite pain as I watched my precious baby boy slip away. Those final moments we had together were heartbreakingly special, knowing they were our last together. The sorrow was overwhelming, and I can remember giving a sigh of relief as he took his final breath in my arms. Then my heart shattered all over again. His body grew cold and his soul, his spirit was no longer there. He'd returned to the father that had given him life. It was the most spiritual, the most devastating, and the most bittersweet experience I have ever had.
How could I go on? If it hadn't been for the new life growing inside me, I'm not sure I could have. I may have taken my own life. But I knew I would live for the baby who would be part of our family.
It's been seven years since Ollie Kai Hebb left us, and not a day goes by without us talking about him, remembering him, or including him in our life. Chris and I were blessed with a daughter and a son, then last year, on March 24 – his angel day – Ollie sent us a sweet baby boy. I believe this is a sign, our own little miracle.
I'd be lying if I said I didn't still have dark days. There is still pain and grief, and there always will be, but the tough times become less frequent as time passes. I try to live my life holistically, openly, healthily. It helps. When I feel grief rising, I feel it, let it in, and allow it to pass through me.
Chris and I have grieved differently, but our marriage is still strong. We give each other space when we need it and respect each other's way of coping with what has happened. There's no right or wrong way to mourn, some men and women grieve completely differently.
Ollie lives in our hearts forever. Please, for his sake, check your washing machines. Fit a child-proof lock to the door or lid. What might be a mundane household appliance to you can be fascinating to a child. If you think there are no dangers in your home, check, check and check again. And again. Hug your children tightly, love them, cherish them. Make the most of every moment you spend with them. None of us knows when it might be the last, so live every day as though it is.
Also read: