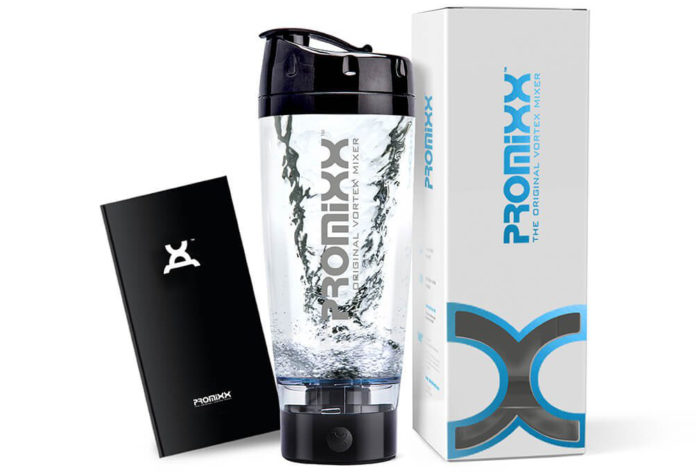 If you're following a health regime and need to mix up protein shakes on the go – for example, after a gym workout – a shaker bottle is a great investment. What we love about the PROMiXX iXR, though, is that it's so useful in other areas of life too.
As well as being perfect for dedicated gym-bunnies or those who follow a regular exercise schedule, it can come in surprisingly handy if you've got babies and small children!
Perfect for the gym – handy at home
The PROMiXX brand is already well-established with health and fitness fans around the world, and the iXR lives up to expected standards. It's easy to use – just pour in your liquid, switch on the shaker, and then add your powder or supplement. It's quiet, efficient and quick, and there's a useful storage compartment to stash the ingredients for next time.
And when you're not working out, the iXR doubles as a handy kitchen gadget or on-the-go drink bottle. As well as being perfect for whipping up milkshakes or mixing formula milk, it's also great for bulletproof coffee or whisking up scrambled eggs, pancake batter, juices and cocktails!
Ultra-portable with a generous 600ml capacity, the iXR is beautifully designed for both quality and convenience. Its unique X-blade technology delivers superior performance and makes it more than just a health shake bottle.
Superb quality and performance
"For looks and blending ability alone, this product deserves five stars. The pod for storing powder is a great addition and makes this product a must for any gym bag when you don't have time to pop home before your next commitment," said one user.
Another said: "Having used shaker bottles before, it can be a nightmare when you travel a lot. This is absolutely brilliant. It has fantastic power behind it and my shakes have been smooth, only taking 40 seconds to mix. It's so easy to charge, too."
"I was shocked at how easy it is to clean it. All I have to do is add water, turn it on and it cleans itself. Ten seconds! The quality is 10/10. Zero leaking – you can shake it, throw it in the air, it just won't leak. The motor is very strong and creates a whirlpool – even if you leave the top open and fill it up, the water won't come out while mixing. Magic. A superb product."
The ProMixx iXR is available from Amazon for £39.99. Click here to order yours.