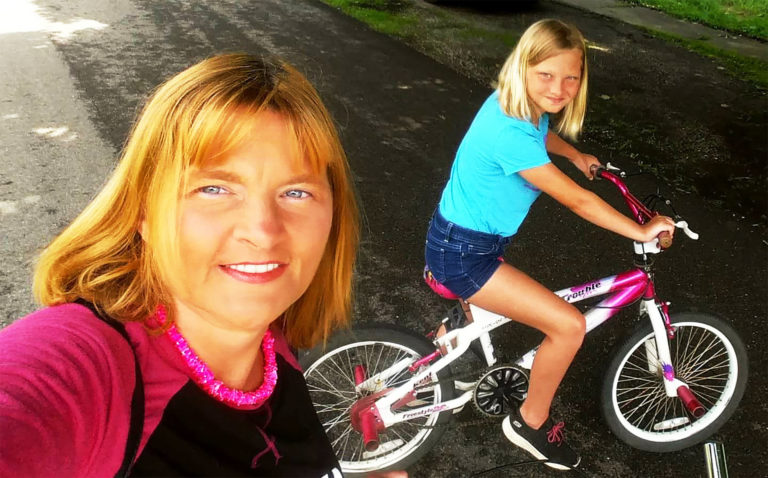 If anyone had asked me years ago to imagine the path my life would take, I'm pretty sure I wouldn't have come anywhere near close to reality. None of us knows what's going to happen, or how we'll rise to the challenges along the way. I'd say that's a good thing.
This is the story of how I came to be Katie's mom and how together we're taking on the world. Katie is 11 years old and has cerebral palsy. A big part of our life is filming videos for her YouTube channel, Katie's Wacky World, which we set up to inspire other kids and their parents who might be finding things a little tough. Life is twice as hard for Katie as she copes with her condition but also twice as rewarding, and we want to share that message. We're really happy with how things are turning out, but it wasn't always that way.
Eleven years ago, I was raped by my former pastor. He was quite a bit older than me – 30 years – and he'd become a father-figure to both me and my then-husband. We felt like family. He was wise and kind and I looked up to him. After my ex and I separated, he and his wife were there to offer support. One day, he crossed a line.
That was bad enough by itself, but soon afterwards I found I was pregnant. I had no idea what to do or how I would cope. Abortion was out of the question – it's completely against my beliefs. I was ill for almost the whole pregnancy because I have Crohn's disease, so I spent months feeling terrible and panicking about what was going to happen, how I was going to manage once this baby was born. Not to mention how traumatized I was by what had happened – all these years later, there are still so many unwanted memories and upsetting emotions in my head.
But you can't stop nature, and the day came when my baby was born – two months earlier than expected. Katie was in distress in my womb, so I ended up having an emergency C-section, and then she had a stroke at birth. She was taken to the NICU, and the doctor warned me it looked as though there were complications.
I couldn't believe it. She was so beautiful and looked so healthy. Surely she'd be fine? Whatever they were worrying about was just some post-birth issue, a result of the C-section and the stroke. I willed her to be ok, but a couple of days later I had to face reality. The doctor told me Katie had cerebral palsy and would probably never be able to walk or talk.
I couldn't believe what I was hearing. I was already in love with my gorgeous, helpless little daughter – as soon as I set eyes on her, I knew she was 'mine'. The terrible man who had brought about her existence had nothing to do with who she was. I'd opened up to my ex-husband about what happened, and he agreed we needed to keep her from him. Who knew what he'd do if I told anyone else what had happened, to me or to Katie? My ex stepped up and said he was willing to be named as Katie's dad, something for which I was grateful.
But the reality was that it would just be me and Katie, making our way in the world, managing her condition. I looked down at my tiny daughter, born two months prematurely with cerebral palsy. What had I done to her, I wondered, as tears rolled down my face. What would life be like?
There was no point in feeling sorry for myself, though. That would get us nowhere. The important thing was to give Katie the best possible start in life. At that time, I was running a fire prevention power-wash company, running two crews that cleaned kitchen hood systems, but I left my job and moved an hour away so we could be closer to the hospital. This meant Katie could have therapy several times a week, which would really help her.
We did that for five years and, slowly, she made progress. We had very little money and I had my own health issues – including several surgeries and multiple broken bones – but we managed. Every improvement brought hope for the future and helped beat back the specter of her bio-dad. Thoughts of him continued to torment me.
I saw – I see – nothing of him in my wonderful daughter, though. Katie is a kind and loving girl, and she's determined not to let her condition control her life. We had to rely on government housing and support fora while, and in return we would spend time volunteering and visiting senior centers – neither of us ever felt we were entitled to anything without giving something back.
Shortly before her fifth birthday, we moved to Warsaw in Ohio. It's a small town, quiet – somewhere she could progress at her own pace without kids picking on her for being different. But children can be cruel wherever you are, and even here some of them would still call her 'retarded'. It broke my heart to see my beautiful daughter smile and wave at them, thinking they were her friends.
Just over a year later, a big weight rolled from my shoulders when I learned her bio-dad had died suddenly. The sudden sense of freedom was overwhelming, and I finally felt able to tell people what had happened. Speaking out cost me dearly – we were shunned by those we loved, and even my ex-husband was no longer there for us. It hurt more than I can say, having people turn away because I dared to tell the truth. It also made me realize I couldn't rely on anyone but myself.
Slowly, I rebuilt our lives. First, I got fit and healthy – how could I make sure I was there to care for Katie if I didn't take care of myself? I started to teach a free children's art class and joined the parent teacher organization at Katie's school. My daughter has always loved people and wants everyone to be happy, so we started carrying out random acts of kindness to show others that they mattered – something we continue to do today.
Katie was doing okay, but when she was nine we learned she'd need an AFO – an ankle-foot orthosis, or foot-brace. She was so embarrassed about it, and that's when we decided to start her YouTube channel. It's important to her that people realize cerebral palsy is only a part of who she is, and she also wants to inspire other kids.
We both want them to know that you're not defined by an illness, condition or disability. That doesn't mean you don't have limits, but it doesn't mean you can't aspire to push them. Dream big, we say, and never give up.
On Katie's Wacky World, as well as lots of fun stuff, we also talk about things like how bullying can make people feel. We share inspirational quotes, show how being kind can make a difference, and try to tell people that when things are bad, that doesn't mean they won't get better.
A while ago, Katie was interviewed by our local television station. It was emotional, listening to her talk about how she wants everyone to know they're not alone, that they are important, and that their lives matter. I remembered all the times when all I'd felt was utter despair, the nights spent crying into my pillow. When I'd been so sick I couldn't get up and wondered how I'd care for my little girl. The times I'd held her during a seizure, convinced that this time I was going to lose her. I remembered how people I'd loved had turned away from us, while others had stepped up to catch us as we fell.
Katie has taught me to love unconditionally, to fight against the odds, and that giving up is never an option. She's shown me it's important to be there for those who are broken, as others were there for us. We get up and keep going, time and time again, and we always will. I am in awe of my daughter, my shining star, and our story is just beginning.
Also read: