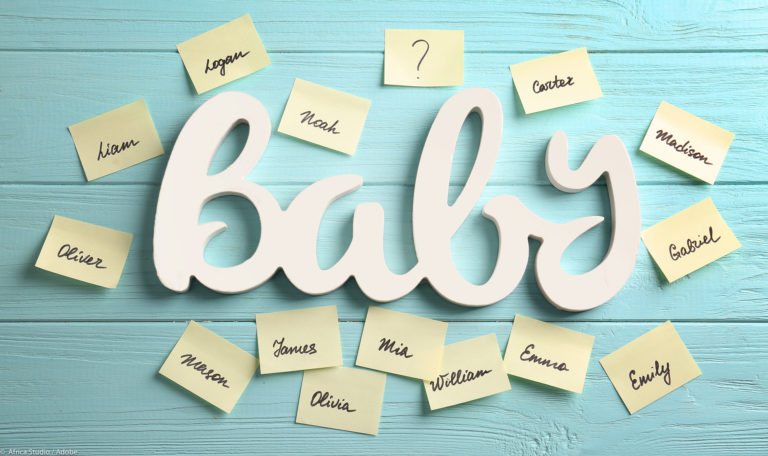 It's one of the most common questions asked of expectant parents: "Have you thought of a name yet?" What we call our children is an important decision – after all, it's going to be with them all their lives. Whether you plan to follow a family tradition or go with something more modern, our round-up of the most popular baby names of 2018 might help you make up your mind.
Boys will be boys
In the UK, the three most popular boys' names are unchanged from last year – Oliver, Harry and Jack still hold the top three spots.
Traditional 'old man' names also have plenty of fans. Pregnancy and birth website Bounty.com publishes a 'Top 100' list each year and says Albert, Theodore and Ezra have all risen through the ranks in 2018. Rory has climbed 19 places from last year's position to become the 46th most popular boys' baby name in 2018, while Grayson is up 37 places to 93rd.
It's surprising, however, to see previous favourites such as Ben, Spencer and Nathan dropping out of favour.
In the US, Jackson holds on to the number one spot for the sixth year running. Biblical names such as Noah, Daniel, Jacob and Caleb also pepper the Top 50 list of favourite boys' baby names in America. But the influence of popular culture is evident too – online game Fortnite means there will quite a few little boys called Ramirez running around soon.
Conversely, other parents are turning to the elements and choosing names linked with nature; Ocean and Sky both found plenty of fans during 2018.
Here come the girls
As with last year, Olivia and Amelia retain the top spots in the UK. However, another perennial favourite – Emily – has been pushed into fourth place by Isla, a name also finding favour in the US.
Traditional names feature strongly on the girls' chart, too – Ivy, Elsie and Maisie continue to gain popularity. Isabella has broken into the Top 10 this year, while Isabelle has dropped down to 24th place. And six years after David and Victoria Beckham chose it for their daughter, Harper still has plenty of admirers – the name is up 17 places to 22nd in 2018.
Other 'old-style' names which have broken into the Top 100 this year include Iris and Clara, while it seems Sleeping Beauty has had an impact on baby names too – Aurora is up 35 places to 82nd in 2018!
Over in America, Sophia tops the list of most commonly chosen baby names for girls for the ninth year in succession. The fastest climbers include Everly and Carson, while the Kardashian-Jenner family also influences new parents' choices – Stormi, the name of Kylie Jenner's daughter, is a new favourite.
As with the boys, more Zen-like names are also becoming popular as people turn to meditation and mindfulness to relieve stress. Harmony, Hope and Dawn are among those gaining popularity.
Dropping out of favour are two of last year's top ten names, Logan and Zoe, which have been pushed out by Olivia and Layla.
UK Top 10 Boys' Names
Oliver
Harry
Jack
George
Noah
Charlie
Jacob
Alfie
Freddie
Oscar
US Top 10 Boys' Names
Jackson
Liam
Noah
Aiden
Caden
Grayson
Lucas
Mason
Oliver
Elijah
UK Top 10 Girls' Names
Olivia
Amelia
Isla
Emily
Ava
Lily
Mia
Sophia
Isabella
Grace
US Top 10 Girls' Names
Sophia
Olivia
Emma
Ava
Isabella
Aria
Riley
Amelia
Mia
Layla
Also read: