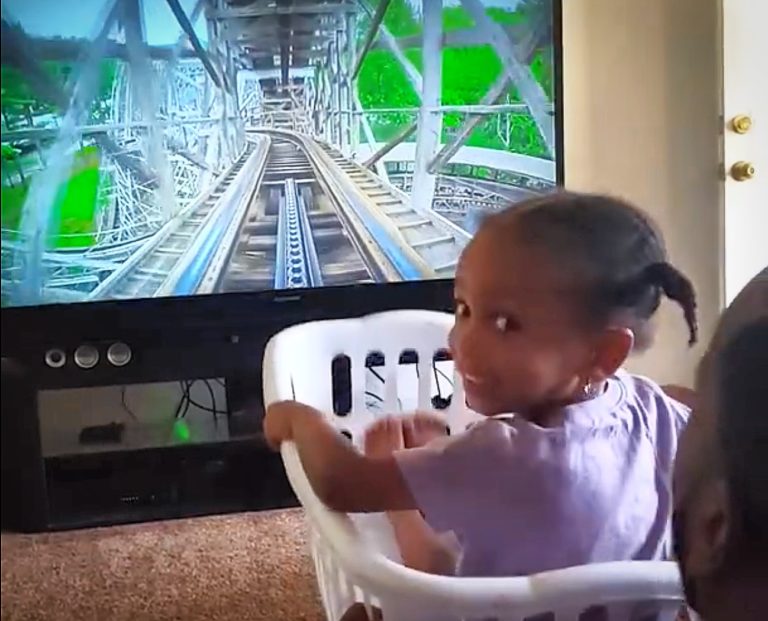 Little Kayla proved a big hit on YouTube after her dad posted a video that shows her enjoying her own private laundry-basket roller coaster.
He balances her on his legs with the ride playing on TV, moving it around in line with the track ahead.
"Hold on tight," he warns her, and the little girl squeals with excitement.
"Woah, woah, woah, be careful Dad!" she tells him.
Adorable!
At two years old, Ollie Wall is too young to go on a real roller coaster – so his dad and grandad decided to make their own.
They hold Ollie between them in a plastic laundry tub, throwing him around in front of television footage.
It's realistic enough for Ollie, who screams with delight as he races along the track.
The video was posted on Twitter by his aunt, Sophie, who can be heard laughing along in the background along with other family members.
Who needs Alton towers when u have a tv n a washin basket😭😭😭 pic.twitter.com/wIC2JEWwrA

— Sophie Wall (@_sophiewall_) March 10, 2018
"Who needs Alton Towers when you have a TV and a washing basket?" she asked followers on the social network.
And this little girl in Pennsylvania, US, loved her virtual roller-coaster experience too.
"We're going up!" says her dad, as he holds her in front of the video on the television.
She giggles in reply and can be heard chuckling throughout as she's shaken around in time to the movement on the track. The occasional side-view shows she's smiling away as she enjoys the ride.
We're guessing all these kids will be heading straight to the theme park for the real thing as soon as they're big enough!