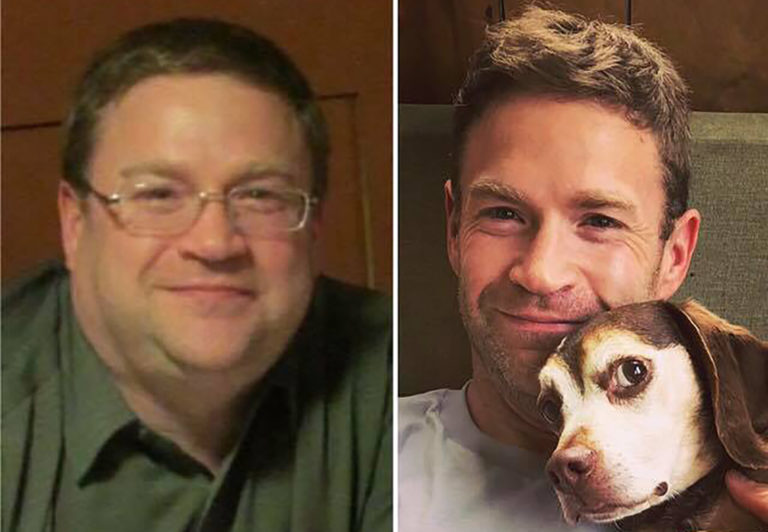 Hardly a day goes by without there being some story in the news about the obesity crisis. Too many of us weigh far too much, and most of us wish we could do something about it. We hate being the fat parent at the school gate, or not being able to run around after the kids without getting immediately out of breath. Believe me, I know exactly how that feels.
Twice in my life, I've managed to lose more than 100lbs. The first time was before I met Kim, my wife. The second time we did it together after between us we managed to gain more than 200lbs.
I'd put up with being fat, lonely and miserable for many years. I wasn't happy, far from it, but somehow I just never had the impetus to do anything about it. Then I got a call from my doctor. My blood sugar level was 300mg/dL. (For those unfamiliar with diabetes and what this reading means, 180mg/dL – or milligrams per deciliter – is considered above normal. So 300 is severe.)
I was depressed and at the lowest point of my life. I was convinced that if I could only get thin, everything would be fine – I just didn't know how to do it. And this call terrified me. I could see a lifetime of needles and medication ahead of me. Maybe I'd develop ulcers that wouldn't heal on my legs and even lose a limb. Or perhaps I'd go to sleep, slip into a diabetic coma and simply never wake up. How long would it be until someone discovered my body?
Luckily, this was a wake-up call that worked. A year later, and my life had changed beyond recognition. I'd switched to a vegetarian diet and lost 120lbs. I enrolled in a graduate school program and met the woman of my dreams. Kim already had two young children, so after we married I became an instant family man. My world was a happy place. It was all good from here on out.
Sadly, that wasn't the case. I'd struggled with my weight since childhood. A sad and anxious kid, I used food as a comfort to help me deal with uncomfortable situations and negative feelings. Then I gained weight, which made me feel awkward about things like gym class or shopping for clothes. So I'd eat more to make myself feel better. It became a vicious circle.
I always felt like the outsider, watching everyone else having fun with their friends. My self-esteem was non-existent – I didn't have the confidence to socialize and never felt like I belonged. So I grew from being a chubby kid to a fat teenager, and then to a morbidly obese adult who weighed 280lbs. I had to go to work, but otherwise I tried to avoid other people as much as I could. My days would revolve around what I would eat and when. Even after that call from the doctor scared me into doing something about my weight, I would still spend a lot of time planning my next meal or snack.
I suppose it would be true to say that while my outward appearance had changed, inside I still felt like the fat guy I'd always been. After Kim and I married, in December 2003, it felt like all our dreams had come true at first. We were in love, our life was good, and that meant I could keep things under control. But we both soon realized that we had each brought quite a bit of emotional baggage into our relationship. Coping with the everyday realities of family life was stressful and before long, I turned to my long-standing comforter – food.
Now, I know I never really believed that I deserved the happiness I'd found. I was only too ready to sabotage everything I'd achieved so far, and I piled the weight back on rapidly. I'm grateful that Kim could see past my anger and misery and knew there was something worth fighting for.
She'd never had weight issues, but somehow we became partners in crime with our eating habits. In the ten years after our wedding she gained more than 80lbs. At her heaviest, Kim weighed 240lbs and wore a size 22W dress. She struggled with being the 'fat mom' at the kids' school, and I felt guilty for dragging her down with me. Food was how we coped with our unresolved issues. It's how we dealt with anxiety and depression. We both knew it, but it was still easier to keep eating than address the real problems.
Over the next few years, we rode a roller-coaster with our weight. I managed to lose 120lbs on a low-carb diet and felt like I was back in control. Instead, I was repeating the same mistakes. I was dealing with the symptom – eating too much food – rather than the underlying cause, which was my inability to handle my emotions.
Kim had lost weight too, but by following a different plan. She called this our time of 'semi-successful struggling'. Even though we were both smaller, it was still difficult to stick to our individual – and very different – eating rules. Making meals together was pretty much impossible. We fell into a cycle of doing well, then falling off our respective wagons and panicking as the weight began to go back on.
The thought of having to lose a huge amount of weight a third time was too daunting. I wasn't sure I'd be able to do it. What we needed was a long-term solution that worked. Then, in 2017, we found it – or rather, Kim did. She discovered Gin Stephens' book, Delay Don't Deny: Living an Intermittent Fasting Lifestyle, while searching for diet ideas on Pinterest. After reading it, she was convinced this was our answer and we both committed to a daily clean fast with an eating window of three to five hours.
It's fair to say we were overwhelmed by the results. The extra weight seemed to melt away, and yet we were able to eat all the foods we'd denied ourselves for so long. For pretty much the first time in our marriage, we ate the same meals at the same times. It might sound strange, but now there was a kind of peace around food, rather than stress.
It had a knock-on effect in the rest of our relationship, too. We learned to communicate better and enjoy non-food-related activities together. Food was no longer a sticking plaster over the wound – we were able to deal with our emotions and feelings more constructively.
Right now, I weigh 165lbs and Kim is 145lbs. We are shadows of our former selves, so to speak. As well as the physical benefits, we have found harmony and joy in our lives. It's made a huge difference to our marriage and our family. Now, truly, life is good.
Also read: