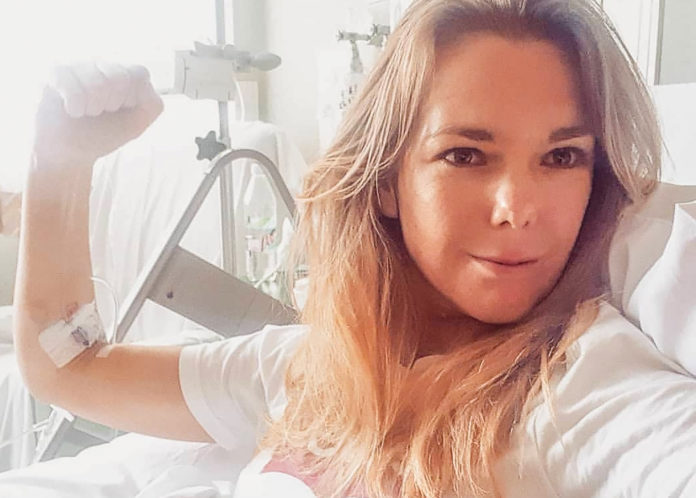 I don't know why, but I always had a fear of being infertile – even when I was a child. I was fascinated by the Disney movie, Dumbo, but not just because of that adorable, brave little elephant. I felt a connection to his mother, watching the stork deliver babies to all the other animals in the circus except her. She had to watch all the other elephants cuddle their little ones while she was left without. It was ironic I would find the same thing happening to me in later life. And, luckily, my life mirrored the story's end, too. Mrs Jumbo finally received her special delivery – and so did I.
Both my husband, Maas, and I are from the Netherlands. We met in college when we were 24 years old, ready to take on the world. We worked hard, quite happy to devote ourselves to our careers. After a while, Maas's job in the airline industry required us to move from Amsterdam to the United States. I started a successful company in Atlanta, Georgia, and life continued.
Then, when I was 31, I learned my father was sick and had just six months to live. I wanted to go home, help take care of him. It wasn't feasible for Maas to leave his job, so I went alone. I took our dog back to Amsterdam and stayed with my parents until my father died a couple of months later.
That experience changed something for me, for us. My father's death shocked our families, and Maas and I agreed we wanted children of our own. I'd been on birth control since being diagnosed with endometriosis when I was younger, the only options to deal with it being either that or getting pregnant. But I stopped after my father's funeral, and we looked forward to finding out we would become parents.
After a lifetime of worrying I'd struggle to conceive, it seemed my fears were coming true.
After nine months, nothing had happened except extreme pain caused by my endometriosis. We visited a fertility doctor in Atlanta who said he could find nothing else wrong. His suggestion was that we start using hormones and try intrauterine insemination (IUI). I was shaken. After a lifetime of worrying that I'd struggle to conceive, it seemed my supposedly unfounded fears were coming true.
Three times, we tried IUI. Three times, I had an emotional breakdown in the bathroom each month when I discovered it hadn't worked and I was bleeding. Enough was enough. It was time to try IVF.
I already followed women on Instagram who were going through IVF to beat their infertility. It looked like such a difficult road to take, with so many obstacles and setbacks. I used to truly feel for them – and now I would be one of them. Don't get me wrong – I was absolutely ready to grab the opportunity and do whatever needed to be done. But realizing I was facing my last option for having a baby was both daunting and frightening. If it didn't work, that was the end of the road.
In the US, certainly, IVF is not something you just 'do'. It's a big decision, with major emotional and physical challenges. And then there's the financial side. It's an expensive process. Maas and I agreed I'd go back home to the Netherlands, where it would cost significantly less. At the time, I didn't really appreciate how hard it would be to handle other projects on top of the IVF. Clearing out the family home and helping my mom move to a smaller apartment at the same time really wasn't a good idea.
I was awake and in pain, tears rolling down my cheeks as I tried to lie still.
Three weeks later, Maas flew in from Atlanta to be there for the egg retrieval and – hopefully – the fertilization of our embryos. In the Netherlands, retrieval is carried out without anesthetic. It turned out I'd grown 20 follicles, and each one needed to be harvested.
Some women don't feel anything, apparently, but I did. Every single part of it. I was awake and in pain, tears rolling down my cheeks as I tried to lie still. From there, we learned we had six embryos. One was transferred back to me, and then we began the long, two-week wait that any IVF couple knows well. It's the worst part of the process. Wondering if you're pregnant, hoping and praying for it. Knowing you can't do anything. Except in my case, it wasn't two weeks. After eight days, I was bleeding. There was no baby. We decided it was time to go home to the US.
Six months later, when we agreed we were ready for round two, we decided to stay in Atlanta. We were convinced it would be different this time. The clinic was great, I was given fewer hormones, and felt much happier at home with Maas and the dogs. The process resulted in five embryos, and two transferred back.
And after two weeks with no bleeding, the phone rang and I was told: "Girl, you are pregnant!" We'd done it! The two years of heartbreak seemed worth it. Life looked suddenly rosy. But it didn't last. After my third beta check, I got a call four hours later: "We are so sorry, but your numbers (HCG levels) are not rising anymore." They suspected a chemical pregnancy, where the fetus is lost soon after implantation but not too early to stop HCG levels being present.
It doesn't matter if you lose a baby when you're one week pregnant or ten. The pain and the heartbreak are just as real.
After experiencing both, let me tell you it doesn't matter if you lose a baby when you're one week pregnant or ten. The pain, the heartbreak, the anguish are just as real, just as intense. I'd given in to my fantasies. I'd imagined how my pregnancy would progress and the little baby we'd have at the end of it. Now my stupid body had failed me again.
It was just a week before Christmas, too. How could we celebrate now? When you've fought so hard to get pregnant, there's a bit of you that assumes the worst is over. You surely couldn't be unlucky enough to lose the baby you had such a remote chance of conceiving in the first place? Apparently, you could.
After a couple of months, I decided it was time to get back on my feet. I needed to have faith in my body if we were to try for a baby again. I started doing yoga, meditating and eating as healthily as possible. We still had frozen embryos in storage, so we decided to go for a FET – Frozen Embryo Transfer. I'd gone back to school while all this was going on and graduated as a health coach specializing in fertility. The hormones were less intense this time and, as I knew a lot more about the process, I was better equipped to deal with the side-effects. Again, we decided to transfer two embryos. Again, after the seemingly endless two-week wait, we got the call to say I was pregnant. I was more cautious this time. I wouldn't let myself get excited yet.
At the six-week scan, there was a heartbeat. It was the sweetest song I'd ever heard – perfectly normal and healthy. It was still there at eight weeks. The obstetrician said that in 92% of cases, nothing went wrong now. We breathed a sigh of relief and felt safe.
We shouldn't have. At ten weeks pregnant, I started bleeding. We were told to go in for an ultrasound straight away, where we learned our baby had died two days earlier. Maas and I ran out of the doctor's office and spent the whole afternoon in tears. I had to have a dilation & curettage (D&C) the next day, but that was ok. My baby was dead inside me and I wanted it out. My body had failed it. I felt dirty.
It was a relief, two weeks later, to learn the baby had triple the chromosomes it should have had. It could never have survived. It wasn't just because of me, not just my body that couldn't do what it was supposed to. That same night, I started to bleed again – far too heavily for it to be normal. Off I went to see the ultrasound technician once more. It was the same one I'd seen previously, and I knew by her silence that there was no good news.
I lost more than a liter of blood as they rushed me into the emergency room. If I hadn't already been in hospital, I'd have died.
After 20 minutes, I asked her, "Something wrong with the machine?" "No, dear," she replied. "I think there is something very wrong with you." I was told I had suspected uterine arteriovenous malformation (AVM) – a rare, potentially life-threatening cause of uterine bleeding. I had an MRI so they could be sure – and then, getting off the examination table, I began to bleed like someone had opened a tap on the bathtub.
I lost more than a liter of blood as they rushed me into the emergency room. If I hadn't already been in hospital, I would have died. Maas was in the corridor, asking what was happening. I screamed back that I thought I was dying; the nurse told him to come with us because I needed urgent treatment.
They didn't give me a hysterectomy because they knew I didn't have children yet. But I felt this was the end of the road. I'm a fighter, as anyone who knows me will tell you. I don't like to give up. But this – it was too much to handle. I couldn't go through it again. The next day, the doctor told me I would never be able to get pregnant and deliver safely. He advised us to consider adoption or surrogacy. I had to take this seriously, he said. I had almost died.
First, I needed to recover. I was in hospital for a week, and it was another three before I could get out of bed. After a further two weeks I was still wheeling myself around the house, trying to get back to normal. Trying to be 'me'. I would get dressed every day, put on a smile, and try and accept that I would never get pregnant or give birth.
We found a wonderful surrogacy agency in Atlanta where we explained our story.
Maas and I have a motto. 'Let it be and stay strong.' We're not religious, but we do have faith things will work out. We agreed we would put what had happened behind us. We'd look to the future, starting with the world of surrogacy.
We found a wonderful surrogacy agency in Atlanta where we explained our story. A biological child wasn't the most important thing for us, but as a Dutch couple living in the US, adoption would be a long, complicated process. We wanted the road to be as smooth as possible – we'd done dealing with unnecessary obstacles.
We 'clicked' with our surrogate as soon as we met her, and I embarked on my third round of IVF. This time, we decided to have the embryos chromosome-tested. There were four healthy embryos, one of which was transferred into our amazing surrogate. Three weeks later, and there was our daughter on the ultrasound.
We were delighted, of course. Our instinct was to be excited. But after all we'd been through, we couldn't let our hopes climb too high. We'd suffered too much heartache not to feel wary. Our surrogate was two months pregnant when we returned to the Netherlands for Christmas. I was exhausted and had been bleeding for two straight weeks since my last period. Alarm bells went off. Maas and I were being careful, but I wasn't back on the contraceptive pill yet because I wanted the IVF hormones to wear off.
Back home, a visit to the doctor confirmed I wasn't just pregnant, but that it was an ectopic pregnancy. I would need surgery. After all we'd been through, and trying to be cautious, I felt so stupid being back in hospital. My doctor was kind – he said after three rounds of IVF my hormones would be through the roof. It wasn't surprising my cycle was all over the place. During the surgery, they discovered my ovary had burst. They had to remove one of my Fallopian tubes as the ectopic pregnancy had messed it up, and they also took a lot of the endometriosis. I was a mess – missing a tube, and with eight more scars on my stomach.
It might sound strange, but this was the hardest thing for me. Knowing I had scars I would carry for life, when I hadn't even carried my own child. I've accepted it now, but at the time I found it so difficult.
Our surrogate was brave, amazing, and had a perfect delivery.
After a few weeks, I was physically recovered and we were able to pick up our lives again. We wanted to enjoy the rest of the pregnancy with our fantastic surrogate. I'd visit a chapel every day to light a candle for her and our daughter. We spoke on the phone every week, but this made me feel we had an extra connection.
Then, on August 7, 2018, our daughter was born. The most precious gift we had ever wished for. Nova Ann. We were in the delivery room, and I had the honor of experiencing the first skin-to-skin contact with her. Our surrogate was brave, amazing, and had a perfect delivery. We had an hour with our little girl before taking her to visit our surrogate and her family. This special group of people are an important part of our story, and always will be.
Nova Ann is healthy, happy and perfect. We will never forget all we've been through to get here, but she was worth it all. After four such difficult years, I hope sharing my story will give strength to all those women who are facing similar challenges. Never give up. Believe you will get there in the end. The love you and your partner have for each other will sustain you during the dark times. Be a team, be there for each other, and you will conquer the world.
Also read: