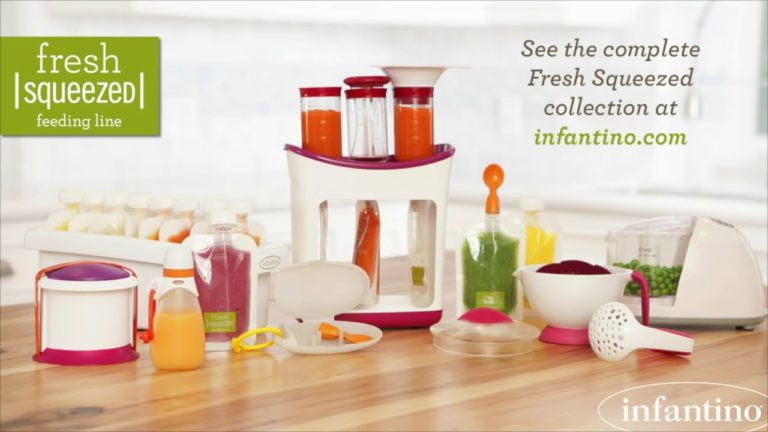 Once your baby is ready for 'proper' food, their diet becomes a main focus of your attention. Ideally, we want them to have healthy, nourishing food we've made at home – but preparing purées is time-consuming and storing it can be an issue too. Unless you've got an Infantino Squeeze Station in your life, that is.
Food pouches are a great solution for quick meals, packed lunches and on-the-go snacks, but commercially packaged versions can be costly – and, of course, are not home-cooked. The Squeeze Station solves that problem, too.
Save time, eliminate mess
Simply prepare your own food, and then fill empty squeeze pouches from the easy-to-use unit without worrying about mess or spills. The Squeeze Station allows you to fill three pouches at a time, with each one holding up to 4oz of food. These can then be stored in the refrigerator or frozen until needed – which makes it great for batch-cooking larger quantities. The squeeze pouches are also perfect for snacks such as puréed fruit or yoghurt for toddlers and pre-schoolers.
The Infantino Squeeze Station has a non-slip base, is dishwasher-safe and comes with ten single-use squeeze pouches included.
"This is the best bit of kit I've ever bought," raved one parent. "It's extremely easy to use. I've made up around 50 meals for my baby which are now in the freezer. Definitely recommend this machine, it's beyond amazing."
Great for busy parents
"I had this bought for me as a gift. It's absolutely amazing and I love it," said another. "So easy to clean and use. My six-year-old loved helping with pressing it down to load the pouches. I'd highly recommend it to anyone who wants to know exactly what their baby is eating and not having to carry glass jars around with you that may get smashes. The pouches also take up less space in the freezer."
It's especially helpful if you're trying to juggle childcare and work, added a third mum. "When I started weaning my son, and being at work full time, I was getting stuck trying to find a way to batch-cook and freeze meals. I found this product and decided to bite the bullet – it really is as simple as it seemed in the write-up. I bought an extra 50 pouches and filled them all – my little man has got enough tasty home-cooked meals for almost a month!"

The Infantino Fresh Squeezed Squeeze Station is available from Amazon for £26.95. Click here to order yours.