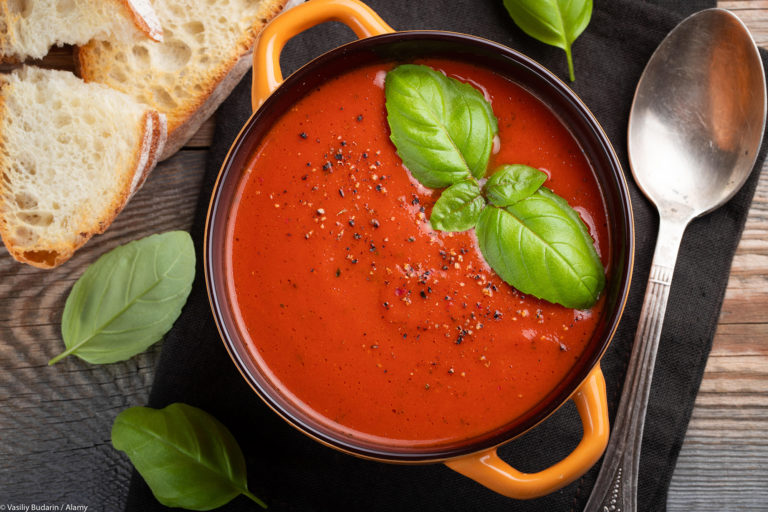 Tomato soup is a childhood staple and this home-made version is delicious. It freezes well, too, so you can double up on ingredients and always have a quick, tasty meal to hand.
Prep time: 15 mins approx
Cook time: 20 minutes
Serves: 4
Ingredients:
1kg tomatoes – fresh or canned
1.5tbsp sugar
200ml vegetable stock
100ml single cream or 3tbsp mascarpone
Dash of Tabasco or Worcestershire sauce (optional)
A few basil leaves, torn into pieces (optional)
Salt & freshly ground black pepper
For the cheesy garlic dippers
2 ciabatta rolls (or similar)
1-2 garlic cloves
200g mozzarella cheese
Method:
Roughly chop the tomatoes if using fresh. Tip into a large, heavy-based pan along with the stock and sugar. Add a dash of Tabasco or Worcestershire sauce (or both, if you like) and season with salt and freshly ground black pepper.
Bring to the boil and simmer for around ten minutes. Leave to cool for a few more minutes and then blend until smooth. (You can sieve the soup at this stage to remove any tomato skin or seeds if you like.)
Return to the pan and stir in the cream or mascarpone, then keep the soup warm while you make the dippers.
Slice the rolls in half horizontally, lightly crush the garlic cloves, and grate (shred) the mozzarella. Toast the bread, then rub one side with the garlic and top with the cheese. Grill until the mozzarella is melted and golden, then slice into fingers.
Ladle the soup into bowls. Top with the torn basil leaves, if using, or an extra swirl of cream Serve with the hot cheesy garlic dippers.
Tips
For a deeper flavour, use fresh tomatoes and roast them in the oven for half an hour before adding to the soup.
If you struggle to persuade your children to eat vegetables, bake a couple of red peppers on a tray. Remove the seeds and mix the flesh into the soup before blending – they'll never know!
Freeze portions after blending, once the soup has cooled. Defrost thoroughly and add the cream or mascarpone before reheating.
For a stronger garlic flavour on the dippers, finely chop or puree the cloves and mix with a little butter. Spread on the bread before topping with the mozzarella.
Also read: