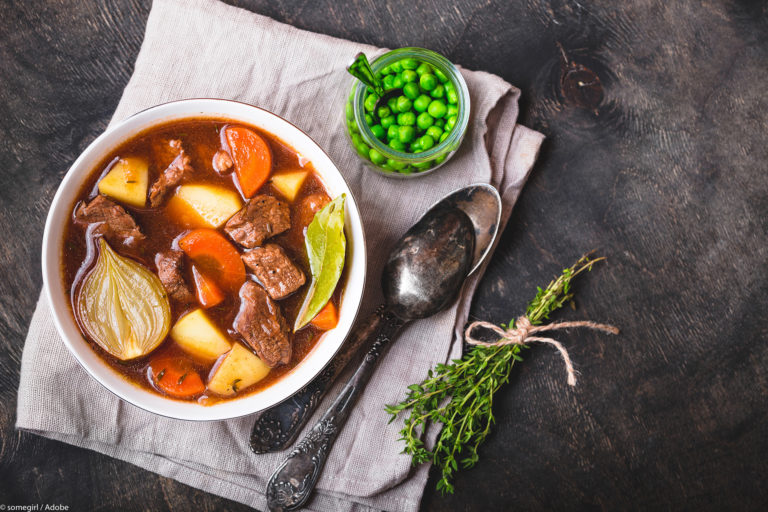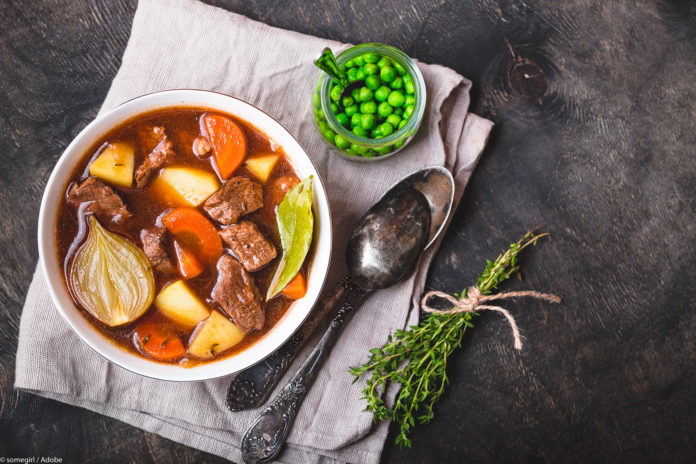 Slow-cooking lets you make the most of cheaper – and often tastier – cuts of meat, so it's ideal for a family on a budget. Beef stew is a real winter-warmer and delicious served with creamy mashed potatoes and green vegetables. If you don't have a slow-cooker, we've included guidelines for making it in the oven, too.
Prep time: 20 mins approx
Cook time: 4 hours on high or 8 hours on low
Serves: 4
Ingredients:
750g beef, suitable for braising, cubed
1 onion, finely sliced
2 celery sticks, finely chopped
3 carrots, peeled and cut into chunks
400g tin chopped tomatoes
2tbsp sunflower oil
2tbsp tomato purée
2tbsp Worcestershire sauce
2tsp cornflour (optional)
2 beef stock cubes
3 bay leaves
A handful of fresh thyme
A handful of fresh parsley, chopped
Freshly ground black pepper
Method:
Heat 1tbsp of the oil in a large pan and gently fry the onion and celery for about 5 minutes until softened. Add the carrots, bay leaves, and thyme and cook for another 2 minutes.
Stir in the tomato purée, Worcestershire sauce, and 450ml boiling water. Crumble the stock cubes over the top and season with some freshly ground black pepper. Mix and transfer to your slow-cooker.
Wipe the pan clean and heat the remaining oil. Brown the beef quickly in batches, draining each on kitchen paper before adding to the slow-cooker. Stir everything together and cook on low for 8 hours or on high for 4 hours.
If you feel the gravy is too thin, combine the cornflour with little cold water to make a paste and then add 2tbsp of liquid from the slow-cooker. Tip the mixture back into the slow-cooker and cook for a further 30 minutes on high.
Stir in the chopped parsley and check the seasoning before serving.
Tips:
If you don't have a slow-cooker, preheat your oven to 160°C/325°F before preparing the ingredients. Place the stew in an oven-proof dish, cover with a tight-fitting lid or tinfoil, and cook for 4 hours.
This stew tastes even better if made a day ahead as the flavours have time to develop. Just reheat gently but thoroughly on the hob. It can also be frozen for up to three months.
Also read: