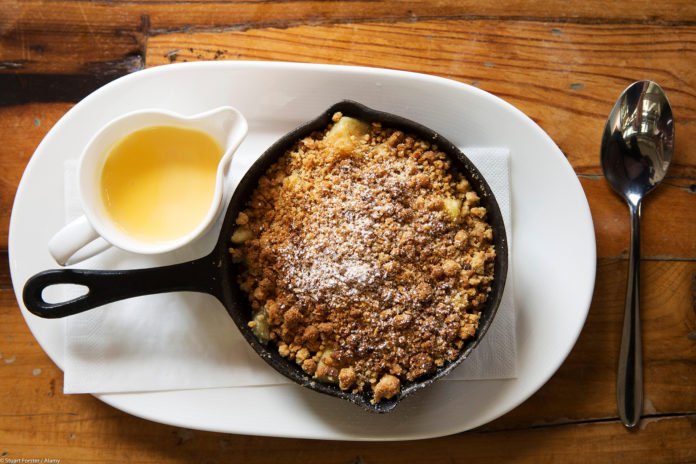 Apple crumble is a firm favourite in our house once the colder weather sets in. Traditionally, a tart green apple such as Granny Smith's is used but if you prefer sweeter, red-skinned fruit that's fine too.
Prep time: 20-30 mins approx
Cook time: 45 mins approx
Serves: 6-8
Ingredients:
For the crumble topping:
200g plain flour
175g brown sugar
150g butter, preferably unsalted, cut into cubes and at room temperature
90g rolled oats
½ tsp baking powder
Pinch of salt
For the filling:
750g apples (weight before peeling & coring)
125g granulated sugar
1tbsp plain flour
2tbsp lemon juice
1 tsp ground cinnamon
½ tsp ground ginger
Method:
Pre-heat the oven to 350°F/180°C and grease a baking dish of at least 1.5-litre capacity.
Peel and core the apples, cut into 1.5cm cubes and place them in a bowl. Sprinkle with the flour, sugar, cinnamon, and ginger. Add the lemon juice, and mix to ensure all the pieces are coated, then transfer to the greased baking dish.
Place all the topping ingredients into a bowl. Rub together using fingertips until it resembles a crumble mixture with a rough, sandy texture. Spread evenly over the apples and bake for around 45 minutes, or until golden-brown.
Remove from the oven and cover loosely with foil to keep the crumble hot. Let it stand for approximately ten minutes to let the flavours blend nicely.
Serve warm with your choice of custard, vanilla ice cream or pouring cream.
Variations
If you like, substitute some of the apples for blackberries (or any other berry), or add in some sultanas. You can also make this recipe using pears.
Make a different crumble topping by swapping the oats for 100g chopped pecan nuts. Alternatively, if you prefer a plain topping, omit the oats and increase the amount of flour in the recipe to 300g.
Also read: