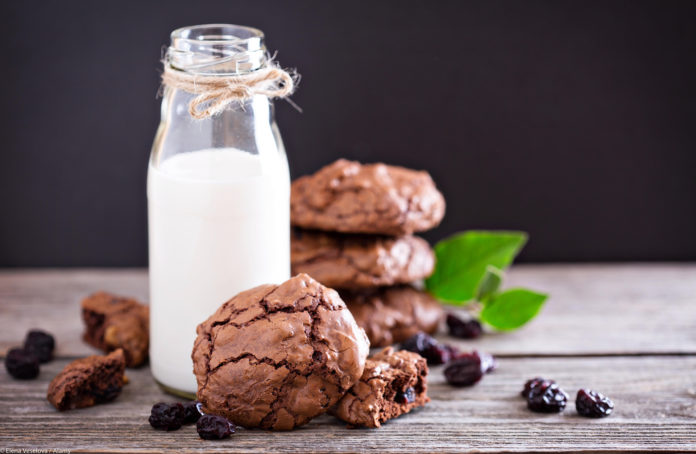 We're big fans of baking in our house – although it would be more accurate to say we're big fans of home-made cakes and biscuits. The baking is more of a necessity. As holiday-time is upon us, we like to have plenty of treats on standby to offer visitors. These chewy chocolate cherry cookies are so simple to make, the kids can do it; they'll only need help with the hot oven. As an added bonus, the cookie dough can be baked from frozen.
Prep time: 15 – 20 mins approx
Cook time: 15 mins approx
Serves: Makes 20 large cookies
Ingredients:
225g self-raising flour
200g unsalted butter, at room temperature
90g light muscovado sugar
90g golden caster sugar
85g glacé cherries
50g dark chocolate (ideally 50%-70% cocoa)
50g white chocolate
1 large egg
½ tsp salt
Method:
Pre-heat the oven to 190°C/170° fan/375°F/Gas 5. Line baking sheets with parchment paper if you are not using non-stick cookware.
Roughly chop the dark and white chocolate, and the cherries.
Beat the butter, sugars and the egg until the mixture is smooth. Mix in the flour and salt and combine well, then stir in the chocolate and cherry pieces. The dough shouldn't feel overly sticky in your hands.
Divide the dough into 20 pieces and roll into rough balls before placing on the baking sheets. Make sure they are well spaced as they will spread a lot as they bake.
Bake for 12-15 minutes until the cookies are just golden but are still soft and pale in the middle. Leave them to cool on the baking sheets for a few minutes before lifting off with a fish slice. Place them on racks and leave them to cool completely before storing in an airtight container. (We take no responsibility if you're unable to wait this long before eating your cookies!)
Suggestions
The raw cookie dough can be frozen either as a ball or as individual cookies – just place some greaseproof paper between them so they don't stick together. You'll need to allow a few minutes' extra cooking time if you're baking from frozen.
Home-made cookies make lovely last-minute holiday gifts. Wrap stacks of six (or however many you choose) in clear cellophane or pop them into hessian or paper bags, and tie a ribbon around the necks to close.
Also read: