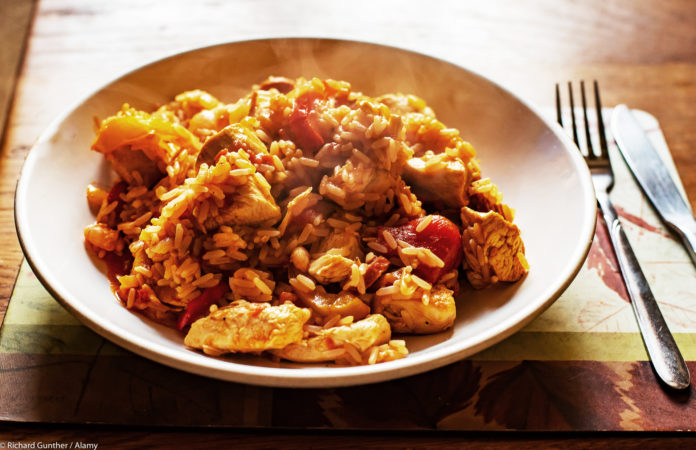 One-pot dishes are great when it comes to feeding a family. This chicken and chorizo baked rice smells delicious as it's cooking – everyone's mouths will be watering long before it's ready to serve.
Prep time: 15 mins approx
Cook time: 1 hour approx
Serves: 4
Ingredients
8 skinless, boneless chicken thighs
75g chorizo
250g long-grain rice
500ml passata
300ml chicken stock
1 red bell pepper
1 yellow bell pepper
1 large onion
2 garlic cloves
1tbsp smoked paprika
2 lemons
Few sprigs of flat-leaf parsley
Olive oil
Salt & freshly ground black pepper
Method
Preheat the oven to 180°C/350°F/Gas 4. Peel the garlic cloves and crush or purée them. Finely chop the onion. Deseed the peppers and cut into chunks. Chop the chorizo into small pieces. Finely chop the parsley stalks and set the leaves to one side.
Heat the olive oil in a heavy-based pan, ideally one that is also ovenproof. Add the onion, garlic, peppers, parsley stalks, chorizo and paprika and cook over a medium heat for around five minutes, stirring often.
Tip the rice into the pan and stir until the grains are thoroughly coated. Add the passata, chicken stock, and the zest and juice of one lemon. Mix everything together and then add the chicken thighs to the pan, making sure they are coated in the sauce. Bring it all to the boil.
Cover the pan with a tight-fitting lid and bake in the oven for 45 minutes to an hour, until the rice is tender and the chicken cooked through. (Transfer to an oven-proof dish first if necessary.) If the sauce is a little thick, add a splash of water.
To serve, finely chop the parsley leaves and sprinkle over the top of the dish, with the remaining lemon cut into wedges on the side. Accompany with a crisp green salad.
Tips
If your pan doesn't have a lid, make a cartouche – a simple covering made from greaseproof paper, with a vent in the middle. This video shows you how.
You can replace the chicken stock in this recipe with white wine if your children are teenagers, or if you're cooking for adults.
Also read: