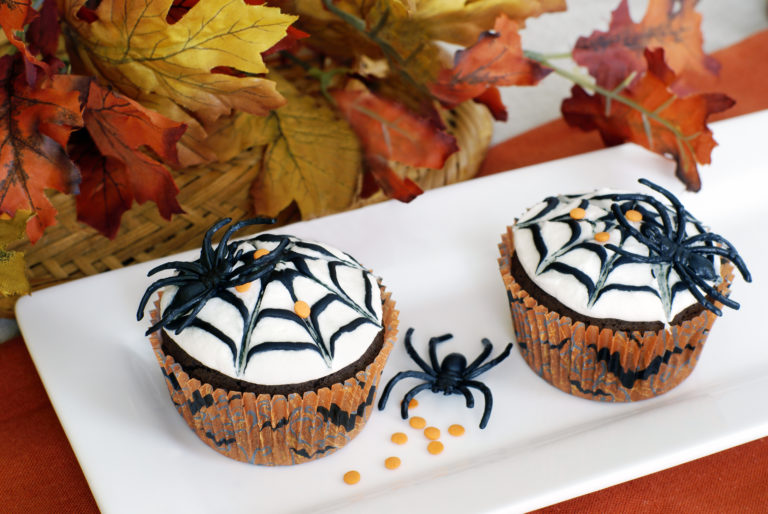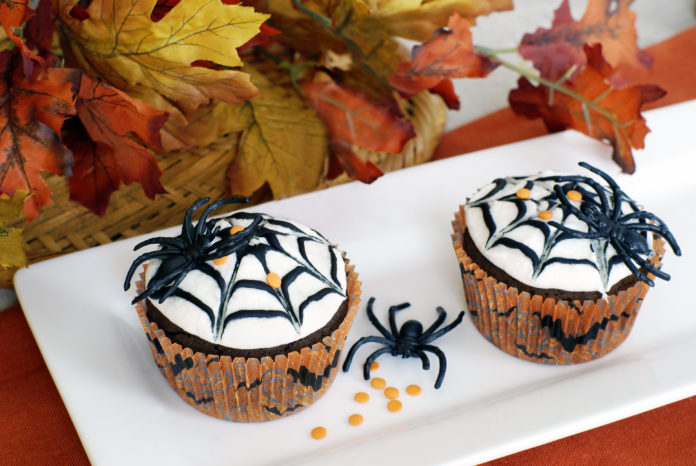 Hubble, bubble, toil and trouble… If you're planning a Halloween party or want something different to give to trick-or-treating visitors, try our wickedly good chocolate muffins. You can freeze them before decorating to save time on the day – or to eat another time, of course.
Prep & cook time: Ready in around 45 minutes
Makes: 10
Ingredients:
50g dark chocolate (minimum 55% cocoa solids)
200g self-raising flour
145ml soured cream
85g butter
85g light muscovado sugar
50g golden caster sugar
1tbsp milk, water or coffee
½ tsp bicarbonate of soda
1 egg
For the topping:
100g dark chocolate (minimum 55% cocoa solids)
100g white chocolate
Method:
Preheat the oven to 190°C/170°C fan/375°F/Gas mark 5. Line a muffin tin with 10 paper muffin cases.
Break the chocolate into chunks and put in a heatproof bowl, then add the butter and whichever liquid you're using – milk, water or coffee. Cook in the microwave on a medium setting for 30-34 seconds or set the bowl over a pan of simmering water until the chocolate and butter have melted. Stir and leave to cool.
In a bowl, mix together the flour, bicarbonate of soda and both sugars. Beat the egg in a separate jug or container and then stir in the soured cream. Pour this over the flour mixture and then add the cooled chocolate. Stir everything together until just combined – don't overmix or this will affect the cakes.
Fill the muffin cases to about ¾ full, then bake for 20 minutes until risen. Loosen from the edge of the tins with a round-bladed knife if necessary, then leave them for a few minutes before removing them. Leave them to cool on a wire rack.
Freeze the cakes at this stage once cool if you're making them ahead.
For the topping
Make two piping bags from greaseproof paper, or cut a tiny corner from the end of two clean plastic bags. Break both the dark and white chocolate into chunks and place in separate bowls.
Put two spoons of dark chocolate in one piping bag, and two spoons of white chocolate in the other.
Spread the tops of the muffins with the remaining melted chocolate – five with dark and five with white. Don't worry if it runs down the edges a bit.
Pipe four concentric circles of white chocolate onto the dark-topped cakes, and do the same with the dark chocolate onto the white-topped ones. Using a small skewer or wooden cocktail stick, drag the tip through the chocolate toppings from the centre to the edge at regular intervals to create a cobweb effect.
Also read: