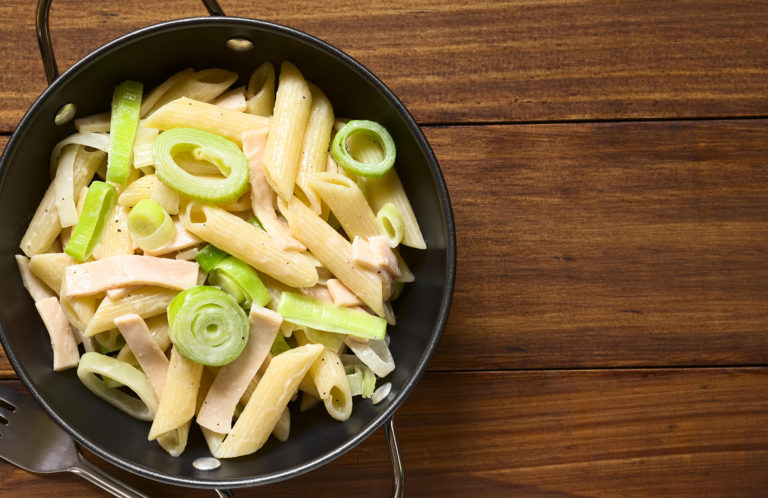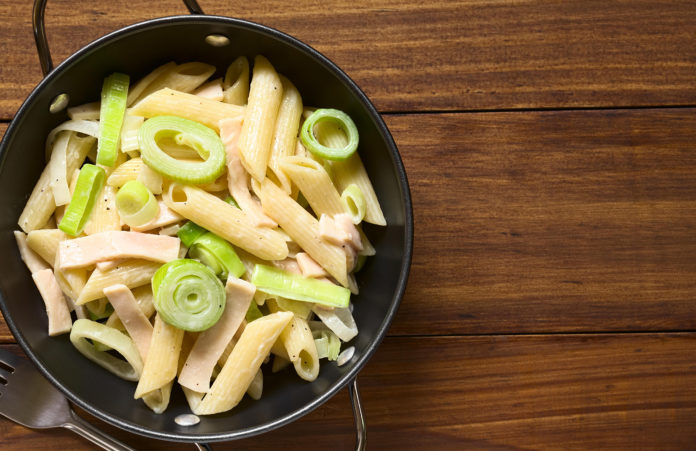 This was always a good dish for getting my kids to eat vegetables – they just loved the rich sauce! Don't worry if you usually struggle to make a smooth cheese sauce – this method, as part of the main dish, works beautifully. It's quick to prepare and uses mainly storecupboard ingredients – handy if you haven't managed to go shopping!
Prep time: 15 mins approx
Cook time: 15 mins approx
Serves: 4
Ingredients
100g butter
4 heaped tbsp plain flour
500ml milk
150g mature Cheddar cheese
1/2tsp mustard
1 large leek
250g ham
Salt and freshly ground black pepper
300g farfalle
Handful of chopped fresh parsley
Method
Clean and slice the leek, chop the ham into chunks and grate the cheese. Melt the butter in a large pan, then add the sliced leek and fry over a moderate heat until softened. Stir in the flour and cook for two more minutes.
Add the milk gradually, a splash at a time to begin with, stirring thoroughly in between. Mix in the mustard and season with salt and freshly ground black pepper. Bring to the boil and then reduce the heat and simmer for a few minutes. Add the cheese and stir until melted.
Meanwhile, bring a large pan of salted water to the boil. Add the farfalle and cook according to instructions, then drain and mix into the sauce. Sprinkle with the chopped parsley before serving.
Tips
Sweetcorn works well in this dish too – add it to the sauce before simmering. You could also add some chopped cooked chicken along with – or instead of – the ham.
Farfalle is a good pasta to use as the sauce clings to the surfaces, but feel free to use whatever you have in the cupboard.
A swirl of olive oil in the boiling water will stop pasta sticking together, or crumble a stock cube in for extra flavour. If the cheese sauce seems too thick, use some of the pasta water to loosen it a little.
Also read: