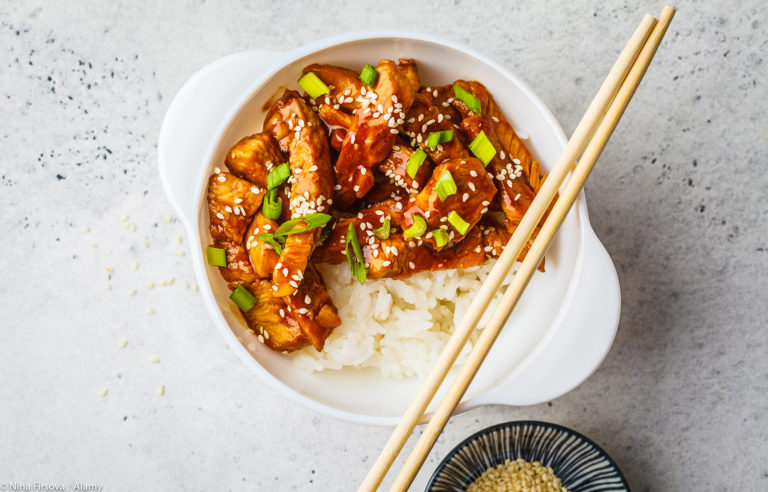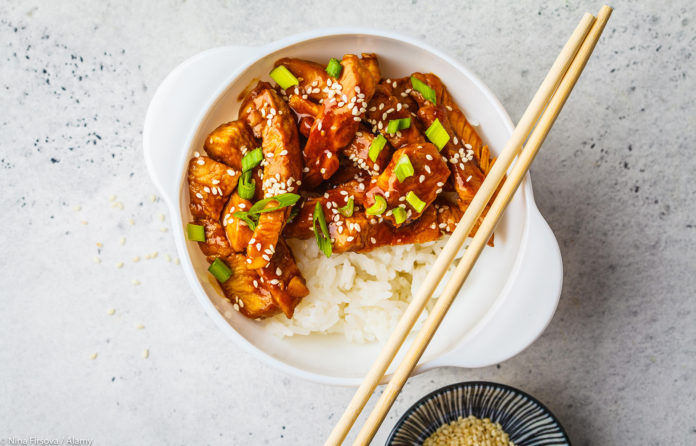 Homemade teriyaki sauce always tastes better than a shop-bought version. It will store well in the refrigerator for up to a week, so make it ahead if you prefer. It's the perfect partner for tender pieces of chicken and crunchy vegetables, and close enough to a takeaway to keep the kids happy!
Prep time: 15 mins approx
Cook time: 10-15 minutes, plus the same again for the teriyaki sauce
Serves: 4
Ingredients
500g boneless, skinless chicken breast
1 red bell pepper
1 green bell pepper
1 yellow bell pepper
1 carrot
1 onion
2tbsp oil – olive, sunflower or vegetable
½ jar of teriyaki sauce
1-2tbsp toasted sesame seeds
Finely chopped spring onions (scallions)
Salt & freshly ground black pepper
For the teriyaki sauce
50g light soft brown sugar
70ml light soy sauce
1-2 garlic cloves
4cm piece of fresh ginger
1tbsp honey
1tbsp cornflour
1tbsp rice wine vinegar
Cold water
Method
To make the teriyaki sauce:
Peel the garlic and ginger and mince or chop finely. Place in a small saucepan along with the sugar, honey, soy sauce and 350ml cold water. Bring to a simmer, stirring to dissolve the sugar. Cook for around five minutes, or until glossy and slightly thickened.
Mix the cornflour with 1tbsp cold water and whisk into the sauce, then stir in the rice wine vinegar. If you feel it's too thick, add a splash more water and then pour into a clean jar. Leftover teriyaki should be left to cool before storing in the refrigerator.
For the teriyaki chicken & vegetables:
Cut the chicken into chunks or strips and season with salt and freshly ground black pepper. Peel the onion and deseed the peppers before cutting them into thin slices. Peel the carrot and cut into julienne strips. Cut the broccoli into florets.
Heat 1tbsp oil in a large wok or skillet over a medium heat. Add the chicken and sauté for around five minutes. Transfer to a large plate, using paper towels to soak up any excess oil.
Heat the remaining oil and add the vegetables to the pan. Stir-fry until they are tender but still crisp – around 2-3 minutes. Return the chicken to the pan along with the teriyaki sauce. Mix thoroughly to ensure everything is thoroughly coated and heat through.
Serve with rice or noodles, with the toasted sesame seeds and spring onions scattered over the top.
Tips
Teriyaki is a great staple to keep in the refrigerator as a marinade or to pep up other dishes. If you have sake or mirin, use these in place of the rice wine vinegar for a more authentic taste. (You will need to increase the quantity a little.) You can also substitute the rice wine vinegar with sherry, white vinegar, apple cider vinegar or dry white wine.
If you have sesame oil, add a teaspoonful or two to the chicken when you season it with the salt and pepper – it adds a really nice flavour.
Also read: