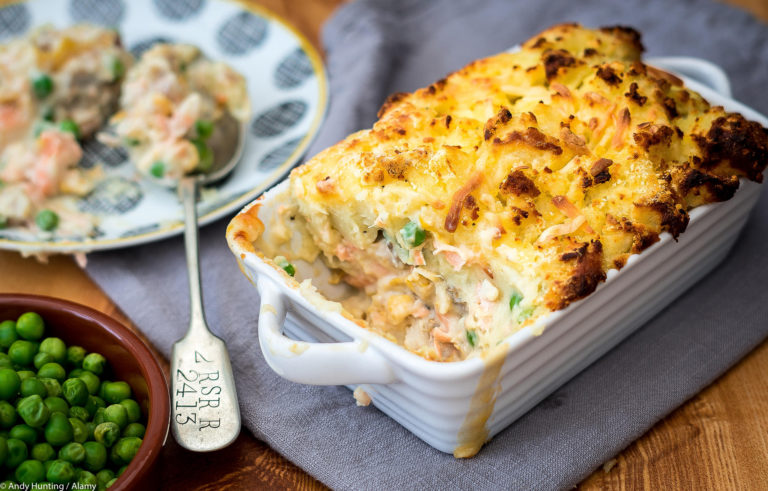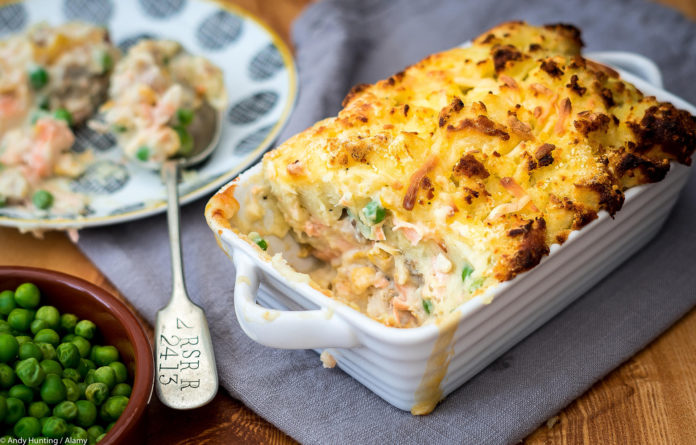 For some reason, my children never thought fish pie was 'real' food. It was comforting, full of things they liked, and they loved it. (I learned a generous sprinkling of grated Cheddar made most things more palatable.) You can vary the types of fish and even the vegetable to suit your kids' tastes.
Prep time: 15 mins approx
Cook time: 50 minutes
Serves: 4-6
Ingredients:
1kg floury potatoes
400ml milk
400g mixed fish – cod, salmon, smoked haddock etc according to availability & preference
4 spring onions (scallions)
25g butter
25g plain flour
1tsp mustard – English or Dijon are fine
Small bunch of chives
75g frozen sweetcorn kernels
75g frozen peas
100g grated Cheddar cheese
Extra splash of milk
Extra knob of butter
Salt & freshly ground black pepper
Method:
Peel the potatoes and cut into chunks. Place in a saucepan and cover with cold water. Bring to the boil and simmer for approximately 20 minutes or until tender.
Meanwhile, preheat the oven to 200°C/390°F/Gas 6. Finely slice the spring onions (scallions) and snip the chives into small pieces. Cut the fish into chunks, making sure it is skinned and boned.
When the potatoes are ready, drain them thoroughly and mash with the extra splash of milk, knob of butter, salt and freshly ground black pepper. Whisk with a fork if you like to make them really smooth. Set aside.
In another pan, gently heat the butter, flour and chopped spring onions until the butter has melted. Cook for 1-2 minutes, stirring. Slowly whisk in the milk, adding a little at a time to avoid lumps. Bring to the boil, stirring, and cook for 3-4 minutes until the sauce has thickened.
Remove the sauce from the heat and mix in the fish chunks, mustard, chives, sweetcorn kernels and peas. Ladle the mixture into a deep ovenproof dish. Spoon the mashed potato over the top. Smooth the surface or fluff with a fork, depending on preference. Sprinkle with the Cheddar cheese and bake for 20-25 minutes, until golden and bubbling.
Tips
Instead of one large pie, you could also make this recipe in individual serving dishes and freeze any extra portions.
For fluffier mashed potatoes, cover them with a clean tea towel after draining and leave for five minutes. The cloth will absorb more moisture and leave the potatoes drier. Heating the milk and butter before adding them to the mash will also make it creamer.
Also read: