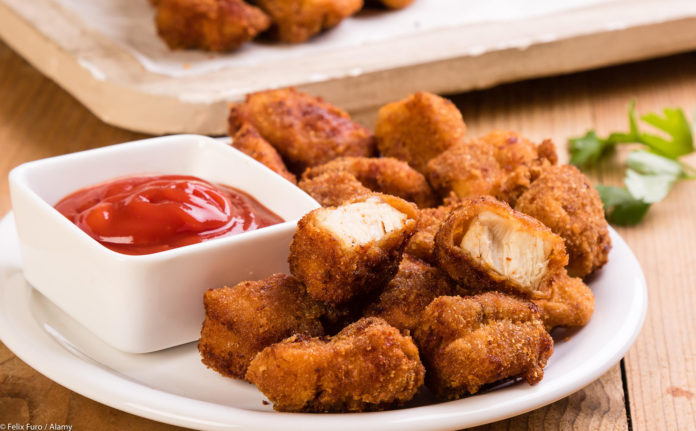 The ubiquitous chicken nugget is arguably most kids' all-time favourite food – however much we wish it wasn't. If you're trying to cut down on processed foods, try our home-made version. As the saying goes – if you can't beat them, join them. Just do it your way!
Prep time: 15 mins approx
Cook time: 15 mins
Serves: Makes around 12 nuggets
Ingredients:
500g chicken breast
150g breadcrumbs – white or wholemeal, according to preference
100g plain flour
1 large egg
1 tsp water
½ tsp each salt & freshly ground black pepper
1 tsp each paprika, garlic granules & onion powder
Oil for frying
Method:
Place the chicken in a clean plastic bag or wrap loosely in cling-film. Using a mallet, rolling pin or similar heavy implement, beat the chicken until it's an even thickness – ½-inch to ¾-inch is ideal. Cut the chicken into nugget-sized pieces.
Crack the egg into a shallow bowl. Add the water, salt, and pepper and whisk together thoroughly. In a second shallow bowl, mix the breadcrumbs, paprika, garlic granules, and onion powder.
In batches, dip the chicken pieces in the egg mixture, making sure each one is covered. Then coat thoroughly with the breadcrumb mixture. If you run short of either mixture, make up some more until all the chicken is used up. The nuggets can be chilled at this stage until you need them.
To cook, heat the oil in a heavy based pan. Fry in a single layer for 3-4 minutes. Turn and repeat on the other side. When cooked, place the nuggets on kitchen paper to drain any excess oil.
Serve with potato wedges and your choice of dips.
Tips
Frying will make your nuggets more like those beloved fast-food versions, but for a healthier option, you can also bake them if you prefer. Preheat your oven to 180°C/350°F and spread the nuggets in a single layer on an oven-proof tray. Cook for 25-30 minutes.
Feel free to vary the levels of spices and seasonings depending on your family's tastes. You could also try some variations – grated lemon zest and chopped parsley work well in place of the paprika and onion powder, for example.
Also read: