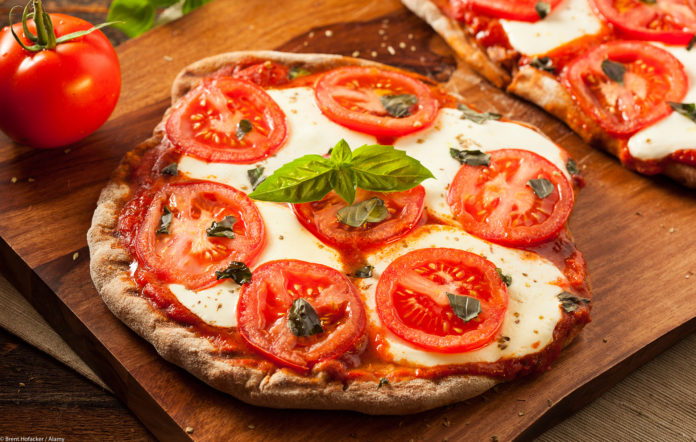 Making our own pizza was something that started when the kids got old enough to decide it was one of their favourite foods. The nutritional value (or lack of) in most ready-made versions was terrible, plus there were always arguments over which kind to buy. As well as being healthier, making homemade pizza was an activity they could help with, and it meant everyone had the toppings they liked best. This simple Pizza Margherita is a great first recipe – try it, I promise it's not difficult!
Prep time: 30 mins approx
Cook time: 10 mins
Serves: 4
Ingredients
For the base:
300g strong bread flour
1tsp instant yeast (from either a tub or a sachet is fine)
1tbs olive oil
1tsp salt
For the fresh tomato sauce:
100ml passata
1tsp dried basil or handful of fresh leaves, torn into small pieces
1 garlic clove, crushed
Salt and freshly ground black pepper
For the topping:
125g mozzarella, sliced
25g parmesan, grated or shaved
A few cherry tomatoes, halved
A little olive oil, for drizzling
Salt and freshly ground black pepper
Method
Preheat your oven to 240°C/465°F/Gas 8 – it needs to be really hot. Then, make your dough. Tip the flour into a large bowl and then stir in the yeast and salt. Once combined, make a well in the centre and pour in 200ml warm water and the olive oil.
Using a wooden spoon, mix it all together until you have a soft dough – it will be fairly wet. Turn it onto a lightly floured surface and knead until smooth, which should take around five minutes. Cover with a tea towel and put to one side while you make the sauce. (There's no need to leave the dough to rise as this is a thin-crust pizza.)
For the sauce, simply mix the passata with the basil and crushed garlic, then season to taste with salt and freshly ground black pepper. Leave it to stand at room temperature while you shape your pizza bases.
If your dough has risen in the meantime, knead it a little more to knock out the air. Divide the ball into two and, on a floured surface, roll each out into a circle – they should be around 25cm in diameter. The bases need to be thin as they will rise a little in the oven.
Place the round bases onto floured baking sheets. Spread the sauce over the top, using the back of a spoon to smooth it out. Scatter the mozzarella and cherry tomato halves over the top. Season with salt and freshly ground black pepper and drizzle over a little olive oil.
Bake for 8-10 minutes until the base is crisp. To serve, scatter over some additional basis leaves.
Tips
This is a basic recipe to show how easy it is to make your own pizza, but don't be afraid to experiment with toppings. We used to make ours half-and-half so everyone got their favourite and there were no arguments about whether pineapple belonged on pizza!
If you have a large oven, you can make one big base rather than two smaller ones if you prefer.
If you don't have passata, simply whizz some tinned or fresh tomatoes in a blender and sieve out any skin or seeds. At a push, you could use tomato purée instead (but it won't taste as good).
Putting another baking tray on the top shelf of your oven will help prevent the top of your pizza over-cooking.
Also read: