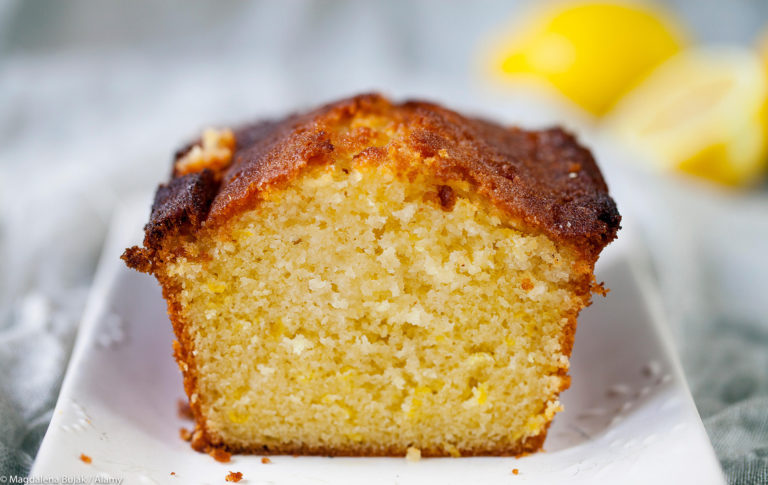 This lemon drizzle cake is moist and has the perfect taste balance between tart and sweet. It never lasts long, so the only solution I've found is to double up the ingredients and make two at once – get the kids to give you a hand.
Prep time: 20 mins approx
Cook time: 45 minutes
Makes: 10 – 12 slices
Ingredients:
225g unsalted butter, softened
225g caster sugar
225g self-raising flour
4 medium eggs
Finely-grated zest from one large lemon
For the drizzle topping
Juice from two lemons
90g caster sugar
Method:
Preheat the oven to 180°C/350°F/Gas 4. Beat together the butter and caster sugar in a large bowl until the mixture is pale and creamy. Add the eggs one at a time, stirring each one through slowly.
Sift in the flour and then add the lemon zest. Mix it all together thoroughly.
Grease a loaf tin (approximately 8cm x 21cm is ideal, or equivalent cake tin) and line with greaseproof paper. Spoon the cake mix into the tin and level off the top.
Bake in the preheated oven for around 45 minutes. To check if it's ready, insert a thin skewer into the centre – it should come out clean.
While the cake is cooling, make the drizzle topping by mixing together the lemon juice and the rest of the caster sugar. Prick the still-warm cake all over with a skewer or fork, and then pour over the drizzle mix. The juice will sink into the sponge and the sugar will form a crisp, crystallised top.
Once cooled, remove from the tin and slice as needed. It will keep for 3-4 days in an airtight container or can be frozen for up a one month – if you can leave it that long.
Tips
My kids always loved this cake as a dessert, served warm with custard or ice-cream.
For a change, try stirring a tablespoon of poppy seeds through the mix before transferring to the loaf tin. A handful of fresh blueberries also works well.
Don't worry if you don't have any caster sugar – just whizz some ordinary granulated in a food processor. Be careful, though, as it only needs a short, sharp burst. It's easy to overdo it and end up with a fine powder, like icing sugar.
Also read: