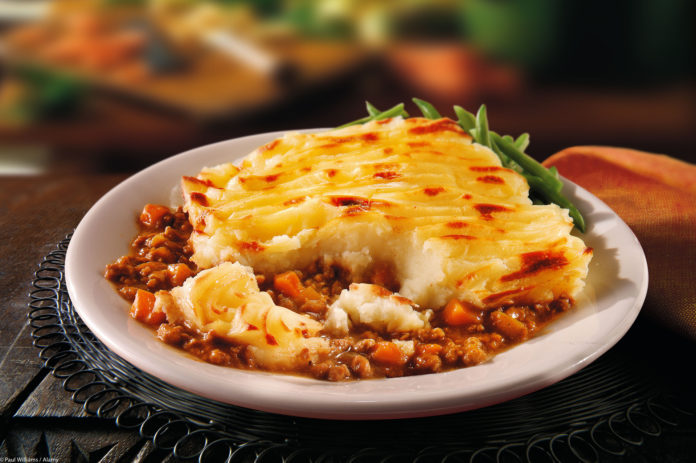 First, let's be clear about one thing – a shepherd's pie is made with lamb. The clue is in the name, after all. However, if you prefer to use beef in this recipe that's fine and will work just as well – but then it's a cottage pie. (Yes, this is one of those British culinary quirks.) Right – now you can get on with cooking!
Prep time: 20 mins approx
Cook time: Around 2hrs in total
Serves: 4-6
Ingredients:
For the filling:
750g minced lamb
1 large onion, finely chopped
1 large carrot, cut into small dice
1 stick of celery, finely sliced
500g frozen peas
2 cloves garlic, very finely chopped or minced
300ml lamb stock (or beef if lamb is unavailable)
2tbsp olive oil
2tbsp tomato purée
2tbsp Worcestershire sauce
1tbsp plain flour
2 sprigs each of rosemary and thyme, leaves picked and roughly chopped
Salt & freshly ground black pepper
Red wine (optional)
For the topping:
1kg floury white potatoes, peeled and cut into chunks
200ml whole milk
100g butter
250g Parmesan or Cheddar cheese, grated
Salt & freshly ground black pepper
Method:
Preheat the oven to 200°C/400°F. Heat the olive oil in a heavy-based pan and brown the meat quickly. Drain off any excess fat. Tip in the herbs, garlic, onion and celery and cook for 3-4 minutes, stirring all the time, until the onion is soft. Stir in the flour.
Add the carrots and frozen peas to the mixture and cook gently for 2-3 minutes. Mix in the tomato purée, Worcestershire and a few splashes of red wine if using. Stir thoroughly and then add the stock. Simmer for five minutes before transferring to an oven-proof dish.
Put the potatoes in a saucepan and cover with cold water. Bring to the boil and cook for 15-20 minutes, until tender. Drain the water and cover with a clean tea towel for five minutes to steam off any excess liquid. Mash roughly and season with salt and pepper. Heat the milk and butter in the microwave (or on the hob) for a couple of minutes, then mix into the potato. (Whisking everything together with a fork will give you a really smooth, creamy mash.) Stir in half of the grated cheese.
Spread the mashed potato evenly over the meat mixture. Drag the prongs of a fork over the top to give a rough texture, create peaks or smooth over with a knife, depending on preference. Sprinkle over the remaining cheese.
Bake in the oven for 20-30 minutes until golden brown and serve with your choice of vegetables.
Variations:
As with all the best recipes, you can easily adapt this to make it your own. Sometimes I swap the carrots for a red pepper, sliced into short, thin strips. Or I might add grated nutmeg to the mashed potato.
This is also a great dish to make ahead and will keep well in the freezer for several weeks.
Also read: