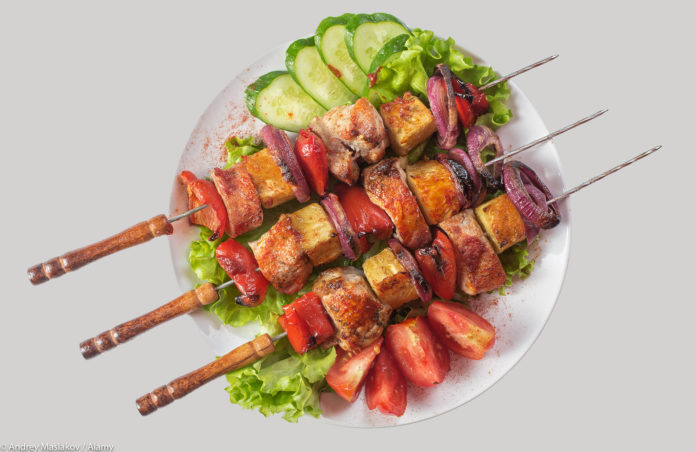 A weekend barbecue is one of the joys of summer for us – but if the weather spoils your plans, you can still cook these delicious pork and pineapple skewers inside on the grill.
Prep time: 20 mins approx plus marinating
Cook time: 10 mins approx
Serves: 4
Ingredients
400g pork fillet
½ small pineapple
1 red bell pepper
1 green bell pepper
4tbsp light muscovado sugar
50ml cider vinegar
1tsp Worcestershire sauce
Small bunch of coriander or flat-leaf parsley
Small tub of natural yoghurt
Method
Peel and core the pineapple and chop the flesh into chunks. Deseed the peppers and cut into squares. Cube the pork fillet.
Put the sugar and vinegar in a pan and warm over a low heat until the sugar melts. Stir in the Worcestershire sauce and leave to cool for a few minutes. Add the pork and mix to ensure all the cubes of meat are covered. Leave to marinate for at least 30 minutes.
Thread the cubes of pork onto wooden or metal skewers, alternating with chunks of pepper. Light the barbecue, waiting until the coals turn before you start cooking. If you're using a grill, preheat it.
Barbecue or grill the skewers for 3-5 minutes each side, making sure the meat is cooked through. Finely chop the coriander or flat-leaf parsley and sprinkle over the top before serving the skewers with rice or pitta breads and a bowl of natural yoghurt.
Tips
Use different veg to make this recipe your own and depending on your family's preferences. Courgettes and cherry tomatoes also work well.
If you're using bamboo skewers, you may wonder whether you should soak them first. Some people say it's essential, others say it makes no difference. This article may help you decide.
Also read: