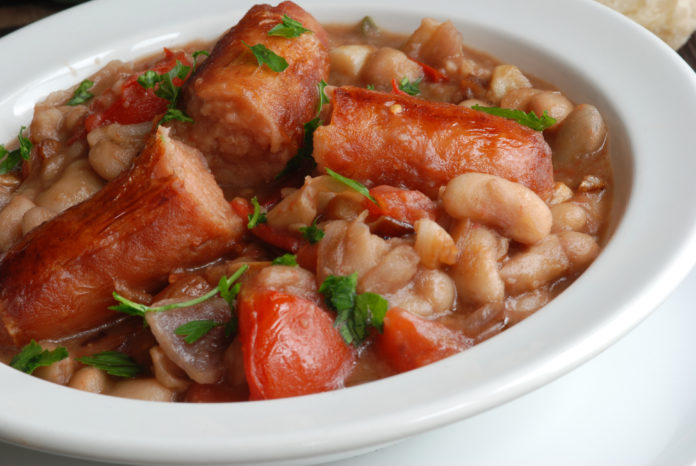 When the kids were young, I always had far more success getting them to eat vegetables that were part of a stew or one-pot meal. On their own, vegetables were just a pile of unappetising vitamins on the plate; mixed with other tasty morsels – as in this sausage and bean casserole – they'd eat the lot!
Prep time: 15 mins approx
Cook time: 1 hour
Serves: 4 – 6
Ingredients:
500g good-quality sausages
400g can chopped tomatoes
400g can cannellini beans
100g chorizo
1 red pepper
1 yellow pepper
1 green pepper
2 sticks celery
1 red onion
3 garlic cloves
2tbsp olive oil
2tsp smoked paprika
1tsp ground cumin
1tbsp dried thyme
150ml chicken stock
2 sprigs fresh thyme
Handful of fresh parsley
Salt & freshly ground black pepper
Method:
Finely chop the onion, garlic and celery. De-seed the peppers and cut them into chunks. Cut each sausage into four pieces and the chorizo into small slices. Drain and rinse the cannellini beans. Roughly chop or tear the parsley leaves.
Heat the olive oil in a large, heavy-based pan, then tip in the onion and cook gently for five minutes. Add the chorizo and sausages and fry for a further five minutes, then stir in the garlic, celery and peppers. Cook for two or three minutes, then mix in the smoked paprika, cumin and dried thyme. After a couple of minutes, when the herbs and spices have released their aroma, pour in the stock and season with salt & freshly ground black pepper.
Tip in the tomatoes and add the fresh thyme sprigs before bringing to a simmer. Cook the casserole for 40 minutes before stirring through the cannellini beans. Heat for a further five minutes.
Remove the thyme sprigs and check the seasoning before sprinkling the fresh parsley over the top of the dish. Serve with your choice of jacket potato, rice or flatbread, with a dish of sour cream or natural yoghurt on the side.
Tips
Cannellini beans keep their shape well and kids will often think you've used their favourite baked beans in the dish. Feel free to swap them for pinto, kidney or any other kind of bean though.
If your kids are fussy when it comes to vegetables, this is a great dish for hiding added extras! Grate a carrot and a courgette (zucchini) and stir them into the casserole with the stock.
If your family likes a stronger flavour, increase the amount of chorizo you use. If your kids are older, you might also like to substitute half the amount of stock with dry white wine.
Don't worry if you don't have any fresh or dried thyme – sage also works well, or experiment with your favourite herbs.
Also read: