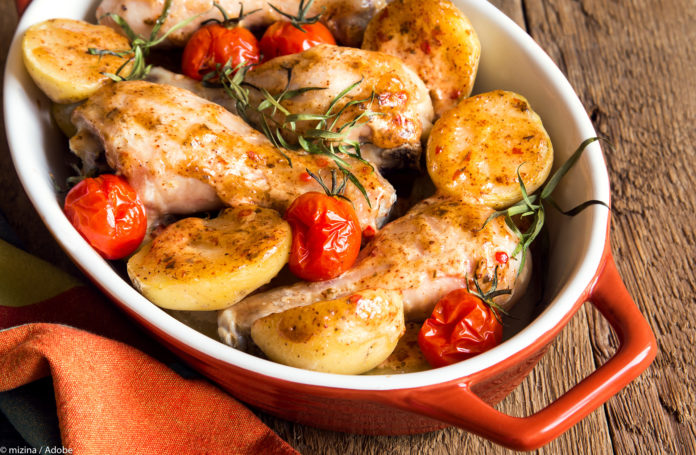 We love traybakes. They're generally thrown together in minutes, pretty much take care of themselves in the oven, and taste fabulous. This spiced chicken and potato dish is no exception and can be left to marinate overnight, so it's perfect for preparing ahead when you know you'll be short on time.
Prep time: 15 mins approx, plus at least 30 mins marinating
Cook time: 45 minutes
Serves: 4
Ingredients:
8 chicken drumsticks
500g new potatoes
4-5 large tomatoes
1 red onion
150ml natural yoghurt
3tbsp olive oil
2-3 garlic cloves
Piece of fresh ginger, approx. 1" long
1tsp garam masala
1tsp turmeric
Handful of fresh coriander
Salt and freshly ground black pepper
Method:
Halve the potatoes, roughly chop the tomatoes and finely chop the onion. Peel the ginger and garlic cloves and crush to a paste using a mortar and pestle or food processor.
Put the ginger and garlic pastes, garam masala, turmeric, 1tbsp of the olive oil and 3tbsp of the yoghurt into a large bowl. Add the chicken drumsticks and toss everything together until the chicken is thoroughly coated. Cover and leave to marinate for at least 30 minutes. (You can refrigerate and leave overnight if you like.)
Preheat the oven to 180°C/350°F/Gas 4. Tip the potatoes into a large ovenproof dish with the remaining oil and season with salt and freshly ground black pepper, then add the marinated chicken. Bake for 30 minutes. Add the chopped tomatoes and onion and return to the oven for a further 15 minutes.
Tear or roughly chop the coriander and scatter it over the dish when the chicken is cooked. Serve with the rest of the yoghurt on the side.
Tips:
If you prefer, substitute the fresh garlic and ginger with 1tsp each of garlic powder and ground ginger.
This dish can be frozen up for up to two months after cooking, but defrost thoroughly before reheating.
Also read: