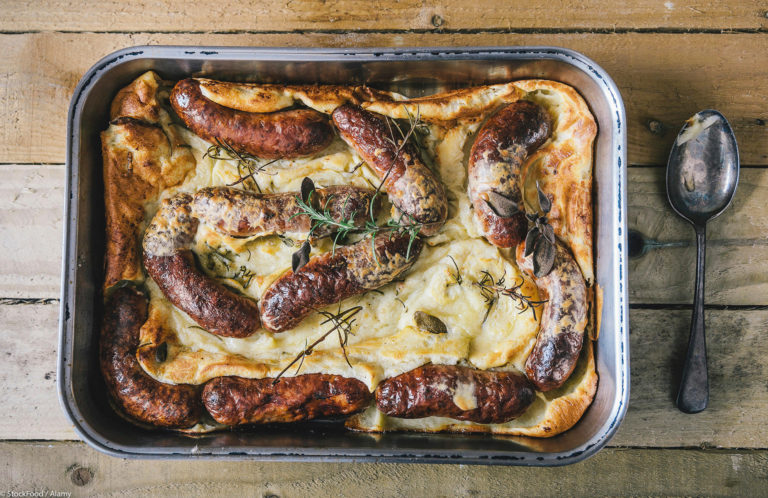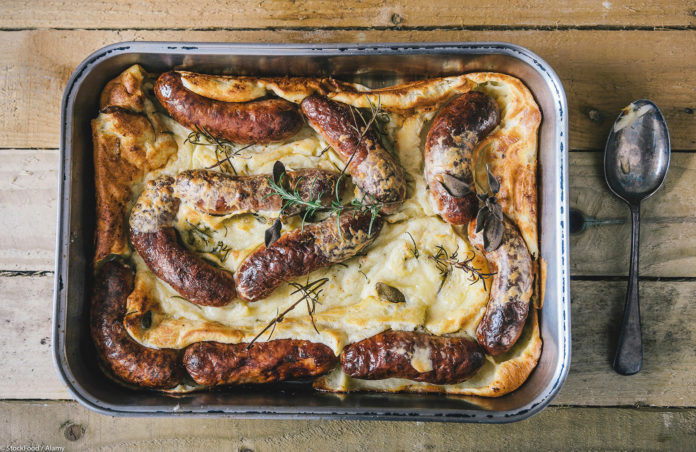 Toad-in-the-hole – sausages nestled in fluffy, golden Yorkshire pudding. It's a peculiarly British concept, but this hearty family meal really hits the spot during the cold weather. It's easy to make and kids love it – if you haven't tried it before, give it a go.
Prep time: 15 mins approx
Cook time: 45 mins approx
Serves: 4
Ingredients:
12 good-quality sausages
1 medium-sized onion
140g plain flour
3 medium eggs
200ml semi-skimmed milk
1tbsp sunflower oil
½ tsp salt
Freshly ground black pepper
Method:
Preheat the oven to 220°C/420°F/Gas 7. Thinly slice the onion and place in a roasting tin or oven-safe dish. (A size of 20cm x 30cm is ideal.) Add the sausages and sunflower oil and stir well. Roast for 15 minutes until the tops of the sausages are browned.
Meanwhile, make the batter mix. Tip the flour into a bowl along with the salt and black pepper. Make a well in the centre and crack the eggs into it. Mix together thoroughly.
Add the milk slowly, whisking constantly. When the batter is smooth and air bubbles form on the top, leave to stand until the sausages are ready.
Remove the roasting tin from the oven. The fat should be sizzling hot – if not, heat on the hob for a few moments. Turn the sausages and ensure the onion is evenly spread around the pan.
Pour in the batter mix, then return the tin to the oven and cook for 25-30 minutes, until risen and golden brown.
Serve with plenty of gravy and your choice of green vegetables.
Variations:
There are plenty of ways to make this recipe your own. Choose speciality sausages or use a red onion rather than white. Flavour the batter with herbs – woody types such as rosemary or thyme work well, and sage is always a great partner for pork.
Also read: