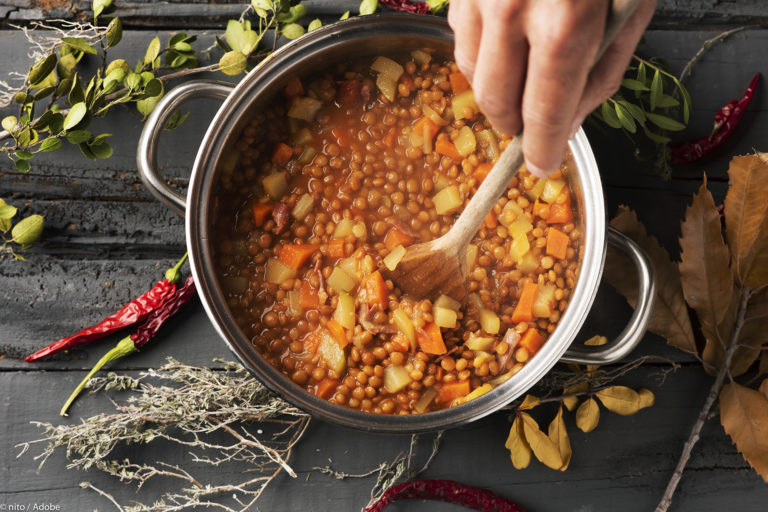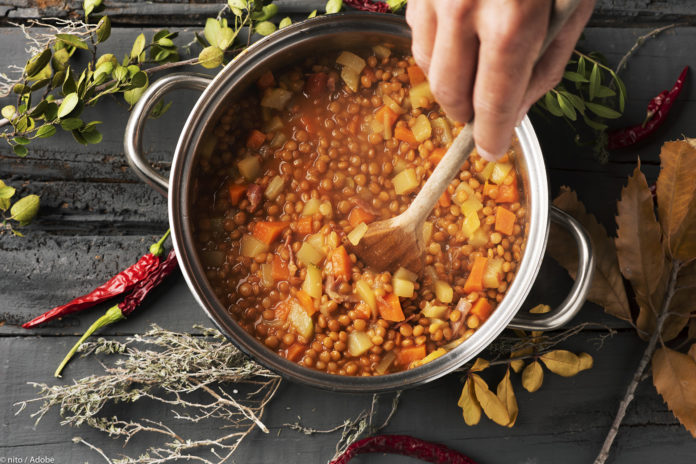 Whether you're vegetarian or simply want your family to eat less meat, this spicy vegetable & lentil casserole makes a tasty and filling meal. You can vary the heat depending on your family's tastes – younger children might prefer a milder flavour, for example.
Prep time: 15 mins approx
Cook time: 40 mins approx
Serves: 4
Ingredients:
700g potatoes, peeled and cut into chunks
4 medium carrots, peeled and cut into chunks or thick slices
2 parsnips, peeled and cut into chunks
1 onion, chopped
100g red lentils
2tbsp curry paste or powder – choose your preferred variety/strength
2 garlic cloves, crushed
1 litre vegetable stock
2tbsp sunflower or vegetable oil
Pot of natural yoghurt
Small bunch of fresh coriander, roughly torn or chopped
Method:
Heat the oil in a large, heavy-based pan. Cook the onion over a medium heat for 7-8 minutes until soft, stirring occasionally. Add the garlic and cook for a further 2-3 minutes.
Tip the potatoes, carrots and parsnips into the pan, increase the heat slightly and cook for around 5 minutes. The vegetables should be turning golden but not browned.
Stir in the curry paste or powder and cook for around 3 minutes. Pour in the stock and bring to the boil. Add the lentils. Cover the pan and simmer for around 20 minutes until the vegetables and lentils are tender and the sauce has thickened.
Stir in most of the coriander and check the seasoning. Top with the yoghurt and the rest of the coriander. Serve with rice or warm naan bread.
Variations:
The beauty of this recipe is its versatility so feel free to switch the vegetables you use. Cauliflower or sweet potatoes also work really well. You can also substitute yellow lentils for red if you prefer.
Also read: