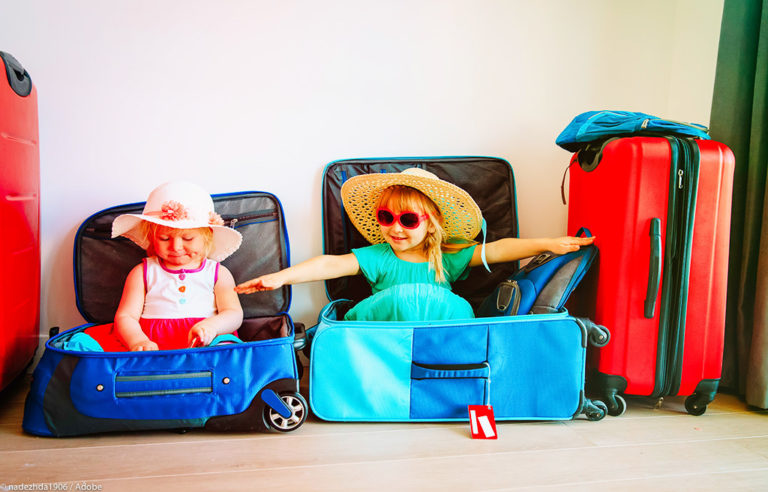 Got that end-of-term feeling yet? Depending on where you are, school could be out already – if not, it soon will be.
The family summer holiday is a chance to unwind – to forget about work or study, leave behind the day-to-day routine and have fun together.
Travelling with kids means there's even more to remember – both for the journey and once you arrive. Relax! We're here to help.
Lists are your friend. You can have as many as you like – one for each person, one for general 'stuff to take', one to remind you to cancel the milk and take the dog to the kennels.
You can handwrite them, use your phone's 'Notes' function, or even download an app – there are some good suggestions here– whatever you prefer.
Include everything, no matter how small, and enjoy the satisfaction as you cross off tasks and items. It's the best way to stay sane.
If you're going overseas, then packing passports should go without saying (but still put them on your list). You'll also need to check if you need a visa or other documentation for the place you're travelling to.
One thing you might not have considered is proof of relationship, especially if your children are young. This is important if your kids have a different surname to you or are travelling with only one parent. Copies of birth certificates and any marriage/divorce certificates are good, plus a letter from the absent parent (if applicable) giving consent to your taking them out of the country.
Put hard copies of everything, including flight confirmation and travel insurance – in your hand luggage, and email yourself an electronic version you can produce or print if you need to.
It's the first day. "What shall we do?" you ask. Everyone shrugs. "What is there?"
Plan, together. Look online at maps and photographs of where you're going, research what activities there are and trips you can do. Join Facebook groups and see what other people recommend (but ultimately make your own choices).
If you're going overseas, download a language app – our favourites are Duolingo and Memrise– and practice some basic phrases. Wherever you're headed, you'll find people are delighted at even the simplest efforts to speak their language.
It's fun to explore a new place, but it's easier if you have some idea of what you'll find. And this kind of preparation will increase excitement levels, too.
4
Think about your destination
The basics are generally the same, but where you're going – and the weather you're expecting – will play a big part in what you pack.
If you're staying in a seaside resort where the average August temperature is 40°C/104°F you won't really need socks. You will, however, need light, loose and comfortable cover-ups to protect young skin from the burning sun. And sunscreen. Lots of sunscreen.
Travelling with young children can be challenging, so make it easier with their own entertainment packs. Include a drawing or colouring book, new crayons, comics or magazines, snacks and playing cards. How about a disposable camera to take photographs of the journey, if they're old enough? Maybe a new 'special' holiday toy. Download music, age-appropriate games and films onto phones or tablets. Older children and teenagers will be happy enough with their mobile devices and stay plugged in the whole time. Oh yes – that was another thing – headphones.
If you're travelling with children, a first-aid kit is essential. Infant paracetamol, travel-sickness tablets, anti-histamine and Band Aids, plus insect repellent and bite/sting cream for when the inevitable happens.
Plug adapters will vary depending on your destination – those for the USA are different from those in Europe, for example, so make sure you have the right ones.
It's easy to forget chargers for mobiles and tablets, and a flat phone is a sure-fire way to set off a full-blown tantrum from your Instagram-dependent teen. (Other social media platforms are available.)
While we're on the subject of phones, have a word about using phones abroad and ask them to switch off data roaming. The last thing you want is a mammoth bill on your return because they've used the local mobile network rather than the home wi-fi to stay in touch with friends at home.