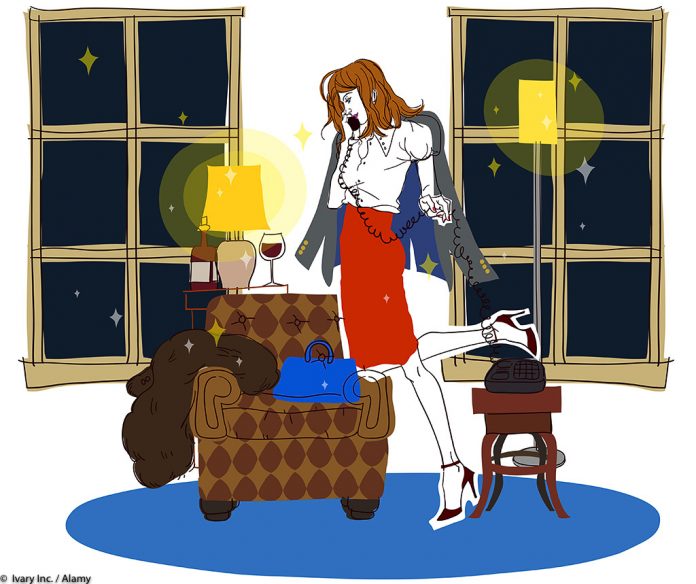 We all map time in different ways. We wake up, eat breakfast, do things to earn money, whinge about it a bit, eat dinner – and then we do it all over again. However, in between this, I know that I'll get two calls at either end of the day from my dad.
Always en route to the airport or office, or sometimes on his way home. He calls me twice a day without fail, and has done so ever since I was a child. Millennials are said to hate talking on the phone, preferring to text – but I don't. Quite the opposite, in fact; I love it.
Speaking on the phone gives me an instant insight into where Dad is since he can't be by my side. We spoke on his 40th birthday when he was alone, on the Yugoslavian border, we chatted for a few minutes just before he got onto a camel near Rajasthan and he texted me photographs of sports cars deep in the Black Forest in Germany in a few snatched moments as he was on his way to a business dinner. My father is a businessman, working for a large, global organisation, and a busy one at that.
"I'm eating dinner as my parents are having breakfast – and on Facetime, even just for a moment, it feels like we're all at the same table"
When I was growing up, our dinner table was mostly set for three. Just for my mum, my brother and me. Dad was usually away travelling for work. "Your dad's on the phone", Mum would yell out to us while we were watching The Simpsons after dinner. I recall the questions and instructions. "How was your day?" "How was school?" "No one likes doing maths homework, Bre." And the regular "Stop fighting with your brother."
The calls were never long but they meant everything to the young me. It became part of the daily ritual of family life in my primary school years.
When I was old enough to have my own phone, from around 12, I had a variety of different mobile numbers for him saved in it. Numbers with different international dialling codes, numbers better suited for us calling him numbers for him calling us.
Over the years, hearing that familiar voice saying "hello!" down the line has been a constant in my life. In early teenage years when I was moody and had dyed my whole wardrobe black, the calls were mostly grunts of disapproval from me.
But no matter how miserable I sounded, how ungrateful for the privileged circumstances in which we lived, he still always called every day that he was away from home.
But now, in my adult life that's ruled by meetings, emails and invoices I'm the one that's chosen to be away. I moved out of home at 18 and have lived on the other side of the world away from my family ever since.
There is a huge time difference between London and Sydney, but sometimes rituals cross over and I'm eating dinner as my parents are having breakfast. And on Facetime, even just for a moment, it feels like we're all at the same table.
Technology has made this lifestyle a lot easier. I can't even imagine what Dad's phone bills must have been all throughout the Nineties and the Noughties.
Even in 2012 when I first moved to London, Facetime didn't really exist and we relied on Skype or over-priced phone calls. "How do I fix a washing machine, Dad?" "I hate university, Dad!" "Can you proofread my essay, Dad?" "Oh yeah, sorry, I meant to tell you – I bought a cat, Dad!"
Our daily calls are never long. Nothing pushes three minutes. But the phone still rings ten or so hours apart, twice a day.
When oceans and the Earth's landmasses split you up as a family, the main interruption is that you lose the small details of each others' days. But in the regularity of these calls, the more nuanced moments of life can be measured in minutes. He always calls at the times of day that you miss the people you love.
When you're home from work alone in an empty flat and you're boiling pasta for dinner, you want to be able to tell your dad all about the sort of terrible television show you're watching or when you're pouring milk on your morning cereal you want to talk about what the weather is like that day.
Because it's in these little things like weather, what we're watching and the mundane tasks of daily life that we are absent from our loved ones' lives. In all the important moments of life, Dad and I don't need a phone. He's always there.
But I often wonder if mobiles hadn't been invented in my lifetime, what would we have lost with all this distance physically between us?
The calls are still timed the same but the conversations have changed now that I'm running my own business as a writer, editor and soon-to-be publisher. We talk as he reads over contracts I'm due to sign, work I have to send off and he's always there to guide me as I make big career choices.
I'm no longer complaining about homework but rather taxes. The problems of school and bickering with my brother over the television remote are also far behind me. But, as grown-up as I may feel and as much as it surprises some people, I really love chatting to my dad twice a day. I have friends that have gone for months without even so much as a hello from their dads. I have other friends who haven't seen or heard from theirs in years.
Speaking to your father twice a day as an adult woman may seem needy or clingy, but there is no part that I take for granted in the role that he has chosen to play in my life.
It's important to touch base every day with the people that you love. From those early morning calls when I'm walking to work and he's in a taxi coming home from the airport, our days beginnings and ends are mirrored, and in that so are we.
Calls – unlike other forms of communication – capture the monotony of life, in small details that are lost in distance. Just this morning we compared the weather where we were and compared notes on cities that he's visited recently or to which I'll soon be on my way.
And, as we always do, we ended with saying, "Love you; talk tomorrow."