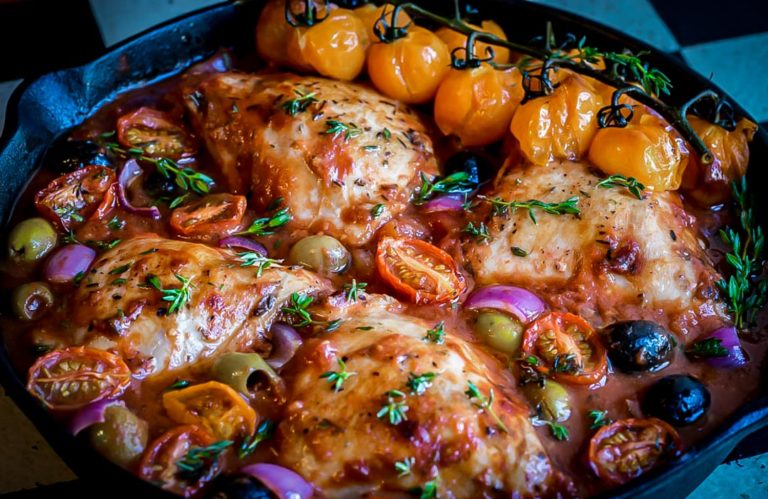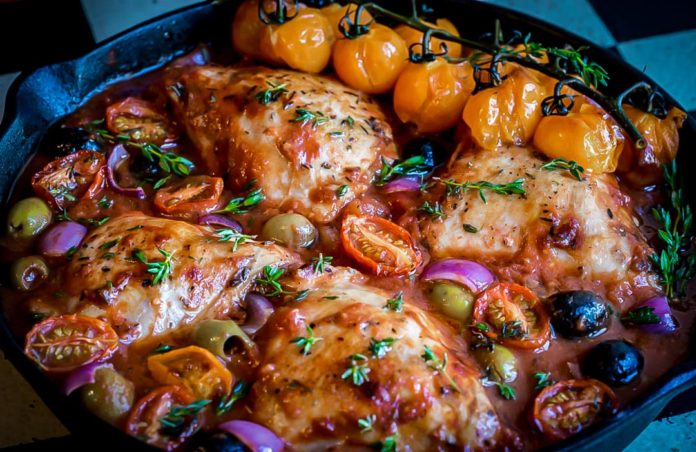 This dish is a regular favourite in our house and is simple but tasty family food. I vary the flavours and seasonings according to my mood, so feel free to experiment and find your version.
Prep time: 15 mins approx
Cook time: 55 mins approx
Serves: 4
Ingredients:
500g chicken pieces – thighs, wings or breasts (slice the latter into 2 pieces if whole)
1 large red bell pepper, de-seeded and cut into chunks
1 large green bell pepper, de-seeded and cut into chunks
1 large yellow bell pepper, de-seeded and cut into chunks
1 large courgette (zucchini), sliced
1 red onion, cut into wedges
8 baby potatoes, halved
4 cloves of garlic, finely chopped
Juice of 1 lemon
3tbsp olive oil
1tbsp red wine vinegar
1tbsp chopped fresh parsley (or 2tsp dried)
1tbsp torn fresh basil leaves (or 2tsp dried)
2 tsp dried oregano
Salt & freshly ground black pepper
To serve (optional): Lemon slices, cherry tomatoes and pitted black olives
Method:
In a jug, thoroughly combine the lemon juice, 2 tablespoons of the olive oil, red wine vinegar, garlic, basil, oregano, parsley, and salt & pepper. Pour half into a shallow dish and set the rest aside.
Add the chicken pieces to the dish and stir to coat. Cover and marinate for at least 15 minutes. (Note: The dish can be prepared to this stage up to a day in advance and left to marinate in the refrigerator. Turn chicken pieces occasionally if you are doing this.)
When you're ready to cook, preheat the oven to 220°C/430°F. Heat the remaining olive oil on the hob in an oven-safe pan or skillet. Sear the chicken until golden brown and then drain off the excess oil.
Add the vegetables to the pan and arrange around the chicken. Add the rest of the marinade, ensuring they are evenly coated. Cover the dish with a lid or foil and bake in the oven for around 45 minutes, or until the potatoes are soft and the chicken is cooked through. If you like, remove the lid/foil for the last 15 minutes of cooking to allow the chicken and potatoes to crisp up.
Serve with the lemon slices and olives if using.
Variations:
If you like, leave the potatoes out of the recipe – the cooking time remains the same. Instead, serve with couscous, jacket potatoes or crusty bread.
Also read: