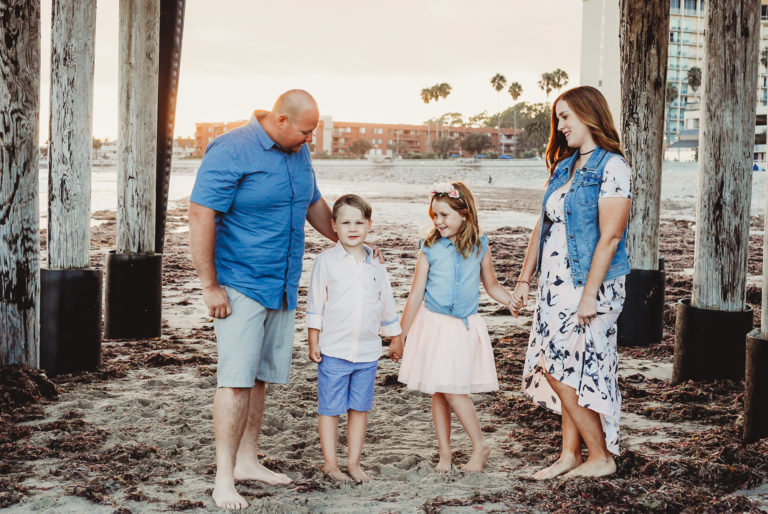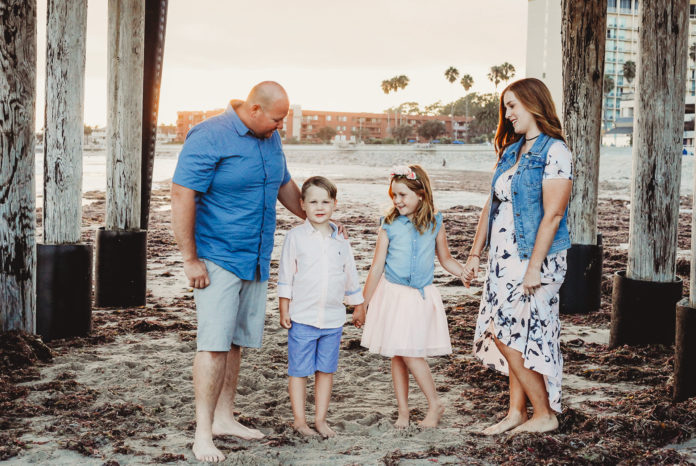 It was August 2014 and Justin and I were cuddled close on the pier, celebrating eight years of marriage. We already had two wonderful kids, Layla and Hunter, aged four and two at the time, and agreed it was time to expand our family. Everything felt perfect. We were both in a happy place. Life was good.
Of course, things never stay that way for long – there are always trials and tribulations, some worse than others. But we were still committed to our plan – we wanted another child.
I wanted to be the healthiest and fittest I could for our third baby. I'd had two C-sections I never wanted and felt things could be different this time. I changed our diets and even took up running. I was so proud when I signed up for my first 5k race!
A few days after visiting the doctor to have my IUD removed, I realized I was bleeding differently to the last time. A few days later, I passed a large, unusual-looking blood clot. It turned out to be a seven or eight-week-old fetus. I'd held my own baby in my hands without knowing I'd even been pregnant. I felt baffled, rather than sad.
November came, and I was pregnant again. I wanted to announce the news in a special way, so I waited until we visited Disneyland for my birthday. I put a pin badge on my tummy that read 'First Visit' – Justin was so surprised! (The kids didn't get it.) Sadly, I lost the baby at seven weeks. We couldn't face the kids' heartbreak – they'd been so excited. We waited a while, hoping I'd get pregnant again, but eventually we had to tell them. It broke their hearts, and ours.
The next time, we didn't even get the chance to be excited. I found out I was pregnant in March but lost the baby almost straight away. It was at this time my sister gave me a special bracelet, before sharing the news that she was pregnant with twins. She'd had her own struggles so I was genuinely happy for her, but at the same time my heart ached. Why couldn't I keep one baby when my sister got two? Why was I having miscarriages when I'd already had two healthy babies?
Justin and I decided we needed to stop focusing so much on a new baby. Meanwhile, I saw other people announcing their pregnancies or giving birth. I even hosted baby showers for some of them. While I felt happy for them, I was unhappy in my own life. Looking back, I wish I had grieved more, instead of locking everything inside.
Did I mention I'm a professional photographer? I love to take pictures – I'm the mom posting photographs of her kids on social media. But I'm actually a pretty private person. I don't share much about what's going on behind the scenes. I suffer in silence, which is what I did when I suddenly became a popular maternity and newborn photographer. Around the time I was having my miscarriages, it seemed to be all I was doing. Bump after bump. Newborn after newborn. It was bitter-sweet. I love holding new, sweet-smelling babies, but at the same time, it broke my heart.
Then, in September 2015, I learned I was pregnant again. It was hard to get excited when I was so scared of what might happen. I tried to be careful, but I lost that baby too, at five weeks along. I blamed myself and fell into a deep pit of depression. I couldn't pull myself out and pushed others away when they tried to help. That included Justin, my sweet husband, who was there for me time after time. I told him to go away and leave me alone. I wish now I had let him cry and grieve with me. But I'd just lost baby number four – four! I felt the fault was mine, therefore the suffering was too.
That miscarriage was harder as it happened the night I was going to see my sister in hospital. She was in pre-term labor and on bed rest. I already knew I was losing yet another angel and bawled my eyes out for the whole journey. At the hospital I had to walk past the nursery and see the newborns inside. It just about killed me.
But my sister needed me, so I wiped away my tears and put on a smile. She knew there was something wrong, but she was in pain and her babies were coming ten weeks early. Cali and Kai arrived, so tiny and fragile as they were taken off to the NICU.
This story feels like it's on repeat now, doesn't it? October arrived, and so did another pregnancy. I'd got my insurance sorted out and found an awesome doctor. It made no difference. I lost that baby too, also at five weeks, right before Halloween. I threw clothes around my bedroom, hid in my closet and cried. I slept on the couch that night and woke in a puddle of blood. Justin, so patient, helped me clean up. As ever he was unfailingly supportive. This was becoming routine, in the worst way.
Are you still with me? It was November again, my birthday month. I'd done a lot of research about pregnancy, and my doctor had prescribed a progesterone supplement to thicken my uterine wall. I was grateful after every miscarriage that I could still conceive – it always felt like a miracle. Sadly, this ended the same way. I lost baby number six two days before my birthday, again at five weeks.
I will say right now, that while five weeks doesn't seem far along, it's still emotionally devastating to lose a baby. It doesn't matter whether you're five weeks, ten weeks, 15 weeks. You have lost a child you expected to welcome into the world. And after having it happen so many times, each one knocked me down that bit further. I couldn't believe I was going through this again. I did my usual thing – pushed people away, acted like I was ok. We had to cancel our family holiday photograph session, booked for the next day. I was hugely grateful when our photographer, who is also a dear friend, was so gracious about it. She showed up at our home with dinner and dessert. Acts of kindness can't take away the pain, but they can soften it for a while.
Yet again, I went back to my doctor. My blood tests showed I'd had really low hormone levels, the same as every other time. He told me I was healthy and fertile and there was no obvious reason I shouldn't have a healthy baby. So he suggested a full blood screen to test for anything that might possibly be wrong. The worst-case scenario, he said, was lupus – an inflammatory disease where the immune system attacks its own tissues.
I didn't think I had lupus, but I felt something had to be wrong for me to lose six babies in a row. Off I went, only to find out after 18 vials of blood and a hefty bill that all the results were totally normal. Now what? At this stage, I was willing to try anything. Although – should we have a break? Justin and I had been at this for more than a year. We'd lost more than we knew was possible. We'd also endured hurtful comments from other people, who seemed to think reminding us of what we already had would help. "Oh well, you already have a boy and a girl so you'll be ok," they'd say. While we were contemplating all this, I went for my follow-up appointment from the last miscarriage. And found out I was pregnant again.
Even after all the stress and trauma, it still felt like a miracle. I took three – positive – home pregnancy tests. It would be different this time, I was sure of it. At seven weeks, as I lay there on the doctor's couch, Justin by my side, we heard it – the thump-thump-thump of our baby's heartbeat. It was happening. "We have a healthy baby and strong heartbeat. Aren't you happy?" asked my doctor. Well, yes – but we couldn't be sure everything would be ok. He prescribed a daily blood-thinning shot, which was horrible. It was painful and made me dizzy, but I wanted to do all I could for this baby. After two weeks, my insurance decided it wasn't a pregnancy-related treatment and refused to pay, leaving me with a bill for $800. Still, my hormone levels were rising and the doctor said I was doing better than at any time before. I started to hope.
My belly started to swell. I began to let myself get attached. People started to notice, but I was still too scared to say, "Yes, we're having a baby." What if I jinxed it? At nearly three months, we told the kids, who were thrilled. It was such a joyous time. I thanked God every day. The day came when I felt the sudden, comforting delight of that first sweet kick inside my tummy. Justin and I talked about the nursery and baby names, and I bought new maternity clothes. My due date was September 2, 2016.
I was scheduled for a regular check-up and scan, and decided it would be fun to take along my mom and my son, Hunter. I lay on the table and we waited with anticipation. So I couldn't believe the next words I heard. "There's no baby in there," said the technician. "I'm not getting anything and there's definitely no heartbeat."
I was frozen. I literally couldn't move. I could hear my three-year-old asking, "Where's the baby, Mama?" and I couldn't answer. I told the technician I'd felt the baby kick, and she said that was impossible. That there was no baby. I guess my emotions were frozen too, because I just got up, grabbed my stuff and walked out with my family. We sat in the car and I felt numb. How could this be true? I was almost 14 weeks pregnant. I had felt the baby move.
Eventually, the nurses came to get me. My doctor said I needed a dilation and curettage (D&C) to remove the fetus. If I didn't, because I was so far along, there was a danger I'd hemorrhage and bleed out. I cried the whole way home, then I went to my room and curled up on the floor, and cried some more. Why did this baby leave me too? Then I realized Justin had come in and was with me, crying too. The pain was just as real for him.
Our life was shattered. We were devastated. I turned my phone off and went to sleep. I slept through lunch, dinner, and right through the next day. I couldn't eat. We agreed to tell the kids, which was as painful as the physical hurt I felt. They were sad and angry. "Why did God take our baby?" they wanted to know. The next few days are a blur, to be honest. I don't want to remember them. One time I stood up and blood flooded out of my body. I couldn't move and my legs shook. I have no idea why I didn't go to hospital, but I didn't. We dealt with it.
To move on from this, I tried to find ways to fill our time. We'd been looking at new homes and had also talked about becoming foster parents. We agreed it was time to start that process. Just days after losing that baby, we found a home and made an offer. We also attended our first foster parent class. It sounds crazy, I know, but it's what kept me from crawling back into that dark hole and possibly never coming out. I needed to keep busy. We'd always wanted to foster and, ok, maybe our time had just come sooner than planned. God was holding us up. He'd be there for us when we fell.
And fall we did. My parents watched our children while we were at the foster class, and we were all at our home afterwards when I began bleeding again. But harder and faster than before, with clots of tissue the size of my hand. This was what my doctor had warned me about. Justin helped me to the shower, and I stood there while I lost yet another baby…the one that was going to be our rainbow. Justin called my doctor, even though it was around midnight. He told us to go to the ER immediately and have them call him. I was having severe contractions, just a couple of minutes apart. I was so weak, shaking all over, with my teeth chattering.
At the hospital, Justin got me a wheelchair and we checked in. We asked them to call my doctor, but they didn't. The waiting room was full and we ended up parked in the entrance hall. We waited. And waited. And waited some more. I was in the most terrible pain and the bleeding was worse – I was sitting in a puddle. At some stage a technician wanted to do a vaginal ultrasound – there was no way that was happening! She did a regular one instead, pressing on my tummy with her machine through the contractions. We actually saw blood clots coming out. Did we get a room at this point? No, we didn't. We were sent back to the ER waiting room.
I was still bleeding. Still in pain. We'd been there around two hours. And the admitting nurse yelled at us to be patient. I'm not proud of it, but the only response I could give at that stage was to flip her the bird. After what seemed like forever, we got a room in the ER. The nurses prepping me for surgery tried to insert a catheter while I was still fully sensitized. My doctor arrived then, and I finally felt at ease. This was a simple procedure and it would be ok – I just felt sad for my baby.
I remember him waking me and telling me it had gone well. I was babbling, the drugs still wearing off. I asked about my baby, as though they'd be able to hand me a full-term, healthy infant. Later, my doctor said I'd been in full active labor. He turned it into something positive, because that's what he does. I never went into labor with my first two kids – it just didn't happen naturally.
It was time to go home and figure out what came next. To find the strength to get up every morning, be mommy to my two sweet children. I had to take my little girl to kindergarten, chase around after my little boy. None of it was easy. And, of course, I wouldn't let anyone in. Didn't accept any help. I wish I had.
It took a long time to come back from what happened. We talked about death a lot with the kids, who have lively and curious minds. They prayed for another baby, whereas I prayed never to get pregnant again. My body and my faith were shaken, and I still have severe anxiety and periods of depression. Life sucks, sometimes. It doesn't matter whether you're a good person or a bad one. Everyone struggles, and you don't know what anyone else might be going through. But God puts people in our lives that can help, and he gives us purpose.
Let's move on a few months. Justin and I graduated from our foster parenting course and found it a liberating and therapeutic process. We really grew together as a couple. During this time, we also purchased our first home together and moved in. While these were happy experiences, I still felt empty inside. As it got closer to the time when our baby would have been born, I felt more sadness. It was important to stay positive.
Part of that was preparing our nursery for the arrival of our first foster baby. We love caring for these children and having them in our home – we're finding fostering is a really positive and healing experience. We also pick one service project a week that we can do as a family. I was once told that when you're struggling, the best thing you can do is help others. It's true.
Justin and I celebrated our tenth wedding anniversary with photographs of our family, honoring all the babies we'd lost in the previous two years. If this is the pain I was meant to endure, I'll take it. There are worse things going on in the world. I'm grateful for every contraction, for the emptiness, because it reminds me our baby was real. I carried him, knew him and felt him kick, even if it was for too brief a time. Every single day was worth it.
In ten years, Justin and I came a long way. We've moved eight times. Had two beautiful children together. Lost seven angel babies. Bought a home and a 1950s' vintage truck. We've become foster parents and got our first pup. In addition, we've lost 90lbs in weight between us. I've become a successful photographer and Justin has climbed the ladder in his career too.
On top of that, we are more in love than ever. Really, it's all good.
Also read: